According to a new research report from Berg Insight, the number smart homes in Europe and North America reached 10.6 million in 2014. The North American market recorded a 70 percent year-on-year growth in the installed base of smart homes to 7.9 million at the end of the year. This corresponds to 6.0 percent of the households in the region and places North America as the most advanced smart home market in the world. The strong market growth is expected to last for years to come, driving the number of smart homes in North America to 38.2 million by 2019, which corresponds to 28 percent of all households.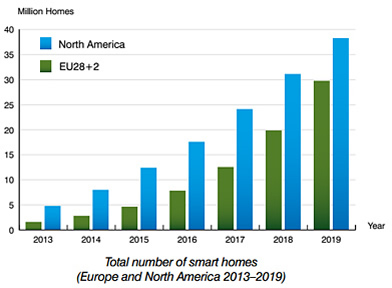 The European market is 2–3 years behind North America in terms of penetration and market maturity. At the end of 2014, there were 2.7 million smart homes in Europe and the market is forecasted to grow at a compound annual growth rate (CAGR) of 61 percent in the next five years to reach 29.7 million smart homes by 2019, which corresponds to 13 percent of all European households.
The most successful products on the smart home market include smart thermostats, security systems, smart light bulbs, network cameras and multi-room audio systems from vendors such as Nest, Ecobee, eQ-3, ADT, Vivint, Philips, LIFX, D-Link and Sonos.
Point solutions of this type – products that have been designed for one specific functionality – outsold the more comprehensive whole-home systems by a factor of six to one in 2014 and stood for 59 percent of the total smart homes revenues in Europe and North America. Point solutions have previously been lacking interoperability and customers that were looking for more comprehensive home automation have had to choose a whole home system from the start.
"Several new initiatives such as Apple's HomeKit, AllSeen Alliance's AllJoyn, Works with Nest and IFTTT will change this so that users now instead can start with a point solution and later expand into a whole-home system simply by adding compatible products" said Lars Kurkinen, Senior Analyst, Berg Insight.
This new trend is anticipated to allow a larger number of people to experience the benefits of whole-home systems at an earlier stage, which will catalyse the development of the whole market.