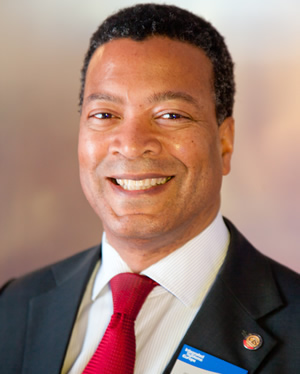 Mike Blackman has been in the exhibition industry for thirty years. He started in 1984 by specialising in technology events, and launched Integrated Systems Europe (ISE) in Geneva in 2004.
ISE is jointly owned by CEDIA and InfoComm International, and was created as a platform for the electronic systems industry to do business, to educate the market and to promote itself. It is now the best-attended show of its kind worldwide, and just slightly behind InfoComm as the largest in terms of exhibitors and space.
In this exclusive interview with KNXtoday, Blackman explains why the show is a must-attend event on the KNX systems integrator's calendar.
KT: How has ISE developed, and what is its relationship with KNX?
MB: That first show in Geneva had 120 exhibitors over 2800m2 of exhibition space and attracted just under 3500 attendees. The show now has its home in Amsterdam, and this coming February, we expect it to have more than 1000 exhibitors over more than 40,000m2 of exhibition space, with an increased attendance to above the 51,000 at ISE 2014.
ISE has been working with KNX for a number of years, and in the last five in particular, we have had a KNX Pavilion as part of the show. The KNX Association has also supported ISE in its Smart Building Conferences across Europe over the past two years, and we have now extended this to a dedicated Smart Building Hall at ISE (Hall 12) where KNX and its members have become a key driver.
Smart Building has become a significant part of ISE. We, as the organisers, realise how important it is to the KNX market and have endeavoured to create an environment that can help companies and individuals find the right solutions and do more business.
KT: What can KNX systems integrators look forward to at ISE 2015?
MB: If you are an integrator who is already involved in, or needs to find out more about complete building automation in both the residential and commercial environments, then ISE offers you the chance to see and learn about the latest products, solutions and technologies that are important to your business.
KT: How is ISE 2015 going to be different from ISE 2014?
MB: ISE 2015 is even larger than the previous show. We have increased the number of on- floor theatres that run daily free-to-attend presentations. In addition, CEDIA and InfoComm International are offering more professional development and certification classes during the exhibition.
KT: How is the show floor arranged?
MB: As well as the over 1000 exhibitors, for the first time there is a dedicated Smart Building Hall with more than 50 companies showing solutions, products and services dedicated to this sector. KNX has its own Pavilion in the Hall and this includes companies such as Dakino, Elsner Elektorik, EMT Controls, Simon SA, TCI Group, Tense Top Design Switches, and Thinkx. Also in this hall, you will find companies such as Albrecht Jung, Siedle, Smart Technologies, Savant, Iridium, Helvar and many others.
KT: What types of visitor are you expecting at ISE 2015?
MB: ISE 2014 attracted more than 51,000 attendees from more than 140 different countries. These attendees are primarily integrators, custom installers, construction industry professionals, distributors and resellers, as well consultants and manufacturers. A vast majority use control technologies and electronic management and bus systems for their projects or installations, whether they are in the residential or commercial sector.
KT: How can visitors best prepare for the show?
MB: ISE is now a substantially large event, and one day is certainly not enough time to get around the venue. Whilst we have tried to put many similar exhibitors and technologies into focussed spaces, this has not always been possible. If your focus is KNX, then I advise you start in Hall 12, but much, much more can be found around the entire exhibition – specifically in Halls 1, 2, 5 and 11. Before you get to Amsterdam, use our online tools including the ISE Show App and the meeting maker. There are also printed guides available at the show that will help you navigate the show floor effectively. We also have special travel and accommodation offers available via the ISE website with selected hotels and free shuttle services to and from the show.
I wish you all a happy new year and a successful visit to ISE 2015!