The revolution in energy efficient lighting is helping to drive the overall market for building automation, report finds
A new report from Navigant Research analyzes the global market for commercial building automation systems (BASs), including global market forecasts through 2023.
The devices and systems that control a building's lighting, maintain its climate, and ensure the security and safety of its occupants were, until fairly recently, rudimentary. Today, these commercial BASs are increasingly embedded with computing and digital communications tools that have transformed their capabilities to improve energy efficiency and optimization and enhance occupant comfort and health. Click to tweet: According to a new report from Navigant Research, global revenue for commercial BASs is expected to grow from $59.3 billion annually in 2013 to $86.7 billion in 2023.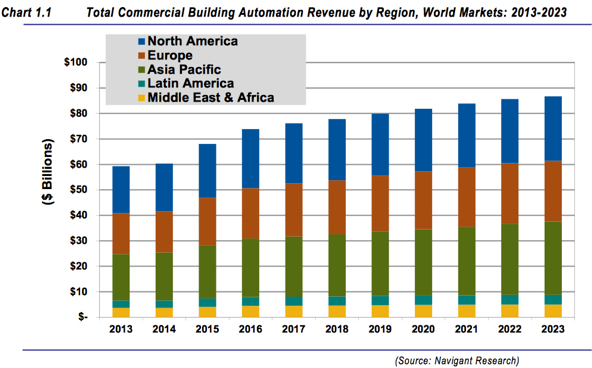 "Although the market for commercial BASs is mature, it is not stagnant," says Benjamin Freas, research analyst with Navigant Research. "While the global outlook for economic growth, and thus for new construction activity, remains weak and uneven, increased adoption and building retrofits focused on improving energy efficiency and increasing occupant comfort are expected to provide the BAS market with relatively strong growth."
A key driver in this sector, according to the report, is the evolution of energy efficient lighting. The industry is moving toward greater adoption of light-emitting diode (LED) technology, opening new opportunities for advanced networked lighting controls. Building owners and managers, many of whom have become accustomed to the idea of centrally monitoring and managing their HVAC systems, are beginning to expect the same level of control from their lighting systems.
The report, "Commercial Building Automation Systems," analyzes the global market for commercial BASs for HVAC, lighting, fire & life safety, and security & access controls, as well as integrated building management systems (BMSs). It assesses how market drivers and technology advances are expected to affect the adoption and success of these systems. Global market forecasts, segmented by five key application segments, eight commercial building types, and two construction types, extend through 2023. The report also provides in-depth profiles of the key industry players within the competitive landscape.