ISE 2015 is returning to the Amsterdam RAI with an even bigger and better show. Promising over 50,000 people and more than 950 exhibitors, ISE 2015 will present the largest AV tradeshow ever held in Europe from 10-12 February 2015.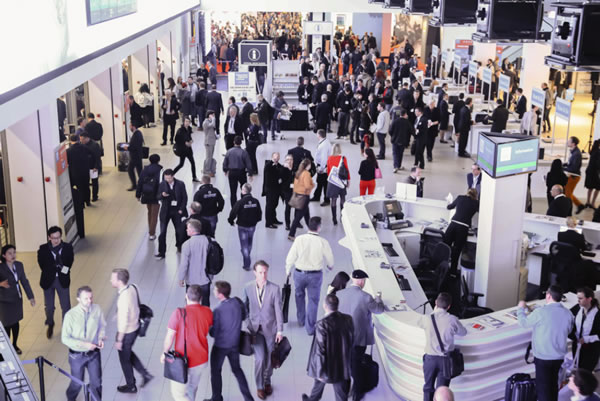 The show will attract professionals from every link in the systems integration value-chain, including manufacturers, distributors, dealers, contractors and consultants. ISE also draws ever-growing numbers of end customers, from fields as diverse as education, sports, corporate facilities, hospitality and live events.
Professionals from over 150 countries will attend the show looking to network, pursue new business opportunities and see over 1,000 new product launches. The show floor will occupy more than 36,000 net square metres of floor space as well as four dedicated show areas: Digital Signage; Residential Solutions; Unified Communications and the Smart Building area, which will showcase the latest solutions in building automation and energy management.
So, what's new for ISE 2015?
Pre- and At-Show Events
As in previous years, the ISE pre-show events will continue to offer a stimulating programme of events including the return of the Smart Building Conference and the Audio Forum plus the launch of the Capital Summit. Following huge success at both ISE 2014 and in London in October this year, the Smart Building Conference, a joint venture of ISE's co-owners InfoComm International and CEDIA, will take place at the RAI on Monday 9 February. The Conference will include an inspiring team of industry experts delivering presentations and panel discussions on the hot topics surrounding the smart building industry.
Organised by media partner, Connessioni, the Audio Forum will return to host a full-day educational programme consisting of case studies and seminars, aiming to gather together the international pro audio community. Taking place on the eve of ISE, the Audio Forum has been designed to increase the dialogue between audio manufacturers and professionals operating in the AV marketplace.
The Capital Summit takes place on 11th February from 1-4.30pm. It will bring together AV/IT industry entrepreneurs seeking investment capital with financial and business professionals from the world of investments, mergers and acquisitions. It is being jointly hosted by Stiernberg Consulting and MediaBridge Capital.
New on the Show Floor
Following the success of ISE 2014, the ISE Theatres will return to the show floor including the addition of one new theatre, ISE Unified Communications Theatre. Located in Hall 9 this Theatre will stage case-study presentations by manufacturers, product distributors, systems integrators and end customers, focusing on the practical aspects of implementing collaboration and communication systems within enterprises. Meanwhile, the Residential Solutions Theatre, located in Hall 7, will aim to broaden the market for whole-house automation and intelligent building design, with non-technical presentations showcasing real-world case studies. In Hall 8, the Commercial Solutions Theatre will concentrate on the end-customer benefits of systems integration in a range of market verticals such as hospitality, healthcare, education, corporate and government facilities.
Extra areas at the show have been created to benefit visitors and offer them a chance to relax during the three busy show days. Extra catering areas in the Park Foyer and Ruby Lounge, as well as the return of the Business Lounge located on the fly-over between Halls 7 and 8, offering WiFi access and charging stations, will give visitors a much-needed opportunity to take a break. Modern seating, international newspapers and TV screens broadcasting international channels throughout the show days will ensure that the lounge will be an informal and professional environment in which visitors can work, relax and network.
Owing to its popularity at ISE 2014, an extra Discovery Zone has been added to Hall 6. The Discovery Zone offers new ISE Exhibitors the chance to participate in the show within a dedicated showcase. In the same hall, a new US Pavilion will host stands from US exhibitors looking to integrate into the European market. The pavilion is organised in cooperation with the US Commercial Service, which is offering its support to the participating exhibitors and networking events where interested companies can meet them.
Professional Development
In addition to the Show Floor theatres, ISE's co-owners CEDIA and InfoComm International will present an even wider range of courses at ISE 2015. Both associations will be offering more of their popular technical and business education, with offers in place for earlybird discounts, as well as on-site certification, allowing attendees to gain globally recognised qualifications without leaving the show venue.
More news on pre-show events, professional development and new features taking place at the show are expected to be announced over the coming weeks leading up to ISE 2015.
To register for the show free of charge, saving the €80 on the on-site registration fee, please visit www.iseurope.org and use registration code 916340.