To reflect the rapid global growth in the use of KNX intelligent building and smart home technology, the International KNX Association has invested heavily in its online presence with the creation of a brand new website and a personal online portal. Moreover KNX will offer more interactive possibilities on these platforms, such as an advent calendar contest in December, where the KNX community can win KNX devices and ETS licenses by guessing which KNX products are shown.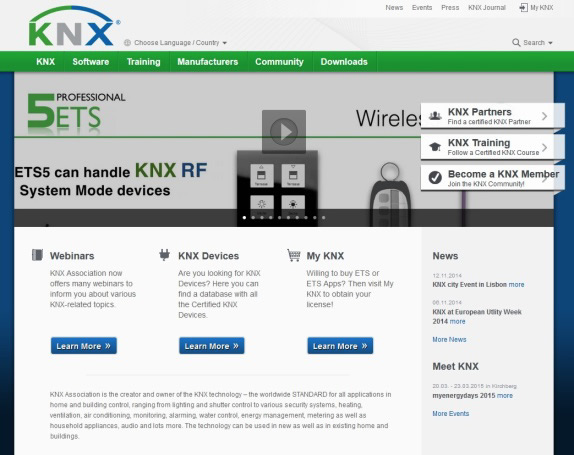 www.knx.org is the new website for the International KNX Association. It can be viewed in English, German, Dutch, Spanish, French with Italian expected very soon. The structure of the new website is extremely user-friendly and intuitive, with its graphics all contributing to a very dynamic and informative website which is easy to use and continuously updated.
Although the general structure of the site is based on four levels of interaction, users generally can obtain the information they require within just two or three clicks.
The Homepage features a banner (eyecatcher) that is updated monthly. There are many direct links to find KNX Partners, Training Courses, How to Become a KNX Member, Webinars, KNX Devices and MyKNX.
www.knx.org has inspired many KNX National Groups to update their own national websites which show local content. Currently, Germany, Switzerland, Holland are following its layout with a further thirteen sites under construction including Argentina, Belgium, Chile, Spain, India, Ireland, Luxembourg, Middle East, Norway, Finland, Sweden, South East Asia and Uruguay.
MyKNX has been online since the end of September 2014. It also has a new modern and intuitive design to ensure that visitors can access the information they require as quickly as possible. MyKNX provides all of those registered, including Customers, Manufacturers, Partners, Training Centres, Scientific Partners, National Groups, Test Labs and User Clubs with the very latest information and documentation. From one central login, visitors can access the KNX Online Shop where they can buy or browse information and the prices of the different KNX software packages, books and product specifications.

An Open Support Centre for visitors includes Frequently Asked KNX Questions, and a new, powerful Support Wizard is available to solve many issues that KNX software users may have. A notification system covering key information about KNX and products provides users with a personalised alerts in their MyKNX account.
From the Home Page of MyKNX, users are updated with the latest news and information, hot off the press, including important product launch announcements as well as more general updates on KNX products.
To reflect the international audience of KNX technology and users, MyKNX is available in English, German, Spanish, French, Italian, Dutch, Finnish and Swedish versions.