For the fourth year running, KNX UK will showcase the technology, products and services of its membership at the Building Controls Exhibition to be held on 22-23 October 2014 at Sandown Park.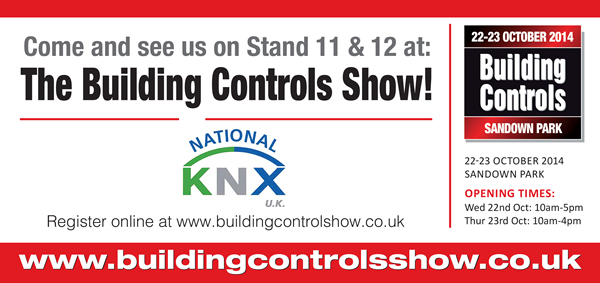 Visit the Building Controls Show!
KNX will feature not only on the Association's stand, but also stands of a number of members including Wago, Theben, BEG UK, Schneider Electric and Home of Technologies. The Association will also be participating in the show's seminar programme and presenting the new and updated KNX CIBSE listed CPD.
KNX is the worldwide standard for home and building control and KNX products provide home and building owners with total control over the indoor environment, integrating all building services for maximum energy efficiency and many other user benefits.
As all KNX products are certified to be fully compatible, there are no integration issues, extra engineering costs and all installations are future proofed. Any reconfiguration of a KNX system to meet new occupiers' needs or changes in lifestyle can be undertaken with minimum disruption.
The newly formed KNX Professionals User Club UK will also be promoted at the exhibition together with details of the new generation ETS 5 programming software tool for the installation and configuration of KNX products.