In June 2014, Domonetio, leading KNX++ certified training center, launched an innovative version of the KNX advanced Course.
Running from the 13th to the 19th of June, at Domonetio's Barcelona training centre, the course focused on the 'full' content of the KNX advanced course, whilst involving the candidates in a wide variety of networking events.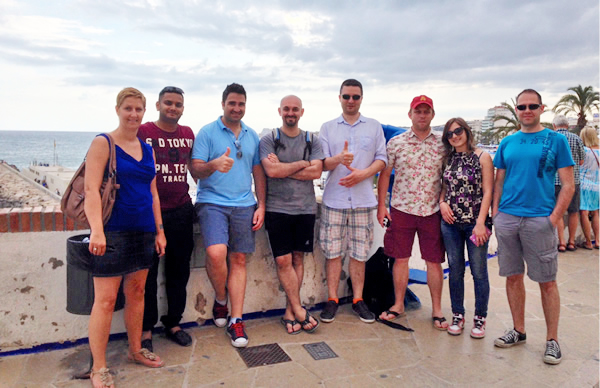 The candidates enjoyed a 'real taste' of the Catalonian lifestyle, with events ranging from networking dinners in some of Barcelona's leading Spanish restaurants, to a visit to Montserrat Monastery, and the beautiful beaches of Sitges.
But not all of the activities were networking events, the candidates were also given a tour of a working KNX installation in one of Barcelona's leading hotels. This provided the candidates with an interesting insight as to how KNX has been adopted in a typical Spanish installation.
To say the course was an excellent success is an understatement!
The course was attended by English speaking candidates from various European Countries, and following Domonetio's excellent delivery of the course thesis, all Candidates passed with high marks.
But whilst the main focus of the course was for the candidates to gain their advanced KNX qualification, the candidates also gained so much more than this.
Thanks to Domonetio's unique approach to this 'advanced networking course', the candidates were able to take part in various networking events which enabled all involved to gain an insight into alternative approaches to both business activities and the implementation of KNX into a working environment.
Following the outstanding results of this innovative course, Domonetio have now launched a series of these unique courses based around both the basic and advanced KNX certifications.
Allowing all future candidates to enjoy this truly unique academic and cultural experience, the next course dates have been officially announced. The training center will be running the KNX Networking Course in Barcelona from the 8th to the 14th of October 2014.
And for those students who would like to progress further in the KNX world, whilst gaining a high level KNX certification; Domonetio will also be offering the KNX Tutor Course, from the 15th to the 17th of October 2014.
For further information on how to enjoy this unique opportunity in Barcelona, please, contact Domonetio or visit the official web page: