By Simon Buddle, KNXtoday.
The KNX system offers many great features, from the mundane, day-to-day housekeeping functions such as room temperature monitoring to the more sophisticated control of music, door intercoms, and gates. One of the key benefits that I have always believed strongly in, is the facility to automate tasks, to remove a layer of interaction between the home owner and the system. Should, for example, the skylight windows close if it starts to rain? Of course they should! Are systems set up so that room lights switch off if no one is in the room, blinds close at night or in bright sunlight?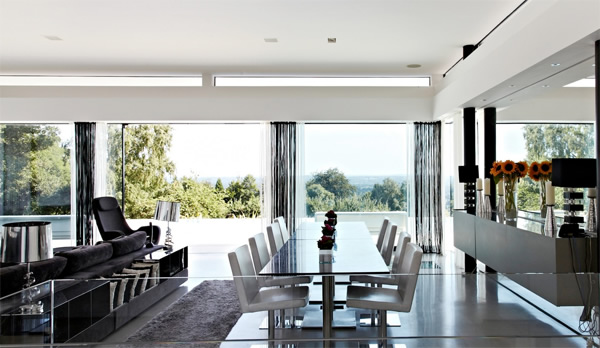 A KNX system can comprise a variety of sensors that enable it to perform these simple functions. In many instances, we are also installing devices that provide alarms for water levels, smoke or CO2 detectors as part of the overall scheme.
With the addition of a few devices and sensors, we might well be able to offer the home owner the benefits of a security system as part of the wider KNX control package. There would seem to be a good financial argument for this: PIRs that are already working to control lights could also be used as a security device. Window and door contacts for perimeter protection along with internal PIRs for space protection, form the basis of the bulk of alarm systems. Indeed many KNX systems are more than half way there.
The Standards
In the UK, the security industry designs and installs alarms in accordance with BS EN50131 coupled with PD6662:2010 and BS8243 for police signalling systems. In addition, there is a grading system for products and the installation, with the grade required generally being set by the customer's insurance company. Typically, these are set at Grade 2 or 3 for domestic applications.
Grade 1: Domestic property without an insurance requirement for an alarm system.
Grade 2: Domestic property and low-risk commercial.
Grade 3: High-risk domestic property and most commercial buildings.
Grade 4: Extremely high-risk domestic and high-risk commercial.
Most KNX manufacturers however, certify their products to the European VdS standard. Is this a cause for concern? No it isn't, as the European Vds standard is comparable to the EN50131 grading system, and in fact both standards are being worked on at this moment, in order to bring them together under a single ISO technical standard.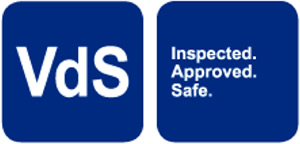 The two standards are broadly compatible so that UK Grade 2 equates to European Class B and Grade 3 to Class C. It is worth saying at this point, that if your customer has very specific security requirements, then specialist advice should be sought. A good place to start would be the NSI (National Security Inspectorate).
Important Note
I am certainly not advocating the idea that we all become security companies; there are plenty out there already doing a great job. But knowing those in your area could be a potentially beneficial business connection.
I should also point out that in the UK, in order for a customer's alarm system to gain police response i.e. the police attends site in the event of a panic attack or intruder alarm activation, the system must be installed to Grade 2 as a minimum, have been certified as compliant by either the NSI or SSAIB, and must be maintained under contract.
The Advantages of KNX for Security
Many houses do not require systems connected to the police but would benefit from an alarm system that is capable of sending texts, providing visual and audible deterrents at the property, or recording access times and dates via key fobs or swipe cards.
The KNX bus offers many features that most alarm systems are not capable of. For example, the simple setting of the alarm could cause a series of actions to take place, and these actions could also be time-of-day- and time-of-year-dependent. Imagine, the closing of blinds, the replaying of lighting scenes to give the impression that someone is home, and the closing windows – all triggered by setting the alarm.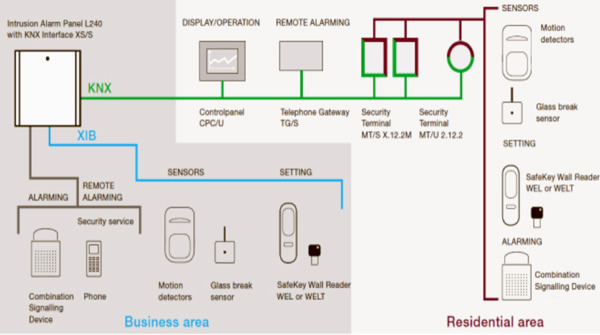 The bus also facilitates the addition of smoke and heat detection, protecting the home, whether occupied or not. The advantage of adding these devices to an alarm or texting service is that in the unlikely event of alarm activation whilst the home is empty, someone will be notified and will therefore have an opportunity to act before everything is lost.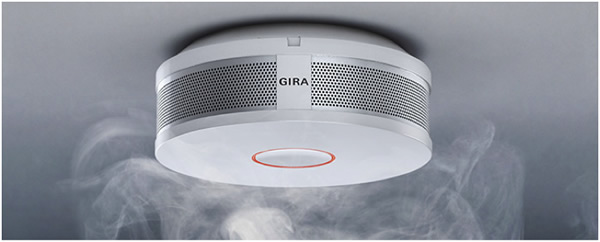 Conclusion
We are installing the bus infrastructure around the property, we are designing a complex BMS, many KNX products are compliant with the required security standards and hopefully we will provide ongoing maintenance support once the job is done. Coupled with the idea that we may well have installed several sensors, window or door contacts in the project, it would seem logical to add the extra few to provide a basic security system. The KNX bus lends itself to simple integration of these devices along with a cost-effective upgrade path and value for money.
Alarm systems do require a good degree of knowledge and I am sure they will not be right for every company to install. But if you are looking to add another string to your bow, this may well be an area of interest – something you could offer in conjunction with another company, or perhaps by adding the right staff to your team. The knowledge you already have of the bus and its devices will stand you in good stead!
Simon Buddle is a systems integration consultant and installer. Simon is also a regular contributor to KNXtoday magazine and HiddenWires magazine, and the first winner of the CEDIA Region 1 Special Recognition Award.
You are welcome to comment on this article. See below.