Engine control unit animeo KNX RS485. Extremely precise control of digital Somfy drives.
With the engine control unit animeo KNX RS485, Somfy offers an attractive solution for individual or central control of shading elements and roller shutters. It allows extremely precise control of the new digital Somfy RS485 drives.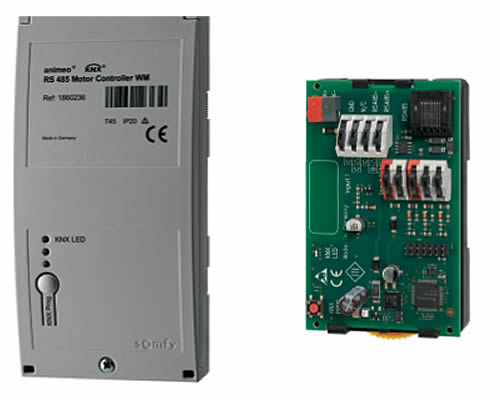 The new engine control unit makes it possible to integrate a group of up to six engines via the KNX bus. The installation is done quickly and almost without tools, using Plug and Play or by spring-loaded terminals.
Thanks to the incremental encoder used, the blinds are optimally aligned at any time. The exact position can be controlled both during the raising/lowering and after reaching the respective end positions. In addition, numerous intermediate positions are accurately accessed via a 1 byte telegram.
Inputs for local keys and window contacts can be used conventionally or using KNX binary input. The motors work in particular in the field of interior applications and ensure quiet (44dB) operation and therefore provide a high level of acoustic comfort.
For maintenance purposes, error messages are sent directly to the KNX bus. Furthermore, the number of engine cycles can be queried via KNX telegram.