ISE 2014 will be the Integrated Systems Europe's eleventh edition and is expected to be the biggest and brightest yet. From 4–6 February, ISE 2014 will stage the largest AV tradeshow ever held in Europe and, occupying every hall of the world-leading Amsterdam RAI meeting and convention venue.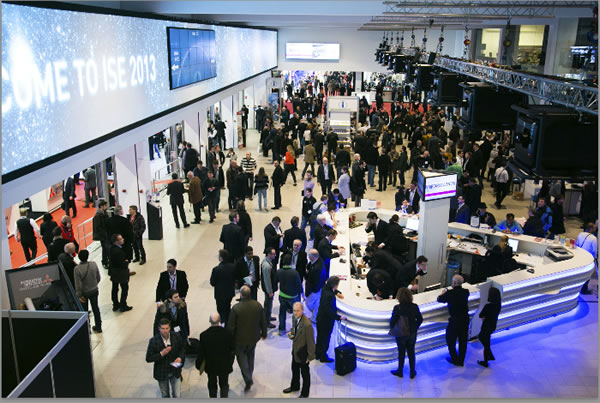 The show will attract professionals from every link in the systems integration value-chain, including manufacturers, distributors, dealers, contractors and consultants. ISE also draws ever-growing numbers of end customers, from fields as diverse as education, sports, corporate facilities, hospitality and live events.
More than 44,000 people attended the previous year's show, ISE 2013, and this record-breaking figure is likely to be exceeded once again for ISE 2014, continuing the show's unbroken record of delivering visitor growth every year since its inception. Professionals from over 130 countries will attend to network, pursue new business opportunities and see the latest state-of-the-art technology. The show floor will feature over 900 exhibitors occupying more than 30,000 net square metres of floor space as well as four dedicated show areas: Digital Signage; Residential Solutions; Unified Communications and the Smart Building area, which will showcase the latest solutions in building automation and energy management.
Pre-Show Events
The pre-show events for this year's show promise a motivating line-up including the return of the Smart Building Conference and the show's Opening Keynote and Reception. After huge success at both ISE 2013 and in London in October this year, the Smart Building Conference, a joint venture of ISE's co-owners InfoComm International and CEDIA, will take place at the RAI on Monday 3 February. With an inspiring group of speakers and some of the industry's most notable experts on smart building design, similar themes from London will be explored and given a European dimension, with the objective of further developing the AV industry's role in making buildings smarter.
A new addition to the pre-show programme will be ISE's Investor Showcase. Organised in partnership with investment specialists Go4Venture, the Showcase will give participating companies the opportunity to present their technology and business propositions to a wide range of investors including private equity firms, venture capitalists and companies from both inside and outside the ISE exhibitor base.
Also taking place on Monday 3 February is an Audio Forum presented by media partner Connessioni. The Forum will consist of a full day's programme, including two technology seminars as well as case studies presented by sponsor companies. The Audio Forum is designed to increase the dialogue between audio manufacturers and professionals operating in the AV marketplace.
New on the Show Floor
ISE is also proud to announce some exciting new features for this year's show including the addition of two theatre spaces on the show floor. The Residential Solutions Theatre, located in Hall 7, is aimed at broadening the market for whole-house automation and intelligent building design, with non-technical presentations showcasing real-world case studies. In Hall 8, the Commercial Solutions Theatre will concentrate on the end-customer benefits of systems integration in a range of market verticals such as hospitality, healthcare, education, corporate and government facilities.
Access to the theatres will be aided by the opening of a new entrance to ISE – Entrance F. This will improve the show's visitor experience by further reducing congestion and providing direct access to key areas such as the Digital Signage area, the new Business Lounge (see below) and the bridge between Halls 7 and 8, which will house a free dedicated WiFi area.
Another new feature to the show is the ISE Business Lounge, which will give visitors a chance to rest, recharge their smart devices and catch up with business away from the busy pace of the show floor. With modern seating, international newspapers and TV screens broadcasting international channels throughout the show days, the lounge will be an informal yet professional environment in which visitors can work, relax and network.
Professional Development
In addition to the Show Floor theatres mentioned above, ISE's co-owners CEDIA and InfoComm International will again be presenting a wide range of courses. Furthermore, InfoComm will be promoting a special free voucher scheme for its on-site education programme, under which anyone who pre-registers for ISE 2014 using an invitation code will receive complimentary access to two InfoComm seminars of their choice on a first come, first served basis. Continuing the theme, CEDIA will be offering more of its popular technical and business education, with offers in place for earlybird discounts. Both associations also offer on-site certification, allowing attendees to gain globally recognised qualifications without leaving the show venue.
To register for the show free of charge, saving the €60 on the on-site registration fee, please use registration code 919910 and register online at: