By Jevgeni Maiorov, Smart Electrix
Smart homes are growing in popularity, and as an architect or interior designer, you could be a part of this. 'What is a smart home?' you may ask. It is the integration of control of the whole house into one system that will make your client's life more comfortable, efficient and enjoyable. In most cases, it hails the demise of the ordinary, boring switch. Smart homes are usually controlled by attractive push buttons, touchscreens, smartphones and tablets.
There are various home control systems to choose from. Most of them use proprietary control protocols, which means that you are locked in to their products, their user interfaces and their programmers. The advantage of using an open standard such as KNX, is that you can mix and match products from numerous different manufacturers to suit the technical requirements of your system design and your client's tastes. In addition, any installer certified in KNX can come and program or update your client's system, years later, so they are not hostage to any one installer or manufacturer's fortunes.
Despite the technical advantages of using an open protocol, I found that some of my peers were still using proprietary systems. Why? One of them illustrated the reason by pointing at pictures of KNX push buttons from some well-known manufacturers, saying "Look at them, they are ugly, plain and have a very limited choice of finishing materials. They also sit about half an inch proud of the wall. Customers prefer flat push buttons like the ones from Lutron."
It is clear that the advantages of an open protocol are one thing, but what is just as important is the design and style of the push buttons and touch controllers for the end-user. So I did some research and asked an interior designer to choose a few that impressed her the most.
Note: There are many more KNX push buttons available on the market. The KNX products in this article were all available in the UK, but I cannot vouch for other territories.
ClassiX by Gira: a tasteful take on light switches and system control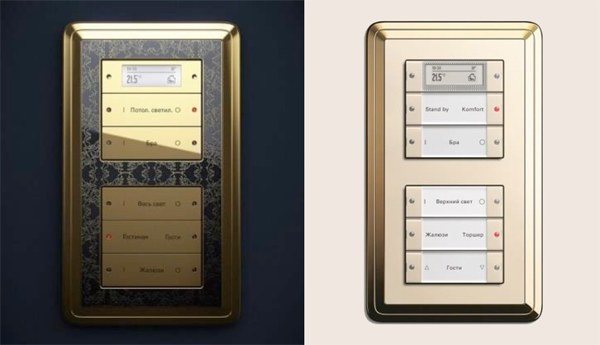 This tasteful take on the push button panel has a more classic design and can be coated and moulded according to your taste, with frame variants available in authentic brass, fanciful bronze or impressionistic chrome. The intricate designed background adds tonal quality to the product, and the curved edges add a smooth surface edge and glossy finish, almost soothing to the touch and oozing with professionalism. This really is an elegant solution for push button control.
HomePad/MiniPad by Eelectron: the new building and home evolutionist idea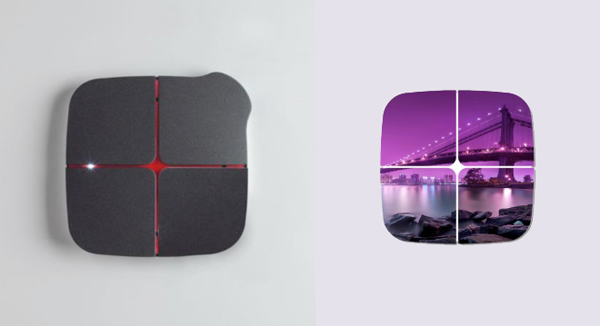 This modern push button allows you to enjoy an array of different finishes designed by the eminent Italian artist Elio Mariani. For a more personalised choice, you can customise your own images to have placed on the product. You can even arrange the design to complement your wallpaper or wall design. The sleek curved edges provide an effortless finish, parted into four sophisticated segments. This design is the more artistic of the various choices. HomePad/MiniPad allows you to control lighting, temperature setting, audio/video source selection, shutters, gates etc. It also supports 'hidden' functions that are activated by how long you press on the pad. The HomePad measures 110x110mm, and the smaller MiniPad measures 90x90mm.
Piano by Lithoss : a new, elegant and tasteful product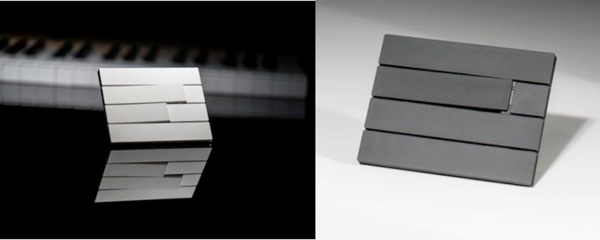 This product is for those with musical tastes or who want a sophisticated design. This is the new, entertaining, elegant and tasteful alternative to the characterless standard on-wall switch. A winner of Design Plus and Red Dot awards, this exquisite design has a grand piano-lid-like stance adds to the style of this aesthetically appealing product. Pre-designed with clear lines for a great effect, they can be ordered in any RAL colour you desire. It can also be personally customised with text and symbols that can be engraved or screen printed. This deluxe item is a definite must-buy.
Flat Design by Jung: simplicity meets pure excellence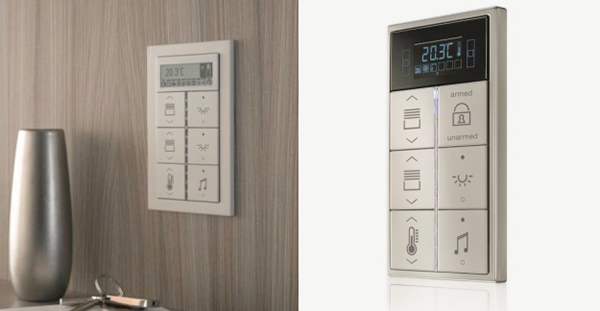 This flat design shows simple elegance, with a display at the top and buttons whose functions are clearly obvious. There are ten different finishes to choose from, ranging from refined plastic to glossy metal, and different display choices, so you can have a classy switch to suit your lifestyle.
Deseo by Basalte: total room control at your finger tips

The Basalte Deseo is a multitouch switch whose surface has four touch-sensitive zones. These respond to the slightest of touches and can control lights, shutters and blinds, monitor temperature and even control a multiroom music system. With such functional ability, this revolutionary product is a great buy. Its sleek, simple design compliments modern interiors and is available in different finishes, including brushed and polished aluminium, white, dark grey and black, bronze, fer forgé, brass and nickel. Deseo was introduced in 2011 and has already won Design Plus, iF product design, Red Dot design, Henry van de Velde, AIT and German Design Awards.
Touch-MyDesign by Zennio: the innovative way forward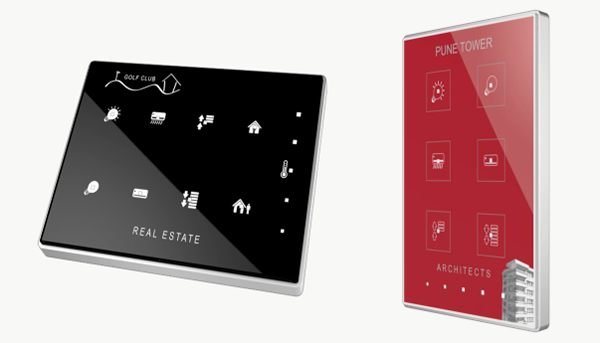 This capacitive-touch switch with its glossy high-strength tempered glass surface can be used vertically or horizontally. It can be personalised in terms of icons, backgrounds or minimalist high-resolution photographs, number of touchbuttons and functions to be executed. The monitor senses all touch input and also includes a temperature sensor and a thermostat. The device also has five LEDS in the switch itself that can be used as additional buttons allowing the user to assign direct functions such as adjusting the temperature, lighting, etc. This sleek design with rounded corners is very pleasing to the eye.
Eikon Evo by Vimar: the new, enhanced and controlled system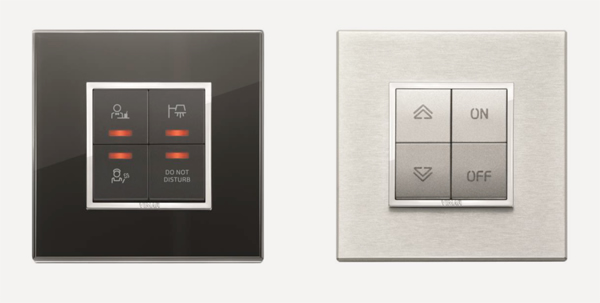 Among the latest interior design trends, this stylish push button panel is available in various sizes, shapes and layout. It can stand proud to make a unique, fashionable high-tech statement, or is available in ultra-thin profiles to subtly blend in with your tastes, combined with the colours of your choice. It is also available in seven different finishes including natural leather and crystal, and the buttons can be personalised according to style and function. The simplicity of this design belies a sophisticated panel that offers endless functionality for that unique and pleasant experience.
Conclusion
The era of push buttons and touch sensors is here, and with the above examples, I hope that I have shown that the technology does not have to be ugly to be functional. These slick, modern designs come at a price, but they are worth every penny as they continue to bring your clients pleasure every time they see and use them.
All of the home control devices in this article are designed to work with KNX – the global standard for home and building automation. There are over 300 KNX-compliant manufacturers around the world, so designing a home or building based on KNX not only offers comfort, freedom of choice, safety and security to existing users, but flexibility to accommodate future needs.
Jevgeni Maiorov is a KNX partner, and owner of Smart Electrix, a London-based system integration company.