By Dr KNX.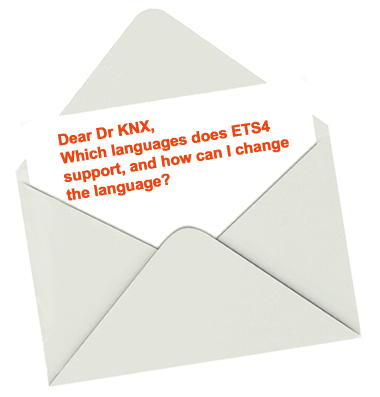 Dear KNXer,
ETS4 is available in the following languages:
Chinese (Simplified)
Czech
Danish
Dutch
English
Finnish
French
German
Greek
Italian
Norwegian
Polish
Portuguese
Russian
Spanish
Swedish
Turkish
You can change the language of ETS by going to the tab 'Settings', then selecting 'Presentation Language' and then using the drop down menus to choose the language you want. Do remember though, that every time you change it, you will need to re-start your ETS4 in order for the change to take effect.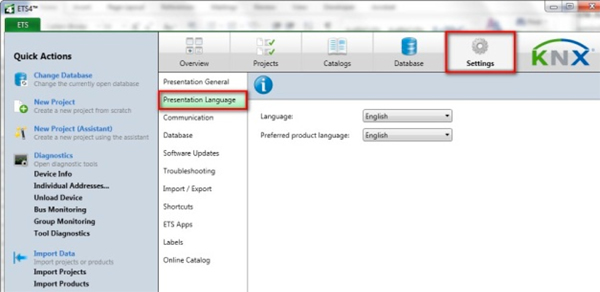 The Difference Between Language and Preferred Product Language
A) The 'Language' setting
The 'Language' drop down menu sets the language of the ETS4 user interface. When this setting is changed, ETS will automatically ask whether the 'Preferred product language' should also be changed, and this can be accepted or declined. The setting takes effect when ETS4 is closed and restarted.
B) The 'Preferred product language' drop down menu sets the language to be used for the display of KNX products (device properties, catalogue entries, etc.) This can be different to the Language setting above (A) if, for example, you want to display KNX product data in a different language to the ETS. This setting takes effect when the database is closed and reopened.
If the product supports the selected language it will appear in this language, otherwise it will appear in the manufacturer's default language, which, in most cases, is English.
Plug-ins
If the KNX product has a plug-in, then the product parameter dialog language is derived from the ETS user interface Language and not from the Preferred product language of ETS4. In other words, the language you read on a plug-in will be related to the plug-in software and not to the ETS4 software.
I hope that helps, but if you have any questions about this, or any other technical issue, please send me an email at info@knxtoday.com, and I will do my best to answer you.
Yours truly
Dr KNX