MooV'n'Group is a graphical studio for ETS: it really reinvents a workflow to build a KNX network. It offers a graphical, flexible and user friendly interface from a building layout. It dramatically reduces integration time in building integration. MooV'n'Group is ideal for commercial building, hospitals, hotel automation and any flexible room automation. Moov'n'Group works EXCLUSIVELY with a doGate that performs the link to the BMS station and SCADA.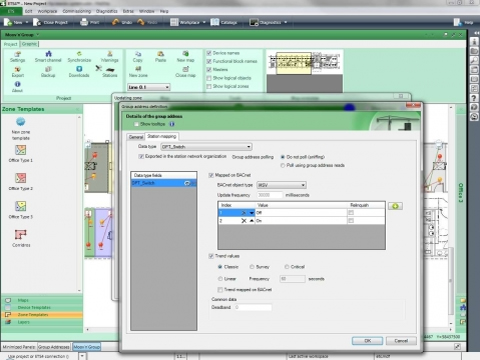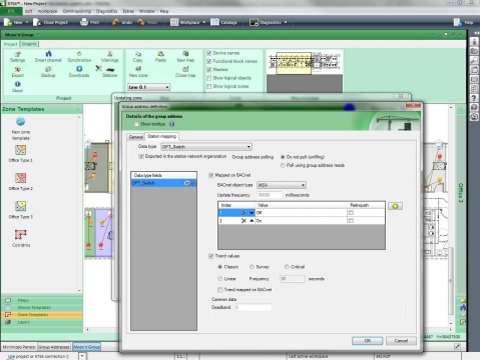 MooV'n'Group can template any device of any manufacturer as soon as it is available in ETS 4. It turns a device into a collection of objects such as lamps, switchs, sensors … Every object is then turned into a profile by setting its parameters. Then MooV'n'Group templates a zone: a collection of objects and their group address template when you connect 2 objects in a same zone. A zone may be an office, a room in hotel, hospital room, a corridor, a facade, … That zone also includes the automation template: mapping to BACnet, OPC and oBIX, trend template, …. And links to SCADA via doGate
With MooV'n'Group choose your building layout, place the objects on the map, draw a zone including objects and all is done : devices are created in ETS, parameters are set, group addresses are done in ETS including the good group objects, mapping to BACnet, OPC and oBIX are downloaded into the doGate. Device are installed and BMS interface is ready.
With MooV'n'Group you never reinvent the wheel because you can reuse all template: the more you integrate the more template you get and less work needs to be done. Working with template secures your installation because you cannot make manual errors. In case of final change, just modify template and apply to the complete project.
www.knx.org/uk/knx-tools/ets-apps/features/?developer=NEWRON+SYSTEM
http://www.newron-system.com