From 2 to 7 July 2013 the WorldSkills Competition was held in Leipzig. The best international trainees aged below 23 competed for medals in 46 official disciplines. Over 1,000 Competitors from 52 countries made WorldSkills Leipzig 2013 the biggest international competition of its kind ever held.
KNX was again selected as the only technology to be used in the Electrical Installation category. In concrete, KNX module consisted of controlling a simulated office by programming: push buttons, switch actuators and energy actuators, DALI gateway, shutter actuator, weather station, dimmers, etc.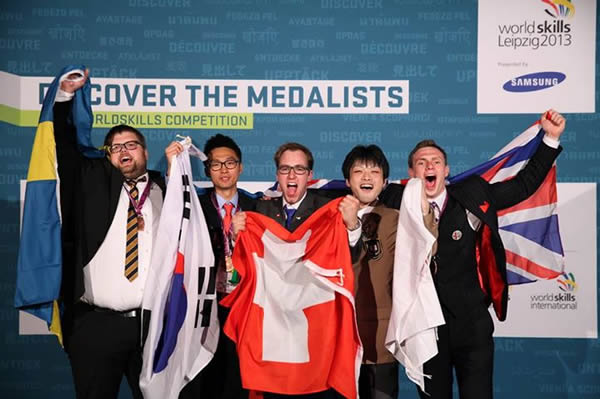 All competitors achieved extremely high standards of craftsmanship, with the eventual worthy winners being Mizuki Sakamoto of Japan (Gold Medal), Samuel Schenk of Switzerland (Gold Medal) and Sang Yeon Won of Korea (Bronze Medal); Oskar Sjögren of Sweden (Bronze Medal) and Matthew Crane of United Kingdom (Bronze Medal).
Our grateful thanks go to all KNX Members (ABB, Hager, Jung, Siemens, Schneider Electric and Theben) who supported this competition, as well as to all competitors and experts for their extraordinary efforts.