New learning platform: the KNX eAcademy
The KNX Association would like to share KNX knowledge with you. That is why we have created the KNX eAcademy where you can enroll in different free webinars. You will find tutorial sessions as well as information sessions. Many topics are proposed and renewed so make sure you visit the page regularly!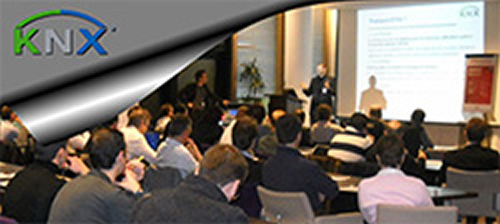 Become a KNX certified training centre (English)
Your training centre or company already organizes KNX courses and you want to take your courses to the next level?
During this webinar you will learn more about:
the advantages of setting up certified KNX training centre
the advantages for the students who will follow the course
the requirements for setting up a KNX training centre
KNX Certification procedure
Moreover we will provide you with some facts & figures of KNX training centres and KNX partners. At the end of the webinar, there will be Q & A session.
Do not wait and miss this unique opportunity to find more about KNX certified trainings.
Date: 27.06.2013
Registration closes on 26.06.2013
Max. attendees: 100
Time: 11.00 to 12.30
ETS4 and ETS4 Apps information webinar (English)
Would you like to discover ETS4 and its advantages? Are you a new user or a future user of ETS4 ? Have you heard about the ETS Apps and would like to have more information about them ?
Be welcome to join this information webinar which will give you a presentation about:
ETS4 latest version 4.1.6 :
What is ETS4
What are the advantages compared to older versions
Future developments
The ETS4 Apps:
What are the ETS4 Apps
What can it bring to your ETS4 software
How do they work ?
Date: 27.06.2013
Registration closes on 25.06.2013
Max. attendees: 50
Time: 14.30 to 15.30
KNX Development Webinar (English)
Agenda:
KNX Standard Version 2.0
Content and Explanation of the "KNX Cookbook", the KNX Development Guide for KNX S-Mode devices
Version 4 of the KNX Manufacturer Tool for the creation of ETS product database entries
The KNX Interworking Test Tool EITT
The KNX Certification Process for KNX Devices
Date: 28.06.2013
Registration closes on 27.06.2013
Max. attendees: 100
Time: 10.00 to 13.30
To register for these webinars visit the KNX eAcademy at: