Domonetio and KNX Training Center SPAIN are offering KNX Training in Barcelona (Spain) this summer 2013. KNX Advanced Course will take place from the 26th of July to the 1st of August 2013. The course will be completely in English language. KNX Advanced course official textbook will be also provided either in English or German.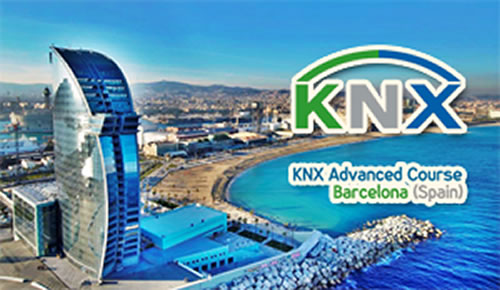 As a prerequisite, the trainee should have been certified as a KNX Partner, through the KNX Basic Course.
The course will be divided in three sections: theoretical part, practical part and exam. During the theoretical part, the student will need to implement some exercises on the training sets. For the practical part the student will be asked to practise himself with the KNX devices.
If the trainee passes the examination, an Upgrade KNX Certificate would be issued, which gives a good base to build a continued professional career in the field of Home & Office Automation.
Additionally the successful trainee will have an extra mark in the partner database at www.knx.org where it will be highlighted that they have passed the exam for the Upgrade course.
The course will also be combined with networking sessions among participants, KNX Tutor and invited speakers. We will visit a KNX installation and we will have the chance for leisure.
KNX Training fee
The KNX Advanced Course fee for the course is 1.600 EUR, including meals and dinners arranged in the agenda. Entrance tickets, Tourist Bus, tours and shuttle bus/transfer are also included.
For more information visit: