By Gordon Fry, Wandsworth Group.
Once upon a time, the idea of being able to communicate with your home from the other side of the world was the stuff of science fiction. These days, thanks to KNX, it is a completely deliverable, easy-to-operate and flexible home automation solution.
As the world's only open standard for intelligent buildings (ISO/IEC 14543-3), KNX has been around for more than twenty years and now offers an array of over 10000 KNX Association-approved products manufactured by around 300 suppliers. This means that the specifier can tailor an installation to meet the needs of the building and the end-user, who is never tied to a single proprietary system.
Combining complex technology with an easy-to-operate user interface, KNX installations offer simple visualisation, monitoring and control, creating properties that are both comfortable and energy efficient. Indeed, research carried out by the University of Bremen has demonstrated that a KNX building management system can provide energy savings of 40% with shading control, 50% with individual room control, and 60% with lighting and ventilation control.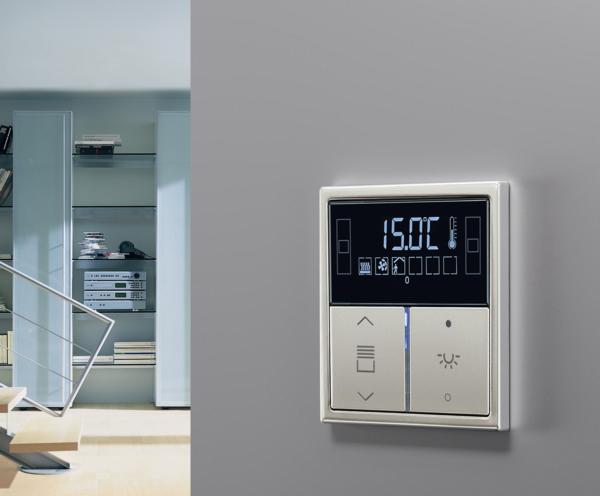 There are now over 30,000 accredited KNX integrators worldwide installing KNX systems into all kinds of buildings, from domestic dwellings to offices, hospitals, sports stadia and transport terminals.
Interoperable
KNX technology is based on a twisted pair bus cable that enables all building functions to be interconnected, creating a single control system for the entire building. For retrofit installations where rewiring is not possible, wireless KNX can be used which operates via radio transmission. KNX systems are also Internet-enabled which allows the end-user to connect to the controls via computer, remote Internet access or even smart phone apps.
While KNX technology is complex, the system is designed to be straightforward to implement, maintain and upgrade, and the ETS4 software package developed by KNX Association enables the designer and installer to assemble an installation that is independent of any manufacturer tie-ins.
Structure
The 2 x twisted pair KNX cable is housed within an insulated sheath tested to 2.5kV isolation voltage so it can be laid with the building's mains cables and wired either as a radial circuit, or daisy-chained and branched. The bus devices for controlling the various functions can be installed either next to the fitting or in distribution panels as DIN-rail-mounted units. As long as all devices are on the KNX network they can communicate with each other and will be interoperable, even if they are from different manufacturers.
Where any functional upgrades are required, this can be achieved without rewiring, by simply installing new controls and plugging in a laptop anywhere on the bus for integration by a trained installer.
Scalable Architecture
The hierarchical structure of KNX architecture makes KNX suitable for use in any installation, and each installation is made up of 'lines', which can accommodate up to 64 devices. Up to 15 lines can be joined together via 'line couplers' to make an 'area', and up to 15 areas can then be joined together with 'area couplers' making KNX a truly scalable system. Indeed, even larger systems can be accomplished using TCP/IP technology. Each line requires a power supply to power the KNX devices independently from the controlled outputs, giving fault tolerance by ensuring that a failure on one line does not affect another and that local data traffic is not affected by data throughput on another line.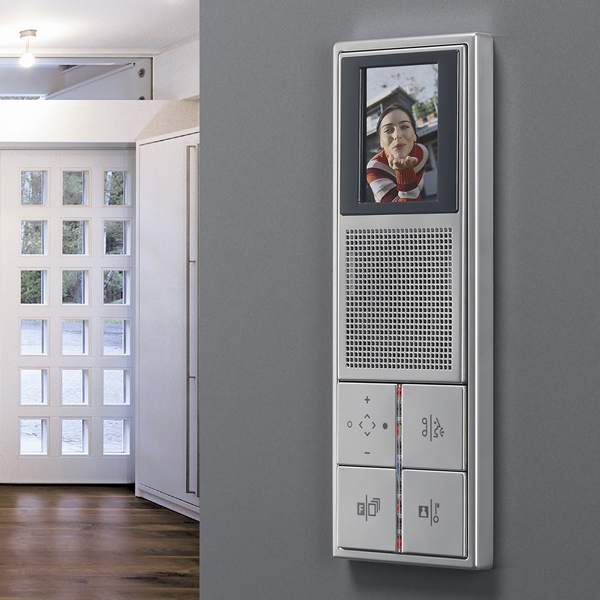 Devices and Data Exchange
Within each KNX installation there are three types of device: inputs, such as light switches, and physical detectors (presence, temperature, light, etc); outputs, including relay actuators, dimming actuators, blind actuators, heating actuators, etc; and controllers such as timers, event-driven sequencing, mood scene setting, data logging and programming devices etc. All bus devices consist of a bus coupling unit (BCU) and an application module, which can either be made up of separate parts or combined together into a single device. The information that needs to be processed is transferred from the bus to the BCU, and a microprocessor carries out the function defined in the program.
Information is exchanged between devices as telegrams, transmitted symmetrically on the line, giving a high level of noise immunity to the signal. The transmission speed is low at 9600b/s, but is sufficient for the required data traffic and avoids the need for terminating resistors, enabling any wiring topology to be used.
The telegram itself consists of packets of data: the source address, the device's physical address and the target address. It also includes the data field that communicates the instruction (e.g.: turn on or off, dim up or down, set a value or set point or transmit a measured value etc) and a checksum field to ensure correct transmission. For the system to operate effectively, data packets must be transmitted without colliding with other information. To achieve this, telegrams are organised so that they are transmitted when the bus is clear and automatically retransmitted if they are not received. And, because they are event-driven, telegrams are sent only when required, which minimises the traffic on the bus.
User Benefits
Operation at the user end of KNX belies the complexities of the technology. Visualisation, monitoring and control can be provided via touchscreen devices such as Wandsworth Group's Jung Facility Pilot or Smart Room Controller, which enable the end-user to select a room or zone and alter settings, or choose from a number of programmed scenes.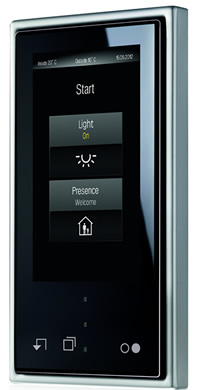 Energy consumption can be monitored using the same visualisation tools, and the system stores data from the day-to-day use of building functions which can then be used to put the building into 'occupancy mode' (or occupancy simulation), replaying genuine typical use when the building is vacant.
Remote access to the system is another key end-user advantage of KNX. For office buildings, this means that the system can be accessed for security purposes, and for domestic dwellings, occupiers can activate a 'welcome' scene before they return home, switching on lights and heating using a smart phone KNX app.
Conclusion
As the drive to enhance comfort and reduce energy consumption continues, KNX provides a flexible, functional and easy-to-operate technology that can adapt to changing needs. Only those with specialist knowledge and training can install KNX, so as demand continues to grow, so too will the market opportunity for those installers.
Gordon Fry is the KNX Technical Specialist at Wandsworth Group, a specialist in the electrical and electro-technical sector with a product range that includes wiring accessories and nursecall systems. The company is the exclusive UK distributor for all Jung KNX system products.