Andy Ellis explains why more of us should consider the jalousie for managing solar gain and security in a KNX-controlled environment.

A jalousie is a blind with adjustable slats for admitting light and/or air whilst excluding direct sun and rain. The first patent for a jalousie window was applied for in 1902 by Joseph W Walker. However the design was popularised by Van Ellis Huff, a University of Florida engineer who designed a hand-cranked glass, aluminium and screen window version that found widespread use in temperate climates before the advent of air conditioning. As far as I can tell, the only connection between Van Ellis Huff and Huf Haus (the manufacturer of prefabricated homes) is that Huf Haus extensively uses external Jalousie on its external glass windows and doors!
Types of jalousie
The jalousie takes two different forms, the first is the jalousie window which is basically a window with slats. The tiltable slats can be glass, metal or wood and their primarily function is to allow air flow through a building when opened. Because the slats slant downwards jalousie windows can stay open even when it is raining. This type is mainly found in commercial or industrial applications where air tightness is not an issue. They are also known as louvred windows.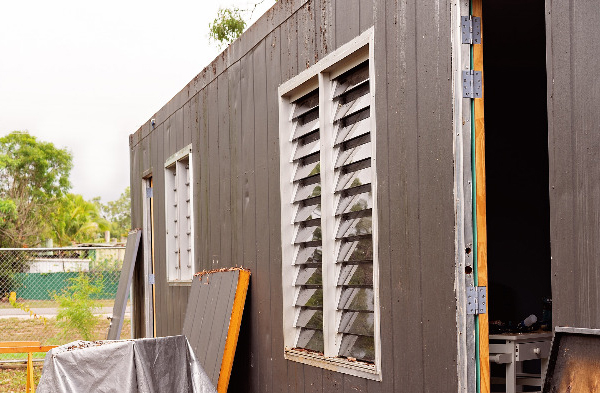 The second is the jalousie blind. This is usually found in the form of a Venetian (horizontal slatted) blind and is mounted in runners on the outside of a door or window. Its primary function is to control the passage of light and solar radiation. The blind can be totally raised or totally lowered. At any point in the raise or lower cycle, if the blind is stopped and momentarily reversed, then the slats will tilt the other way thus opening or closing the blind to let light in or block it out. Jalousie blinds in this form can negate the need for internal curtains or blinds. External jalousie blinds also offer added levels of privacy and security.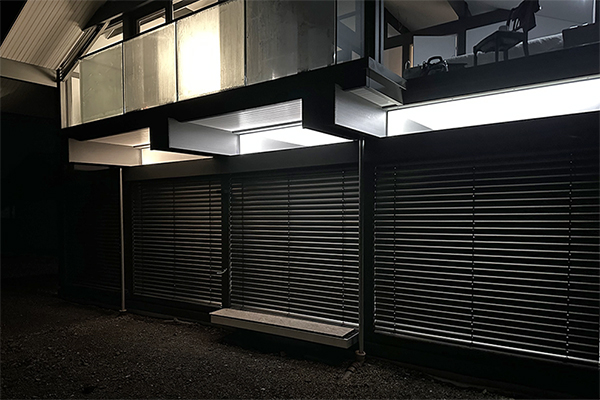 Controlling jalousie
Jalousie can be manual or automated. The manual type is typically operated by operating a lever or chord Automated blinds offer the added advantage that they can form a key part of the energy management system of a building. Because of the simple design, automated blinds are easily controlled via KNX equipment through a blinds actuator – typical KNX blinds actuators being available as 1, 2, 4, 8, or 16 channel devices.

An initial set up would involve programming the jalousie to operate via a KNX switch to provide manual control and override. Depending upon the setup within the property, this could be a wall switch (which could be added to an existing KNX system that has light switches for example) to perform functions such as blinds control, or it could be controlled via a KNX app. Once you have KNX control, then adding in automation is straightforward. So, for example, we may want the jalousie to close at dusk and open at dawn, and to close when the property is alarmed.
Managing solar gain and internal temperatures
Using the full extent of KNX, bus items such as weather stations can be added and integrated with jalousie blinds to control solar gain efficiently during the summer months. KNX weather stations, as with all KNX devices from different manufacturers, come with slightly different technical specifications. In general, they will take measurements of wind speed, wind direction, external temperature, relative humidity, air pressure, precipitation and global radiation. The measurements can then be used to calculate variables such as maximum brightness, absolute humidity, felt temperature and comfort level. The result is that during the summer months the KNX system can be set up to minimise solar heat gain within the property by closing jalousie in areas of maximum solar gain, thus improving comfort and reducing overall energy consumption and, ultimately, costs.
It is worth mentioning that KNX data can be extracted from the system and used over time to provide metrics to confirm the operation and fine-tune the actual operation of the set up.

It should be noted also, that manufacturers of jalousie in general will recommend that the jalousie is 'rolled up' in very strong wind, and again, with clever integration of weatherstations and forecasting, this can be automated to good effect.
Conclusion
In the UK, jalousie are not commonplace, however for buildings that take advantage of natural energy through the use of glass, such as in the Bauhaus style, the jalousie offers many advantages, the prime one being heat gain reduction during hot summer months. The crossover between an internal blind or curtain and an external Jalousie can be confusing, and I would suggest that having both is not necessary and could come down to aesthetics and personal choice. With both internal and external shading, an element of design is required to accommodate the devices whether in a new build or as retrofit.
Modern house designers and customers looking to block solar gain certainly need to have jalousie on their radar, especially when the end result is energy efficiency and reduced energy bills.
Andy Ellis is the founder and managing director of Household Automation Ltd, and its sister company Knxion Ltd, providers of building automation consultancy, design, installation and aftercare services to clients who are involved in building residential and commercial properties.
www.household-automation.co.uk