Yasmin Hashmi gives a taster of what visitors can look forward to at the forthcoming Integrated Systems Europe show, the accompanying Smart Building Conference and the IoT Solutions World Congress.
The world's leading AV and systems integration exhibition, Integrated Systems Europe (ISE) 2022, will take place at the Fira de Barcelona Gran Vía on 10-13 May. It will include a large exhibition space, plus a conference programme that runs from Monday 9 May through to Thursday 12 May. In addition, there will be a Smart Building Conference that will take place on 9 May 2022, and the IOT Solutions World Congress that will run from 10-12 May.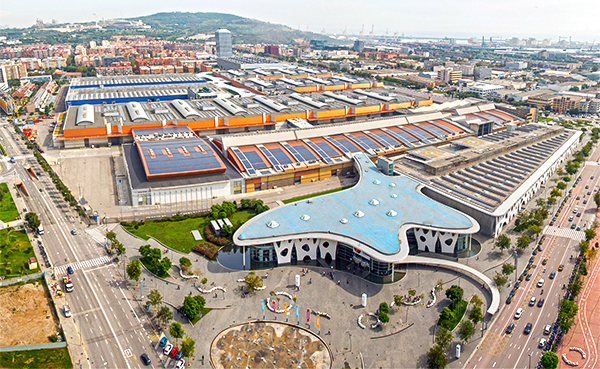 KNX Association has played a major role in supporting ISE, and is returning as the Presenting Show Partner at ISE 2022. After many successful years at the RAI in Amsterdam, KNX is looking forward to a new era in the Fira de Barcelona, where the new KNX stand number will be 2M400. This comprises a 240m² four-side-open stand located right next to the main entrance of Hall 2 – the Residential and Smart Building Zone – and will play host to a range of KNX exhibitors.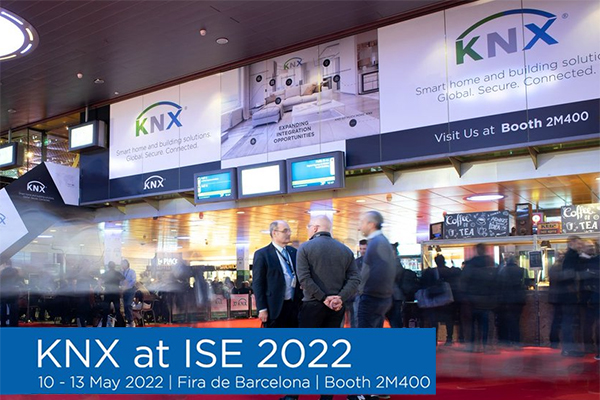 What's there for those new to KNX?
KNX is a robust worldwide standard for home and building automation that is used to make buildings more sustainable, comfortable and safe. The KNX Association has a thirty-year pedigree, and employs a strict certification process to ensure that a vast range of products from different manufacturers can be connected and interoperate seamlessly and reliably. KNX is complied with by over 500 manufacturers (KNX Members) offering over 8000 certified KNX devices. Furthermore, it can be specified and installed by over 100,000 qualified professionals (KNX Partners) worldwide, and uses a manufacturer-independent design and configuration software tool (ETS).
At ISE 2022, manufacturers and professionals who are interested in joining the ever-growing KNX community will have the opportunity to speak to an enthusiastic team of KNX Association representatives. There will be information on how to join as a manufacturer, as well as useful advice on how to get started as a KNX professional. There will also be plenty of KNX technology on show, accompanied by experts who will be more than happy to explain how it works, how it can be applied and what its benefits are.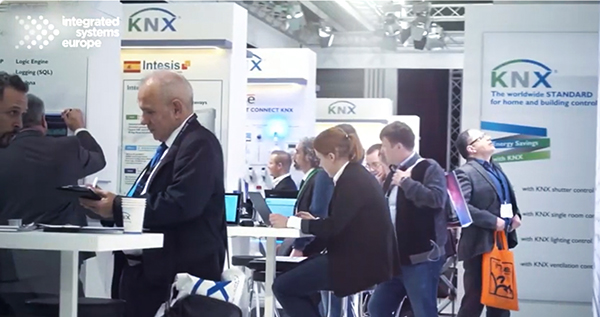 What's there for existing KNX Members and Partners?
In addition to Jung, Steinel and Basalte who will be exhibiting separately in Hall 2, nine KNX Members from seven countries will be exhibiting their latest products and solutions at the KNX stand 2M400. These include:
• Divus (Italy).
• EAE Technology (Turkey).
• Eelectron (Italy).
• HDL (China).
• HMS Industrial Networks (Intesis) (Spain).
• Interra (Turkey).
• IT-GmbH (Germany).
• Panasonic Life Solutions (Turkey).
• ProKNX (France).
• Weinzierl (Germany).
In addition, representatives of KNX training centres, Amaysis Training Centre and Domonetio Training Centre, will be on hand to advise on a range of training programmes.
For fun and a chance to win an ETS license or ETS Apps, experienced KNX professionals can participate in the KNX Championship. This is an open competition being run by Amaysis and Domonetio, and involves setting up an installation within a limited time and following strict instructions.
The KNX Spain national group will have a dedicated space to inform interested visitors about their local activities and opportunities for Partners and Members. Several KNX Spain Members will also join force, to demonstrate their selected KNX devices and solutions.
KNX IoT Panel
With the first KNX IoT products and solutions having been revealed in April 2022, further information about KNX IoT will be available at the KNX stand at ISE 2022. This will include a dedicated panel for professionals and manufacturers wishing to gain basic or in-depth knowledge of the KNX installation landscape using KNX IoT, and/or developing KNX IoT devices and solutions.
Smart Building Conference
The Smart Building Conference will take place at the Fira de Barcelona Gran Via on 9 May, the day before ISE begins. The schedule looks fascinating, and includes presentations and panel discussions on topics ranging from the post-pandemic building, every surface a screen, sustainability, building infrastructure trends, IoT, digital twins, how Google has scaled digital buildings and more. KNX Association CEO, Heinz Lux will present a session on 'Smart energy management with KNX', and KNX Association Marketing Team Leader, Casto Cañavate, will take part in a panel discussion on 'How to Balance IT and OT Smart Buildings Technologies'.
Registration costs €440. Click here to register free for the ISE exhibition using the code TBE90MB7, and then click 'select' and add the Smart Building Conference (SBC) to your basket.

IoT Solutions Word Congress
Integrated Systems Europe has teamed up with IOT Solutions World Congress (IOTSWC), the largest international event devoted to industry transformation through disruptive technologies. The IOTSWC will take place in Hall 4 and will bring to the table leading experts and companies working on artificial intelligence, digital twins, Internet of Things and quantum computing.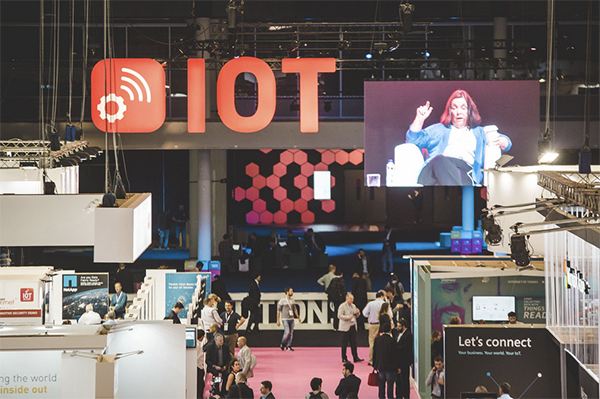 The agreement between ISE and IOTSWC will allow each show's visitors to access both exhibition areas, at no extra cost, whilst attendees registered to any of the ISE conferences will benefit from a 50% discount on the IOTSWC conference programme, and vice versa. KNX Association is a Diamond Sponsor of IOTSWC and will be presenting the following sessions:

Keynote presentation by KNX Association CEO, Heinz Lux, CEO on 'The future of IoT in home and building automation'. Heinz will open with a review of how a solid foundation guarantees a future-proof, secure and state-of-the-art technology. He will discuss how KNX now enables third-party services with KNX, which adds new business possibilities for manufacturers and professionals. He will also look forward to how KNX IoT will take advantage of an IP future, a more robust cloud, and progress in artificial intelligence (AI).

Parallel session by KNX Association Marketing Team Leader, Casto Cañavate, on 'Setting up the future for the IoT industry in home and building automation'. This will describe how strong technologies can set up the future of the IoT industry in home and building. Casto will introduce the KNX IoTech Programme, a framework that sets a best standard for the IoT industry. The programme is based on future-proof technology, security, interoperability, openness, one ecosystem, and of course, sustainability. The session will also present the new IP marketplace to promote the devices and solutions that meet the recommendations of the programme.

KNX Startup Forum by Jesús Arias, KNX Association Head of Business Development & Members. This is for companies involved with home and building automation, and will explore the KNX startup incubator program which provides resources and visibility to startup companies committed to developing KNX IoT based solutions. The forum will help startup companies position their solutions and devices within the largest home and building ecosystem in the world, and will include an introduction to KNX and the KNX community, technology and business insights, an IoT case study and a 90-second speech contest with prizes!
Other fun things to do at ISE
On the evening of Saturday 7 May, the Casa Batlló Façade Special Event will happen on the façade of Casa Batlló as a collaboration between Refik Anadol, OFFF Barcelona (a festival of creativity, art and digital design) and ISE 2022.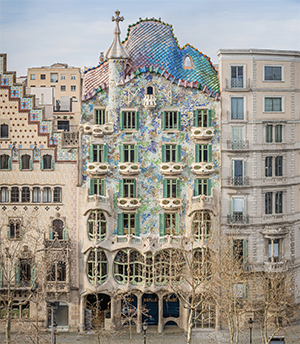 On May 9-11, the I RISE at the Plaça d'Espanya will perform projection mapping on one of the iconic curved buildings at the Plaça d'Espanya by the Fira Montjuïc. The 15-minute programme loop explores the themes of hope, regeneration and renewal. It starts at 21:00 and will continue for two hours each night.
On May 10-13, Hall 2 of the Fira de Barcelona will play host to the ISE Immersive 360° Art Experience. A world first and one-of-a-kind, this digital art exhibition will animate iconic masterpieces from artists such as Van Gogh, Claude Monet, Frida Kahlo and Gustav Klimt.
The ISE Discovery Zone in Congress Square, the area in front of Halls 5, 6 and 7 is a great place to unearth new technology and the potential for collaboration.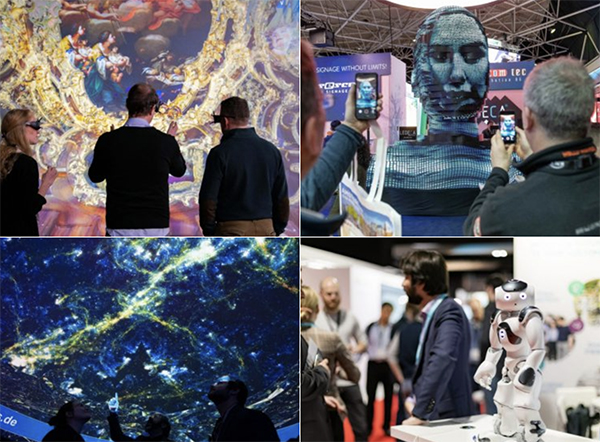 There is so much more, including the ISE Open Innovation Challenge 2022 – a matchmaking initiative where eight corporations are looking for new technologies and solutions partners to help solve a range of business issues across a range of categories including 'residential and smart building'.
For full details of what's on click here.
Registration
To register for the ISE exhibition and save €175 click here and use the KNX invitation code TBE90MB7.
Visitors to ISE will have access to access the IOTSWC exhibition area at no extra cost. Attendees registered to any of the ISE conferences will benefit from a 50% discount on the IOTSWC congress programme – and vice versa.
Have a great show and be sure to include @KNXassociation in your tweets!
For more information visit www.iseurope.org
Yasmin Hashmi is the Editor of KNXtoday magazine