Yasmin Hashmi reports on the recent ISE show, with summaries of KNX and other useful presentations, and links to the online videos.
ISE is the largest professional AV show in the world, and this year moved to Barcelona, where an ambitious hybrid event took place comprising an in-person show in conjunction with the ISE Digital online event. The KNX Association was the exclusive Presenting Show Partner as well as a Technology Channel Sponsor, and had a huge presence throughout the two days of the event on 1-2 June 2021.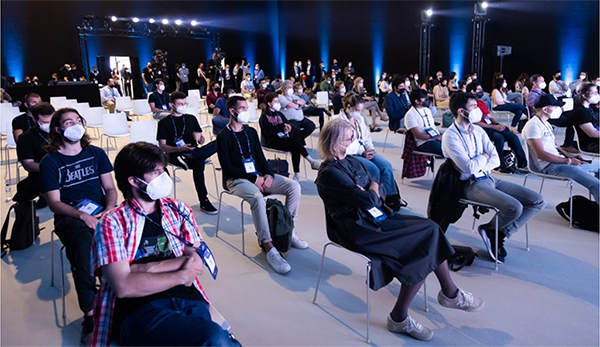 Whilst there were some fascinating presentations and interviews with experts from all walks of the pro AV industry, the main focus of this article is on KNX-specific presentations.
(Note: all videos will be accessible until December 2021).
Welcome to ISE Digital 2021: in conversation with Mike Blackman, Managing Director, ISE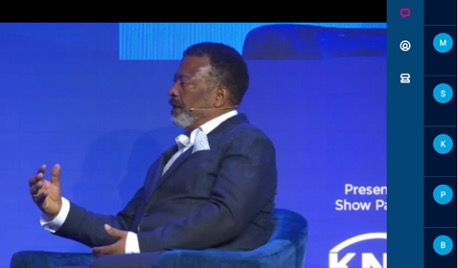 The event started with a welcome by Mike Blackman, Managing Director of Integrated Systems Events, who gave his perspective on the past 12 months and how the AV industry can collaboratively build a new roadmap for a new era. In this conversation, he talks about the need for a hybrid event to satisfy the demand for virtual participation as well as in-person business. As he put it, "Seeing products, meeting people and networking is part of what our industry is about."
Keynote: shaking out the trends in next tech… on the Sofa with Ventura Barba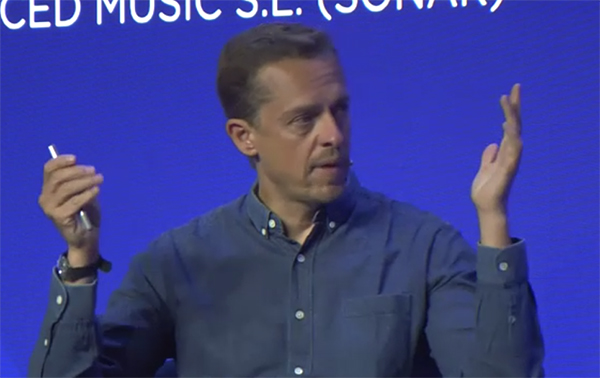 This keynote, by Ventura Barba, Executive Director and Partner at Advanced Music, looks at how events in future are more likely to rely on innovation, creativity and technology rather than putting masses of people together. AR, VR and XR (Augmented Reality, Virtual Reality and Extended Reality) will feature more heavily and help to improve real time feedback between audience and stage. While this area of the AV industry may seem outside the main scope of KNX, it does indicate the direction of travel into more immersive and responsive virtual experiences, which will undoubtedly reach into the realm of user control and how we interact with buildings.
The Future of Home/Building Automation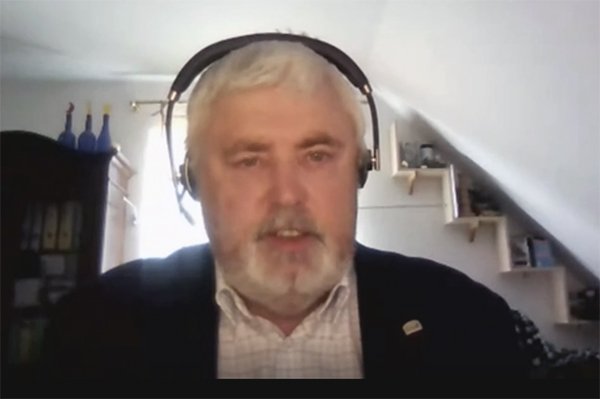 In this interview with Editor-in-Chief of Channel Media Europe, Bob Snyder, KNX President, Franz Kammerl explains that the latest technology, including the IoT, are already part of the current KNX software. KNX Association is not following trends, it is innovating and anticipating demand before it happens. Core strengths such as interoperability with other systems, the ability to provide safe environments in light of Covid-19, were mentioned, as well as the fact that sensors and edge technology can be leveraged to bring meaningful data and control to systems thanks to KNX IoT solutions. On working with external services, Services with KNX can head off problems before they occur and improve efficiency and comfort. On cyber security, KNX Secure follows all security regulations and international standards and provides the highest layer of protection of buildings. As Franz Kammerl puts it, "We know we are ahead of the hackers, and we have to be aware and constantly keeping ahead when we use open systems such as IP." Summing up, he points to the 30 years of experience that KNX has. "It's in our DNA to be open and to work with different manufacturers. It makes homes, buildings, cities and the world smarter. Your KNX system will always be state of the art."
Becoming a KNXpert: the right steps to become a KNX professional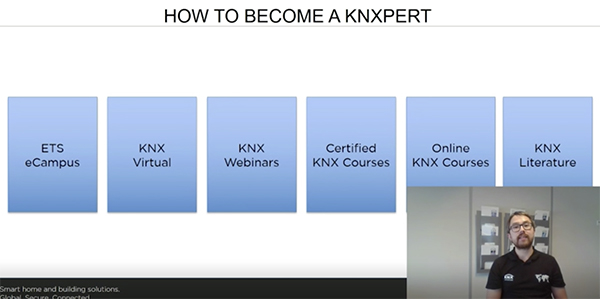 For those wishing to join the more than 98,000 certified KNX professionals (Partners) worldwide, this super introduction by Christian Stahn, Marketing Executive, KNX Association, is a great way to find out about the various education and training options available. These include ETS eCampus which teaches you about the KNX system programming software, ETS; and KNX Virtual which allows you to get acquainted with the KNX technology by setting up a simulated KNX installation, for free. Also covered are useful webinars, certified training and online courses and helpful KNX literature.
Gira Novelties: new devices for controlling and operating a KNX smart home system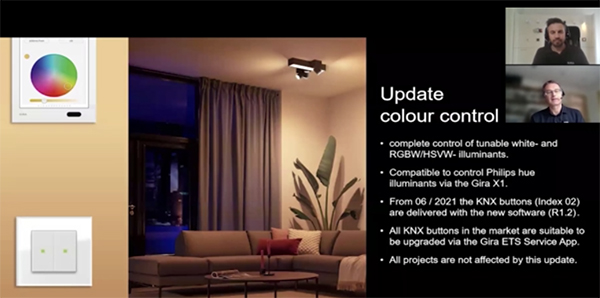 This presentation by Thomas Lange, International Products Manager, and Marco Strelow, Area Sales Manager for Gira, gives a more in-depth view of the powerful features offered by KNX controllers such as the touch-sensitive Gira pushsensor 4, with integrated temperature and humidity sensor; and the Gira KNX button that looks like a simple switch. Various trends are mentioned, including more simple solutions for smart homes, and increasing interest in controlling colour temperature, e.g. more blue for the morning, more red for the evening, as well as the desire to play with colours in rooms and outdoor spaces.
The Intelligent Building – with the focus on multisensor technology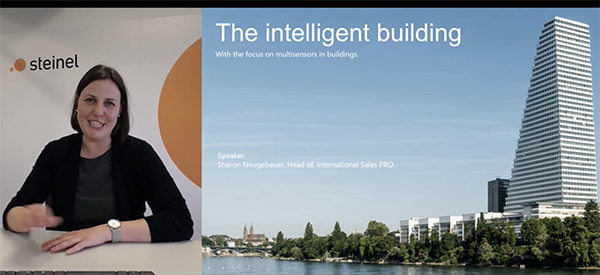 The future of intelligent buildings unquestionably relies on sensors. In this fascinating presentation, Sharon Neugebauer, Head of International Sales PRO for Steinel, takes us through sensor technology that monitors usage, behaviour and conditions so that every building can be made intelligent, efficient and healthy. The sensing technology embraces the senses of the eyes, ears and nose, and is able to control lighting, HVAC, shading, and security, as well as extracting valuable data for analytics. Also explained is how the sensing capabilities of the Steinel True Presence Multisensor, such as presence, brightness, temperature, humidity, CO2, VOC and air pressure, can be used to improve environments, including reducing the risk of air-borne infection.
How KNX IoT and Services with KNX Enable New Business Opportunities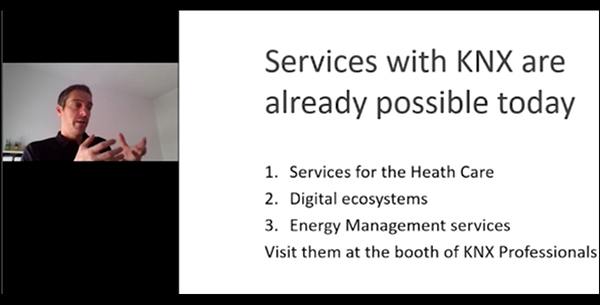 Casto Cañavate, Marketing Manager, KNX Association, discusses why our industry has a promising future thanks to KNX IoT, and Services with KNX. Whereas in the past there was a lack of interoperability, applications were limited, devices did not collect data and there was limited focus on energy efficiency, today, interoperability is a must, new applications are being demanded, from lighting, HVAC, shading and access control to EV charging, and data collection is commonly used. Moreover, as the world digitalises, new features, such as advanced AI, machine or deep learning, self-adaptation (where a building adapts to individuals' needs), and security, will be taken for granted. Also covered is the fact that KNX IoT is full IP, backwardly compatible with existing KNX technology, uses a standard language (semantics) so IT experts don't need to know KNX jargon, and supports services with KNX, where devices are part of an ecosystem and can increase their functionality through services offered by different external providers or by the KNX professional. This is illustrated with some examples of new business opportunities and pilot projects, including services for health care (e.g. monitoring smart home of elderly couple); and energy management of a home in real time.
Solving Today's Energy Management Issues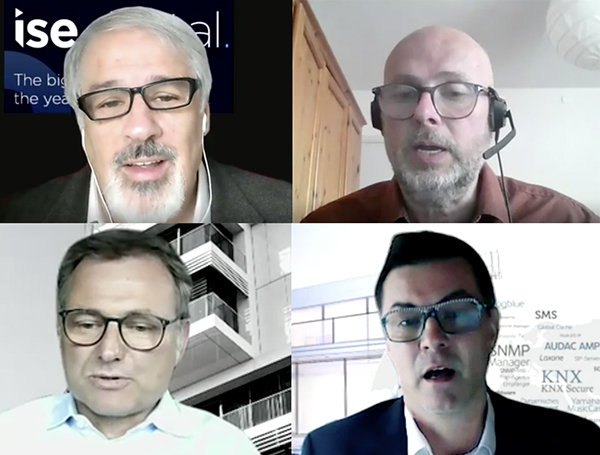 In this panel session chaired by Bob Snyder, Joost Demarest, CTO of KNX Association, Stefan von Appen, COO of iHaus (a software company developing a platform for IoT buildings), and René Rieck, Global Product Marketing Manager for Alexander Maier, explore the latest possibilities to create a more sustainable world with KNX, and especially KNX IoT. Joost Demarest underlines how important it is that KNX data is understandable by third parties who wish to tap into it and realise services. Stefan von Appen stresses the importance of deriving meaningful instructions and recommendations from sensor data, and gives an example of iHaus' cooperation with the German Red Cross, where a pilot service for actively or passively triggering emergency calls, is now available on Amazon through Alexa. René Rieck discusses connection with utility companies and a KNX installation in Finland, where data exchange allows the utilities to offer services and control loads, showing the way forward from the smart home into the smart city.
Choosing the Right KNX Visualisation/Server: Gira X1 versus Gira HomeServer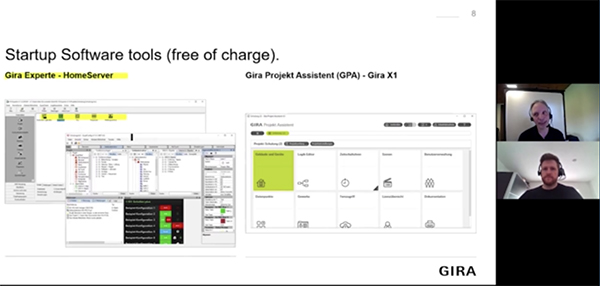 This concise presentation by Gira trainers Lars Kirchhoff and Alexander Gärtner discusses the difference between the Gira HomeServer and Gira X1 for functions designed for experts and newcomers respectively. They look at the general functions expected of a server, the different types of project that each server is suited to, how the servers can be integrated within a KNX system, how to get started, the features of each and more.
Bringing in Voice Control, without 'Cybergeddon'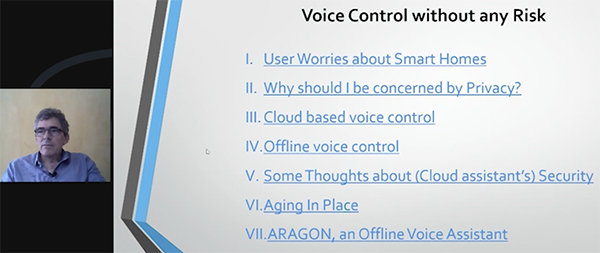 Christian Kiefel, CEO of ProKNX shows how to integrate new domains such as voice control without cyber risks, by using an offline voice control system, namely the ProKNX ARAGON. He starts by outlining why people have reservations about using Internet-connected voice assistants, including privacy issues (Alexa for example, collects your mobile contacts, your location, records your spoken data and is always on), and operational security issues due to reliance on an Internet connection and other hardware. The ARAGON offline voice assistant, on the other hand, is a local server that does not require internet connection and is available in PoE and wireless versions. It can plug and talk with the Gira X1 or Gira HomeServer, the Jung SVS, the realKNX Air, the ProKNX proServ, Sonos, and the Ikea tradfri.
Talking KNX with CEO Heinz Lux: The Next 30 Years

Given how much KNX has achieved over the past 30 years, in this short interview with Bob Snyder, CEO of KNX Association, Heinz Lux, looks forward to the next 30 years. He insists that the future will be IP, and envisages KNX not only playing a major role in smart homes and buildings, but taking a quantum leap into the realm of smart living. As KNX IoT technology changes the perspective from inside to outside, applications will use data from KNX buildings to offer services, thereby generating new opportunities for different providers involved with energy, health and security.
Other presentations of interest to the KNX professional
Recovery: Navigating the Post-Pandemic Landscape
This explores the post-pandemic explosion of media offerings for the home and how integrators can deliver the best client experience, and how take advantage of wellness, sustainability and assisted living.
This looks at how things will be different when people return to the office. Integrators will need to create workplaces of the future with intelligent, immersive and inclusive employee experiences.
The Integrator of 2025: What's Next?
Based on a new CEDIA white paper, four segments that are most important to occupants of a residence are examined, namely presence, comfort, safety and sustainability. The presentation discusses why it is critical to know how these segments will change and what specific skills will help integrators.
Keynote: Sustainability Accelerated… on the Sofa with Tom Raftery
Sustainability is at the top of the global agenda – ignoring it can only result in being left behind in modern society. What should you be doing, why, and what is the perfect destination for a sustainable business?
Conclusion
In the midst of an ever-changing pandemic landscape, it was bold of ISE to stick resolutely to its plan and hold an in-person event, whilst accommodating a comprehensive online audience too. It was clearly an emotional event for all concerned – the show organisers did a great job of making us onliners feel part of the in-person event, and it's not until you get into the thick of it that you realise how important that buzz is, of being amongst so many others who are equally enthusiastic about your industry, and how that motivates, inspires and reassures. Yes, the figures for some of the online presentations were disappointing, but ISE has provided a great platform from which to view all of the online presentations until December 2021, so there is still time to catch up. ISE and the KNX Association, as Presenting Show Partner, should be congratulated for their ambition and for a super programme, and whether we attended online or in person, an event such as this reminds us that we are part of a resourceful, exciting and forward-thinking industry with a great future full of opportunities.
Yasmin Hashmi is the Editor of KNXtoday magazine.