The festive season is upon us and 2021 is around the corner, thankfully! The vaccine brings light at the end of the tunnel and the BEMCO-KNX Team wishes you every success for the year ahead.
Hopefully you can get off to a flying start by being a winner in our Christmas Raffle! We are giving away 9 x KNX products, with a total value over £3,000.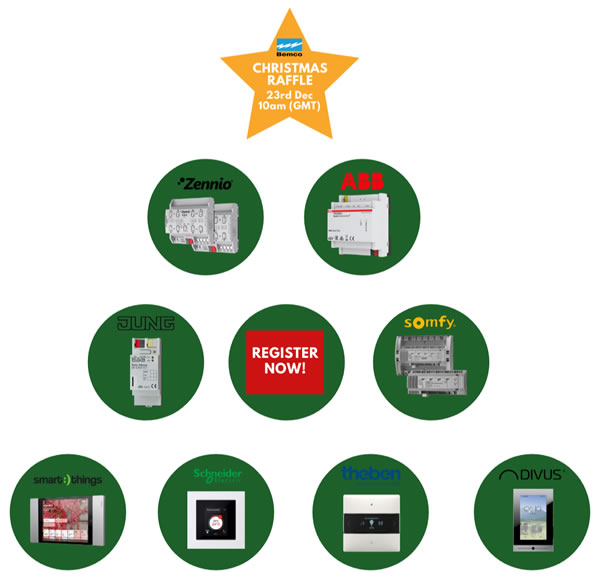 Simply register for our LIVE Prize Draw to take part.
The lucky winners will be randomly picked LIVE on a zoom call at 10am, on 23rd December. Only participants on the call will be eligible to win a prize!
BEMCO is determined to spread some joy and happiness this Christmas and really hope you will join us! You've got to be in it to win it!
Bemco Christmas Raffle 2020 Prizes:
1 x DIVUS TZ07B 7inch touch panel (worth £795 + VAT)
1 x ABB Voice Control Gateway (worth £650 + VAT)
1 x Jung KNX SONOS Gateway (worth £475 + VAT)
1 x Zennio Narrow Dim x4 (worth £247 + VAT)
1 x Zennio Narrow Dim x4 (worth £247 + VAT)
1 x Schneider Multitouch Pro (worth £295 + VAT)
1 x Somfy Animeo Motor Controller (worth £295 + VAT)
1 x Smartthings S09b sDock Fix mini Silver (worth £160 + VAT)
1 x Theben iON 108 KNX HVAC controller (worth £95.86 + VAT)