By Philip R. Juneau.
These are clearly tumultuous times around the world, and here in America, we seem to be muddled in the midst of it all. Living with COVID-19 has awoken a survival mode in every one of us, which can take us over and cause mayhem and panic. To add insult to injury, disasters such as fires, floods and storms are on the increase due to global warming. America is suffering; at the time of writing California was experiencing a 'gigafire' (a blaze spanning more than 1 million acres) for the first time, causing smog, pollution and the destruction of natural habitats.
What is also alarming is that, due to these fires, solar energy implementation in the state has gone down drastically, since the smog hinders our ability to capture solar energy. For me, this is a 'bucket of cold water' time – a wake-up call for humanity.
We cannot afford to keep consuming and wasting resources at the current rate. The net zero building should be everyone's goal. Renewable energy technology is proven and cost-effective, and, paired with energy efficiency and storage, can surely get us to the net zero-carbon buildings we need.
Our call to net zero
According to the World Green Building Council (WGBC), a net zero-carbon building is a building that is highly energy-efficient and fully-powered from on-site and/or off-site renewable energy sources. The WGBC's Advancing Net Zero project is dedicated to supporting market transformation towards 100% net zero-carbon buildings by 2050.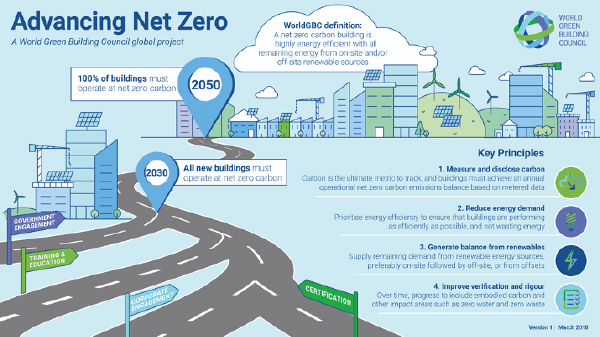 The US affiliate of the WGBC is the US Green Building Council (USGBC), which has launched its 'Pathway to Net Zero', a platform providing educational resources to help practitioners position LEED projects towards net zero energy, water and waste; including technical aspects such as energy modelling, and insights from case studies that have achieved this level of performance (i.e., LEED v4 New Construction). This platform aims to make net zero possible in the USA with relevant articles and plans for net zero-carbon operations verification for building projects. As it is tied to LEED – the primary programme for energy efficiency – it is built into the overall USGBC programme for streamlined implementation and transparent results. Therefore, our call to net zero has a defined path and methodology, so let's use it!
The differentiators
With all of this advanced technology, what are the distinguishing factors that can bring us to net zero? Well, you'd be surprised how simple-but-effective actions and measures can transport us to this place.
First, we need to design and specify our building technology monitoring and control systems on open-protocol standards such as KNX, BACnet and Modbus. We need to make it straightforward and cost-effective, so KNX is an obvious choice. With its standard platform, structure and universal software tool (ETS), KNX levels the playing field and streamlines the engineering, commissioning and overall supervisory operation. Anything else will only complicate the solution and add costs to both the installation and operation.
In fact, China ratified KNX as the standard for building controls in the country back in 2013, with the aim of becoming carbon neutral by 2060. This is a bold move for a country that has seen tremendous industrial developments over the last decade, with a carbon footprint to match. The question is: what can the USA do to reassert itself and get on board?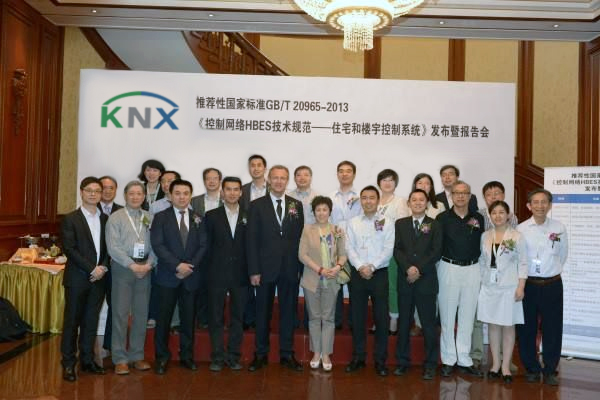 Second, we should go back to basic principles of building design and operation. We need to measure and monitor the critical indicators in all areas of the building: temperature, humidity, CO2 and energy supply, comprehensively and accurately. This may sound simple, but note the key words 'comprehensively' and 'accurately'. We need to treat the building in a holistic way; as an entity with multiple areas that require specific attention in order to ensure the smooth running and well-being of the whole; just like the human body.
The human factor
This daunting year has seen division, confusion and the external aspects of our life be completely infringed upon, so we need to draw upon our internal fortitude to keep things grounded and keep our eye on the bigger picture. We must remember that no one, no matter their position, is immune to plague, and no one will be unaffected by climate change. A video that I saw the other day put it simply – there is no left or right, no liberal or conservative, no colour or race, rather, simply a human middle ground. It is our combined prosperity that makes us successful; Darwin's survival of the fittest may be a universal truth, but it should NOT be our mantra, as even the fittest will not thrive if we so damage our balance with our world.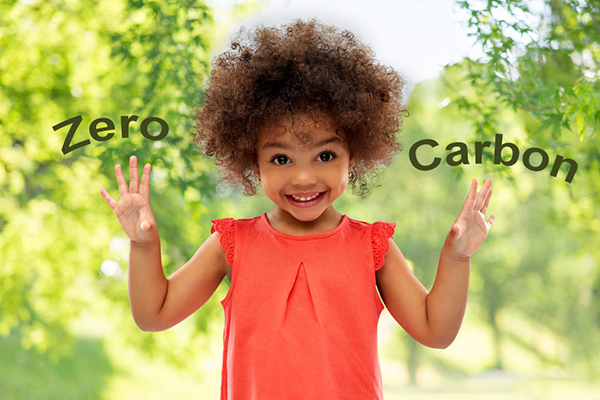 Summary
Our human existence relies on a healthy planet, and for this, we need to come together, cooperate, compromise and use our human ingenuity. It is up to us all, as individuals and as an industry, to play our part.
Based on what's available, there is really nothing standing in our way to get us to net zero-carbon buildings. By employing open protocols such as KNX, returning to basic building fundamentals and taking a steadfast, empathetic and collaborative approach to each other and nature, we have the wherewithal to make our contribution to a sustainable future where all life prospers.
Philip R. Juneau is Chief Commercial Officer for Automated Technology Company (ATC), and Vice President of the KNX USA National Group. ATC's mission is to transform today's buildings into tomorrow's net-zero infrastructure by ensuring the highest levels of safety, comfort and efficiency for the overall well-being of its occupants and the overall environment.