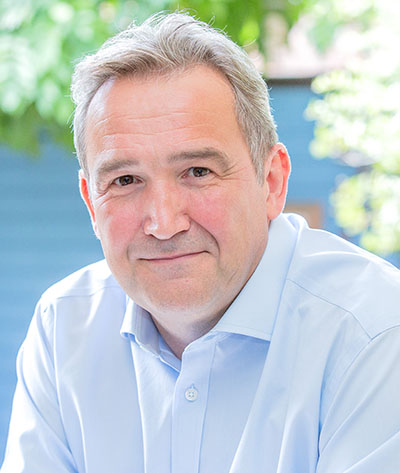 Paul Foulkes MSc MIET was elected as President of the KNX UK Association this spring. He is also KNX Business Manager for Theben UK and unashamedly passionate about creating inclusive buildings. In this exclusive interview with KNXtoday, Paul talks about his passion for KNX, why the protocol is highly-suited to our changing needs, and the role of KNX UK in the coming years.
KNXtoday: Why have you taken on the role of KNX UK President?
PF: My predecessor, Iain Gordon, has done a fantastic job in building a vibrant KNX community in the UK, and I have big shoes to step into. KNX UK Association has achieved so much, but I believe we now need to capitalise on that work and focus on some key targets to ensure KNX is seen as the preferred protocol. I want to ensure that our members can benefit from an aggressive information strategy.
I want to bring the skills of the KNX Board to the fore. We have got an amazing mix of skills and talents and a huge commitment to the membership. KNX has been here for thirty years and I want to show that it will be here for another thirty.
KNXtoday: What is your main objective/challenge as President?
PF: An ongoing objective is to ensure that the association remains relevant and best serves the members. With the Coronavirus situation, these challenges have been brought sharply into focus. The association can help guide and support the newer KNX businesses by keeping them in touch with the UK KNX network.
I hope to improve our levels of communication, and to engage outside of the KNX bubble. I want to ensure that our members have a voice outside of building automation. As an association, and as members of it, we must talk to everyone involved in building design. We must encourage them to see what KNX can offer and importantly, we must all listen to end-users because ultimately, we all work for them.
KNXtoday: How long have you been involved with KNX technology?
PF: I was first introduced to KNX when I had my business in France, in 2002. I had a poor experience with a proprietary protocol. I was standing in my local suppliers trying to get the best result for my client and KNX was mentioned. After some introductory sessions, I was completely sold, and I have never looked back. When I returned to UK in 2012, it was a natural step to get involved with KNX and the association almost immediately. Even though initially I was not working in the building automation sector, I wanted to stay current.
KNXtoday: How do you view the current capabilities of KNX?
PF: KNX has always adapted, that is why it is still here after thirty years. With the growth of the IoT, the need for an IP backbone on projects and the boom in smart home products, KNX has shown that it can match and exceed expectations. In 2020, KNX can be the heart of any installation, communicating across multiple platforms and linking the systems. The release of ETS 6 will enable KNX to stay relevant with a workflow that is more in keeping with how we interact with computers and software today.
Security has always been a concern for buildings as they have become more dependent upon technology to operate. KNX is secure, at all levels, and is always scrutinised to ensure that security is not compromised.
KNXtoday: What is your favourite KNX installation in the UK?
PF: This is more difficult to answer that you might think. KNX is applicable to all sectors of construction and to all building typologies. It has applications from plant control BMS to ultra-high-value residential. But I think my favourite is my own house! It is a very simple installation – classic residential, with heating and lighting all working together for the best level of comfort and efficiency.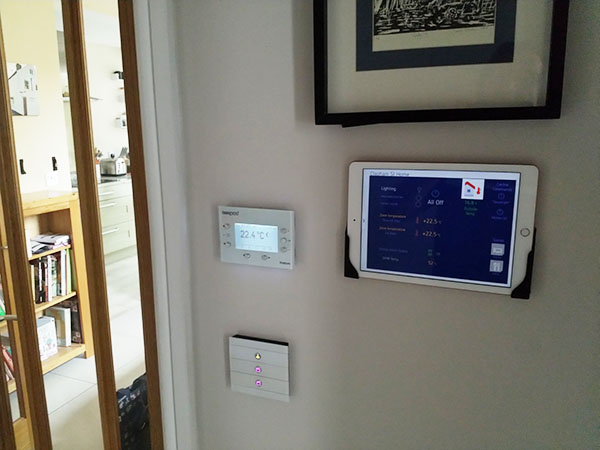 KNXtoday: How do you see the longer-term future of KNX in the UK?
PF: The UK construction sector is changing: off-site manufacture, the need for housing that is accessible to people of all abilities, and housing that can adapt with us as we age and as our health requirements change. These are all areas where KNX has an important role to play and is perfectly suited.
Due to the nature of construction and its history, there will never be one single protocol. KNX has the real ability to be the core protocol, connecting the other systems, being the communication link between end-user, facilities manager, architect, consultant and designer. Building designers now consider occupant well-being alongside light control and air quality. The COVID-19 situation has made us look at the health implications of being inside a building. Working from home has made us appreciate the need for flexibility and to consider long-term healthcare options, as we would prefer to be at home as we get older.
These are all reasons that building design is changing. With KNX the construction sector has a protocol that can be the core, can communicate and is adaptable. That is KNX, and KNX UK Association is the same. Here to talk, here to connect and here to communicate.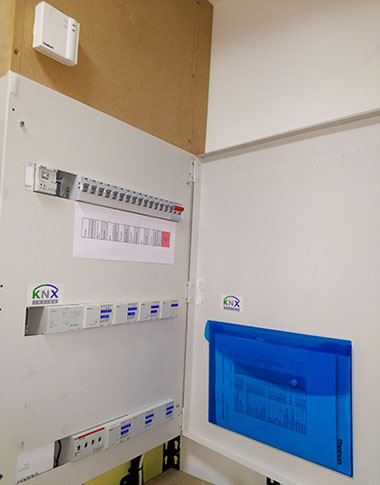 KNXtoday: How do you see KNX UK's role in the coming years?
PF: The initial remit for the association was to inform and promote KNX as the protocol for building automation. A key part of this was to encourage installers to get involved and embrace KNX as the preferred route to market, and I believe the association has been successful in doing this. Moving forward, the role of the association should reflect the evolving market in the UK.
This means being part of the process in creating new regulation, and actively having a role in the discussion for new building requirements. We are already active in APPGAT (All-Party Parliamentary Group for Assistive Technology) and working with the IET (Institution of Engineering and Technology) looking at new smart building specification. My role is to ensure this momentum is maintained.
KNXtoday: you were elected just as lockdown happened in the UK. How have you coped?
PF: Being at home mostly during the current situation, I have been able to really fine-tune my KNX installation (which is something you don't often get a chance to do for a client). So, eventually after four years since first install, I can say to my wife that it is finished (well, I may still tinker with it at the weekends)!
Paul Foulkes MSc MIET is President of the KNX UK Association and KNX Business Manager for Theben UK.