By Mark Warburton, Ivory Egg.
Out of the blue it seems we have moved into a new decade, well technically not, but it certainly feels like it, mainly because 2020 just sounds so much better than 2019. Regardless of the pedantry, it's still a milestone and a great time to reflect on past years and look to the future. It's also a milestone with KNX celebrating 30 years, and hopefully the year that KNX passes 500 manufacturers, given only five more are needed!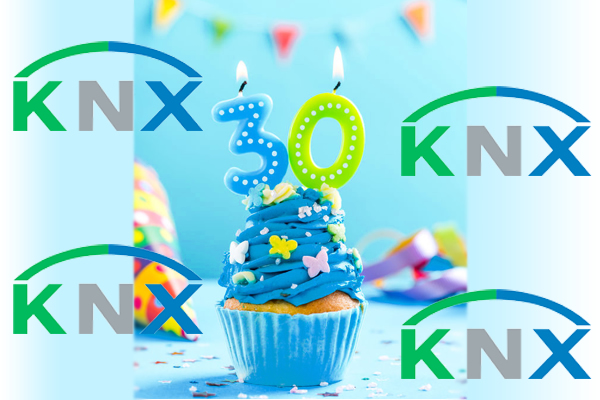 Having been involved in this industry for just under half of the 30 years, it is amazing to see how far we have come. I learnt on ETS3, and whilst the user interface is fundamentally the same (panels with drag 'n' drop), the amount of work required to program has been dramatically reduced over the years. Time-saving features such as channels, filtering, find and replace all seem minor, yet make everything easier. And with the migration from plug-in to apps, not only are we beginning to see even more flexibility and power from the platform, it is far more reliable and resilient.
Always evolving and relevant
In terms of products, there have been some major developments over the years, particularly around the functionality of devices. It doesn't seem that long ago that on some devices, scenes could only be shared across all channels of a device and the only way to get feedback was on the switching object. Again, pretty basic points, but something that makes system design and programming a lot simpler. Devices have also become more intelligent – thermostat logic seems to be included in most HVAC devices now, most keypads have a temperature sensor and the quality of display is ever increasing. The Jung F50 RTD is a great example of clean and simple OLED display.

User interfaces continue to be decluttered, moving from what an engineer would like to see to only what is relevant to the user. The soon-to-be-released Zennio Z70 is a prime example.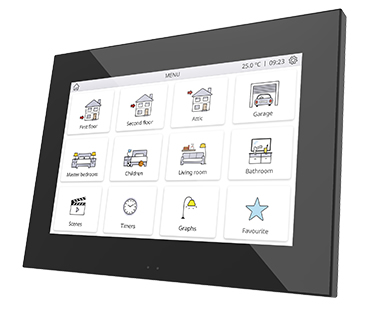 There have also been some big leaps forward in how we can access systems remotely with the likes of the Gira S1 and ISE Smart Connect KNX Secure devices, making it possible to have immediate secure access without any port forwarding or VPNs.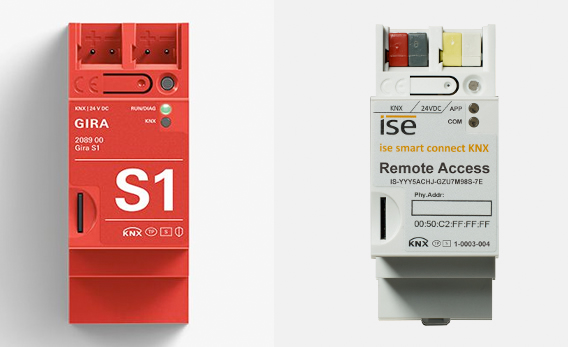 It is, however, a testament to the long-term outlook of KNX that there are still countless products that have been on the market for over 10 years and are still fundamentally the same. If the product development is done right in the first place, then KNX provides the best platform for a product to remain relevant for years to come.
That being said, Light + Building 2020 will no doubt bring a whole host of new innovations and solutions, but unfortunately most manufacturers are still being very tight-lipped about the show! It never fails to impress though, so it's always worth a visit.
Even the underlying KNX system has seen some major updates over the last few years, making it a solution fit for the future. KNX RF is becoming more viable with numerous manufacturers releasing solutions, and KNX Data Secure is beginning to be seen on devices, meaning individual communications can be encrypted. This is in addition to KNX IP Secure, which has already become established as a viable way to protect the whole installation from cyber threats.
The other big development was the shift to TP1-256 which removes the need for line couplers and allows for 256 devices per line. This greatly simplifies the design and specification of the system and has made introducing new integrators to the system much easier.
Looking ahead
One of the big developments that will have an impact over the coming years is the KNX IoT project. This will serve to make KNX not only a standardised open protocol but one that can be quickly and seamlessly integrated with other platforms and solutions. Although this is already possible, being able to connect any system to KNX, without any programming, opens the door for a huge range of applications from assisted living to dynamic workspaces that respond to all users, not just facility managers. When viewed in combination with the increasing acceptance of natural interfaces, such as voice and gesture, there are countless opportunities for KNX to truly become the backbone of the modern building.
More immediately, ETS6 is just around the corner, and although the details are still under wraps, I am sure the KNX Association will be focused on how to make the integrator's role easier, whilst further improving reliability and flexibility. KNX Secure is a big part of this, and as it will increasingly be a requirement on projects, I am sure ETS6 will see better integration possibilities.
Conclusion
Although these developments all fundamentally change the way the KNX system works, it is even more impressive that backward compatibility is constantly maintained, and assured by, the KNX Association. Not many control systems survive more than ten years, so to say that KNX has been around for 30 and shows no sign of slowing down, is extremely comforting to say the least.
No doubt there are some major changes to come over the next few years, both from inside the KNX world and from beyond, so it will be interesting to see how the industry develops. As KNX provides a strong platform that is rigid in its standardisation yet flexible in its mindset, I have no doubt that it will continue to lead the way in building control and automation. So here's to the next 30 years!
Mark Warburton is the Technical Director of Ivory Egg (UK) Ltd, a supplier of leading KNX products and provider of KNX training courses.