By Julian Barkes, BEMCO.
The annual Training Centre Conference took place on 18th October at the Grand Hotel Bristol, Stresa, Italy, overlooking the beautiful Lake Maggiore, a very pleasant 45-minute train journey from Milan. KNX Certification Manager, Ufuk Unal, went through the updates that have been made to the training documentation this year and floated a new idea of making the Advanced course 'modular'.
The following summarises the main points covered:
1. KNX Training Documentation
i) New chapters for KNX Secure, IP Communication and Telegrams have been created for the Advanced course. The theory exam will now contain questions (statements) from these new chapters.
ii) Existing Basic course chapters for Topology, Bus Device and System Arguments have been updated, as a result of the fundamental change in the Topology from 64 TP devices to the new number of 256 TP devices which can be mounted in one line. This expansion does not require Line Repeaters so long as the total cable length does not exceed 1000 metres.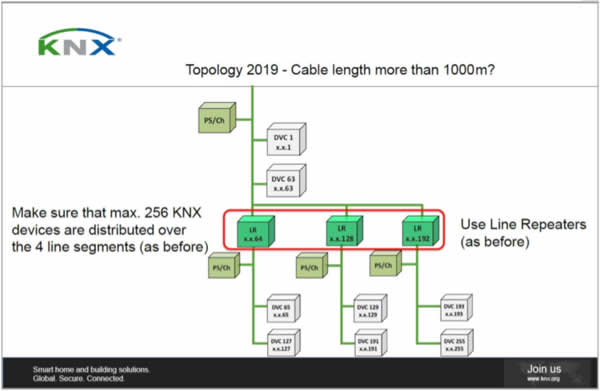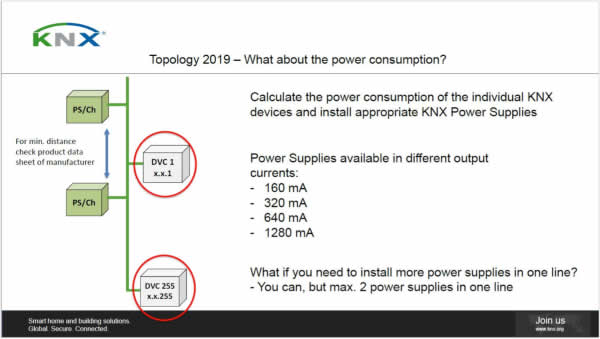 iii) From April 2020 all certified KNX Training Centres will be required to add KNX RF devices to their training panels. They must have 1x KNX RF S-Mode sensor and 1x KNX TP/RF media coupler.
2. Should the KNX Association make the KNX Advanced course 'modular'?
i) Ufuk presented the idea of offering the individual chapters of the Advanced course as standalone online modules, effectively providing a step-by-step course to achieve Advanced qualification.
ii) Each chapter would be allocated a certain weight or credit score, and only when having reached at least 60 credits would the student (KNX Partner) be eligible to sit the Advanced course exam (theory and practical), which must take place at a physical training centre.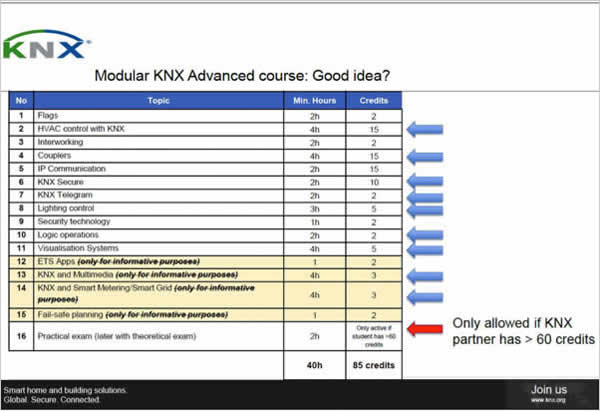 iii) The KNX Association's thinking is that a bite-sized 'modular' course will offer students more flexibility, since 'time' and 'cost' are the biggest barriers for less-experienced engineers/integrators/installers from taking the Advanced course. The modular course could enable a KNX Partner to follow one module at training centre A, another at training centre B and perhaps the exam at KNX training centre C?
Feedback
The idea was greeted with mixed views. Most seemed against the idea as it would devalue the quality of the tutoring that exists between training centres and assumes standardised practices exist in each country, which is not the case.
Next step
Ufuk to review and reassess.
3. Differentiating between KNX Partner qualifications
i) I asked whether the KNX Association would consider devising a graded scheme to enable clearer differentiation between skill sets of KNX Partners, given the improvements that have been made to the KNX Standard recently in terms of KNX IP, KNX Secure and KNX RF. Not only would this be a good opportunity for training centres to activate/re-engage with older integrators, it would also be a means by which a consumer can differentiate between integrators (and their competence).
ii) Perhaps the KNX Association could consider a one-day course for training centres to promote and enable those KNX Partners that were trained prior to these advancements to gain the same skills?
iii) If the KNX Association is looking for an opportunity to launch a 'modular' course, then perhaps they could consider bite-sized modules for KNX Secure, KNX IP and KNX RF? This may be a better option than carving up the Advanced course?
Feedback
Ufuk and the KNX Association CFO and CTO, Joost Demarest, acknowledged this idea was valid (and had been raised before), but needed to be discussed in a different forum (with more time available).
Next step
Ufuk to advise.
4. Online Training
i) Futurasmus gave a presentation on their online training platform which offers the complete syllabus of the Certified Partner course, including all the theory chapters and practical examples via the use of video tutorials and clever web tools. Futurasmus is offering its training platform FREE to all KNX-certified training centres as a marketing tool. Whilst it does not do away with the requirement to complete 12 hours of study in a certified training centre, it does provide options for some.
Feedback
It is clearly an impressive achievement to package the full syllabus and make it available as a genuine online course. However, concern was raised about the ownership of (and access to) domiciled training centre customer data with Futurasmus, and the reliance on Futurasmus to keep the content up-to-date, as well as a clear conflict of interest with those training centres who offer wholesale/distribution services themselves.
Next step
Ufuk to review.
5. Technical updates
i) Future outlook on ETS6 and ETS Inside – KNX Association System Engineer, Vassilios Lourdas, gave an impressive presentation about the forthcoming enhancements to ETS6 Professional. Major changes and improvements will be made to the IT environment, the KNX system, the speed and navigation of the user interface, as well as the launch of a new flexible licensing model. A full presentation will be available at Light + Building 2020.
ii) KNX Secure training – Joost Demarest explained the ongoing work that is taking place at HQ to further strengthen the security of the KNX standard. Whilst KNX is very secure compared to smart home B2C products, KNX needs to go further to ensure that, ultimately, it offers secure communication on IP, between end devices across media and during configuration. Joost explained the difference between KNX IP Secure and KNX Data Secure and how ETS handles the telegrams and establishes 'secure links', and downloads these links in KNX Secure devices. KNX Secure has acquired 2x International Standards, namely
Data secure: EN50090-3-4 and IP Secure: EN ISO 22510 (pending)
6. Manufacturer presentations
A number of manufacturers made short presentations on their new products. These included:
Vimar
Hager
Gewiss
Ekinex
ABB
Schneider
Control 4 (Adeo Group)
Sinapsi
Siemens
Domotica Labs
Belimo Automation
Conclusion
All in all it was a very productive day spent with KNX training centre colleagues. Particular thanks must go to KNX Italy National Group for organising an excellent event at a superb venue. Until next year… (Brexit complications notwithstanding!)
Julian Barkes is a Director of BEMCO, a major supplier of quality electrical products for over 125 years. BEMCO offers regular KNX training from its London offices at Wandsworth Bridge.