By Daniele Caso and Giangiacomo Pastore, Eelectron.
The Thai Building Fair is billed as ASEAN's leading trade fair on building technology, innovation and solutions. Organised by Messe Frankfurt and held in conjunction with the Secutech Thailand show and the Thailand Lighting Fair, this year's event took place between 16 to 18 November 2017 in the BITEC (Bangkok International Trade and Exhibition Centre), Bangkok.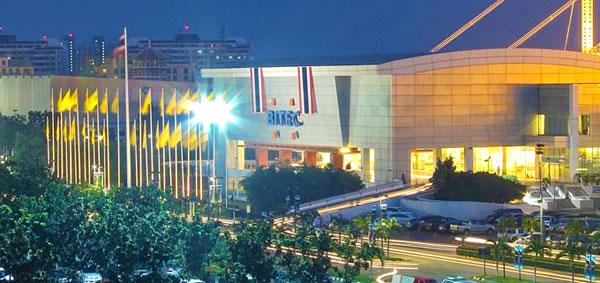 The focus of the Thai Building Fair is on building and electrical engineering, and visitors typically comprise installers, integrators, architects and consultants from ASEAN countries such as Thailand, Vietnam, Singapore and Malaysia. This year saw around 15,000 visitors attend the show from over 40 countries, and around 500 exhibitors offering technologies such as:
• Smart building technology
• Air conditioning and cooling systems
• Design services and building automation
• Software for construction
• Light control systems
• Plumbing and water technology
• Audio and video systems
• Systems integration
• Generic cabling systems
• Intelligent sun shading systems
Around 50 seminars on a variety of topics were also on offer.
Growing construction
The demand for building automation systems is on the rise in the ASEAN region, especially for solutions which promote improved energy efficiency and smart living. The value of the construction industry in Thailand alone is forecast to increase to US$19.9 billion in 2019, with residential being the largest sector at 37% of the industry's total value, followed by infrastructure construction at almost 25%.
With green and intelligent building being the main concept behind the design of new office, residential and hospitality projects in Thailand, it comes as no surprise that the KNX Association's stand was very popular.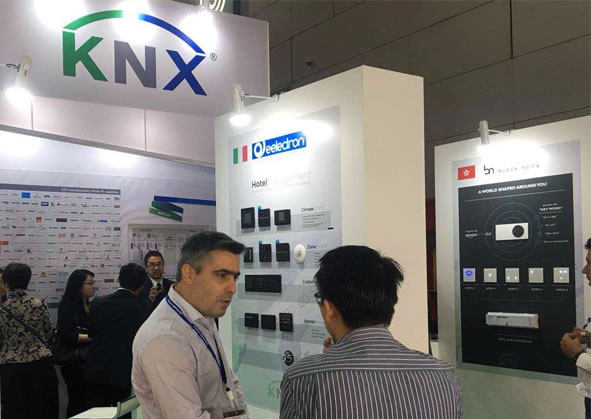 Growing awareness of KNX
As part of the stand, Eelectron had a presence with new products and solutions, including a new line of design switches called 9025, that will be launched officially in December. Those professionals with whom we spoke were mainly concerned with building automation and energy saving for hotels and construction projects. Not everybody was initially familiar with KNX, but it's fair to say that awareness of the standard with installers and integrators involved in automation is growing, and there was a great deal of interest and curiosity about the possibilities that KNX offers for building control.
Conclusion
It was clear to see that KNX has a bright future in the ASEAN market. The use of KNX is growing more and more, and it is important that KNX has a presence at shows such as this, so that visitors can see the advantages of using a global standard supported by hundreds of manufacturers, and how it can be incorporated into their projects.
As far as we are concerned, the Thai Building Fair was a great success, and a very encouraging sign that more and more people are becoming involved in the world of KNX.
Daniele Caso and Giangiacomo Pastore are the Managing Director and Sales Manager (EU Market) respectively, of Eelectron SpA, Italian manufacturer of KNX standard electronic hardware and software devices.

www.eelectron.com