ISE 2018 will deliver an unforgettable experience
The fifteenth show will take place at the RAI Amsterdam from 6-9 February and it promises to be the largest and most exciting exhibition so far in its illustrious history.
The most obvious change from the 2017 show is the addition of another hall. This will be known as Hall 15. This has been added to help meet the demand from vendors and service suppliers keen to take part in the world's largest AV and systems integration show. It is located at the front of the venue.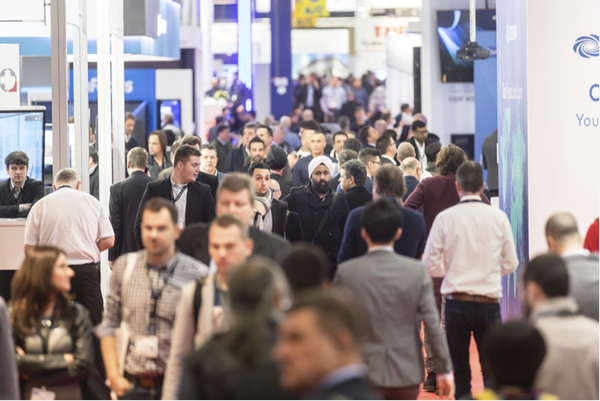 Experienced attendees will know that there is much to take part in on the day before the show opens its doors. Taking place on the 5 February there are three conferences, all open to ISE exhibitors and attendees.
The Audio Forum conference, an established fixture at ISE, will explore the opportunities and challenges faced when distributing audio over IP. Audio Forum brings together the worlds of AV and pro audio and seeks to improve dialogue and understanding between pro audio and AV professionals.
The Smart Building Conference will explore the latest technologies and business case studies for smart offices, homes, building and cites in a full day, twin track event. The 2017 edition attracted over 400 attendees and leading conference speakers have already been confirmed for next year's event.
The Smart Building Conference will be followed by the ISE 2018 Opening Address, to be given by Carlo Ratti, the eminent Italian architect, inventor and professor at the Senseable City Lab at MIT, USA. In his speech Ratti will explore how smart building are helping create smart cities.
The official Opening Reception will follow Ratti's speech and is open to all everyone to attend to enjoy complementary food and drinks. It's a perfect opportunity to network and plan for the upcoming four days.
New for 2018, and the pre-show schedule, will be the launch of the TIDE conference taking place at the Okura Hotel, nearby to the RAI. This event is being produced by AVIXA, the trade association formerly known as InfoComm International. TIDE is a thought leadership conference that will explore the intersection of content, space and technology and will show how all three elements can come together to immersive customers in exceptional experiences.
When the show opens its doors the following day an expected 75,000+ attendees will have plenty on offer to occupy their time. Throughout the 15 halls over 1,200 of the world's leading manufacturers and service suppliers will be broadly grouped across six Technology Zones. The 2018 designated zones are: Education, Smart Building, Digital Signage, Pro Audio/Live Events, Unified Communications and Residential. Hundreds of product introductions are anticipated.
Situated amongst the exhibition stands, three ISE Show Floor Theatres will feature four days of 30-minute presentations covering innovative business and technology case studies from exhibitors, partners and consultants. Theatre sessions are open to all attendees and no pre-booking is necessary. For 2018 the theatre are named the CEDIA Smart Building Solutions Theatre sponsored by KNX, the AVIXA Unified Communications Solutions Theatre sponsored by Crestron and the AVIXA Commercial Solutions Theatre sponsored by Crestron.
Taking place in each theatre for the first time will be a unique set of Business Sessions produced by ISE official supplier AV Magazine. There will also be exclusive theatre sessions produced by the Smart Building Conference, KNX and the Digital Signage Summit.
Throughout ISE 2018 there will also be the opportunity for people to attend a number conferences and to take advantage of numerous personal development opportunities. These include:-
Digital Signage Summit ISE: this is a half day conference that will focus on the latest Digital Signage and DooH technologies and business applications. It is produced by ISE partner invidis consulting.
Sports Venue Technology Summit: this full-day event will explore the latest technologies being installed and integrated into stadiums and venues to deliver the next level of fan engagement. This conference is being produced by the Sports Video Group association and Pan Stadia and Arena Management magazine.
XR Summit at ISE: this is a new, full day conference that will showcase the latest Virtual and Augmented reality products, workflows and solutions available for the AV marketplace. It will be equally relevant for both exhibitors and attendees. This is being produced by ISE partner VR Days Europe.
As ever there will also be a full range of training options provide by ISE co-owners CEDIA and AVIXA. These will vary from short 20-minute 'primers'' on their respective stands to a full day's workshop, masterclass or conference. These will take place on the pre-show day and throughout the four days of the exhibition. Full details will be available on the associations' websites.
ISE 2018 will also feature an expanded Immersive Technology Zone. As with the 2017 edition this will be powered by immersive experience practitioner Holovis. It will feature a range of innovative Virtual, Augmented and Mixed reality products and experiences, highlighting their relevance for the AV marketplace.
The ever popular Tech Tours will give attendees the chance to get a 'behind the scenes' tour of some of Amsterdam's most innovative AV installations and buildings. These will demonstrate the state of the art use of technology and installation solutions.
Integrated Systems Events Managing Director Mike Blackman commented: "We are confident that ISE 2018 will be the most exciting exhibition in the show's history. As ever, we have listened to exhibitors and attendees and spent the last six months crafting a show that will deliver an unforgettable experience. More exciting announcements will be made in the weeks to come."
Registration for ISE 2018 is now open. Admission on the door is €150 but as a KNXtoday reader, you can register FREE using our special invitation code 399680.
For the latest show updates, check the Integrated Systems Europe website: