The Abrang3 Intelligent Building Department is to run a KNX course at the Fanni va Herfei in Mashhad on 2 – 4 March 2016. Fanni va Herfei is the largest state technical and vocational institute in Iran.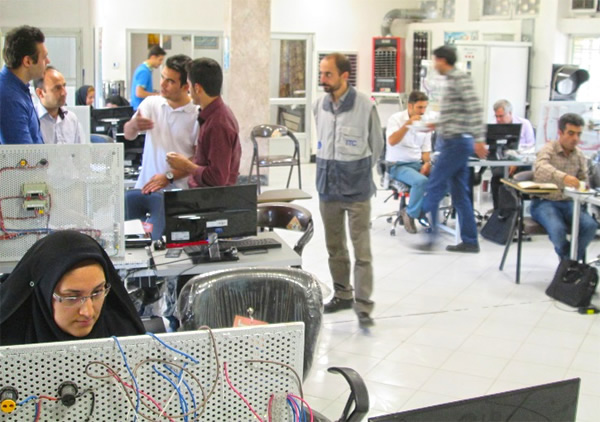 The course, titled 'Programming and Installing Bus Devices using KNX' is typically attended by engineers from private companies, and is run by Ms Mona Jahangiri and Mr Habib Niknami. At least 50 participants are expected to attend the March course, and there are plans to increase capacity further.
The course contents include theoretical and practical elements similar to the traditional KNX Basic Course.
Attendees will receive a grounding in ETS, including programming devices for controlling lights (on/off and dimming) and shutters using IR remotes and ABB Triton keypads. The differences between BMS, EMS, BEMS, home automation, room automation and other solutions will also be introduced.
Students will be shown how to map and draw a KNX building cable plan and its control panel for an intelligent home, and will gain an understanding of KNX topology, telegrams, diagnostics and related topics. The course is completed with a practical project on the test board.
The Abrang3 Intelligent Building Department participates in many exhibitions yearly, holding home automation workshops and seminars, and attending related association and NGO events each month. Abrang3 has experience in CCTV, equipping conference halls and providing home automation. The company is a keen exponent of KNX and plans to translate relevant documents into Persian and write articles on the technology for Iranian magazines.