With entries in for the CEDIA Awards 2015, CEDIA (the Custom Electronic Design and Installation Association) has announced four industry experts as the independent panel for the first round of technical judging.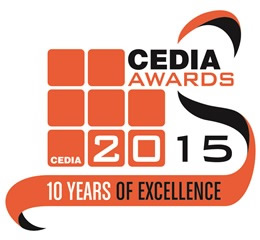 The technical judging panel will be led by Geoff Meads, Managing Director of Presto AV and leading education instructor for CEDIA EMEA and Duncan Maidens, a senior lecturer at Birmingham City University's School of Computing, Telecommunications & Networks. Geoff and Duncan have been judging the CEDIA Awards for a number of years and are familiar with the strict process each entry must abide by. This year, they will be supported by additional judges, as CEDIA has enlisted the help of two industry experts to judge the media rooms, home cinema and lighting categories.
With over 20 years' experience in the field, the former Vice President of the EISA (European Imaging and Sound Association) and Editor of the German HeimKino magazine, Olaf Adam, will be judging both categories for "Best Media Room" and each of the three "Best Home Cinema" categories. Meanwhile, John Niebel, lighting control expert and former Sales Director at one of the UK's leading residential lighting control systems, will be judging the "Best Lighting Scheme" category.
"We are pleased to have both Olaf and John joining our team of judges this year," says Wendy Griffiths, Executive Director at CEDIA EMEA. "Their level of expertise and decades of experience make them a perfect fit for the technical round of judging. Olaf and John will be a great support to Geoff and Duncan."
During the process, each anonymous entry will be reviewed and assessed on how it meets the technical criteria with close attention being paid to the industry best practice documentation. The judges will examine each online entry, scoring the content on set criteria, before passing the project through to a shortlist, which will be reviewed by the final judging panel later this month.
The winners of all categories will be unveiled at a Gala Dinner, taking place on Friday 3rdJuly 2015 at the Natural History Museum in London.