By Jesús Arias García, KNXin.
Very recently, my best friend contacted me. Steffen, from Stuttgart in Germany, needed to know more about KNX. He works in the marketing industry, and recently came across a potential client who was related to the home automation business. This company manufactures smoke detectors, and he wanted to know if KNX might be of benefit.
I met Steffen in Ireland, about eight years ago when I was already working in the KNX industry, yet all these years later, he still has little appreciation of what KNX is. Sometimes I feel like Chandler, a character in the popular TV series 'Friends': despite having known him for so many years, none of his friends had any idea about what he did for living.
However, when I mentioned Nest (as in thermostats and smoke detectors), Steffen knew immediately what I was talking about. How come? He is from Germany. Surely he is supposed to know about KNX!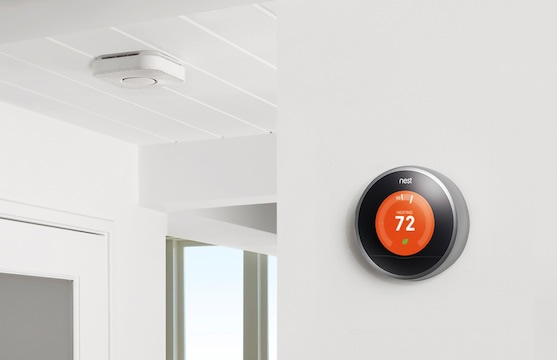 B2B or B2C?
For some strange reason, most KNX enthusiasts seem to think that the whole world already knows about KNX. Unfortunately, this is far from the truth. Yes, there is a great network of professionals worldwide who rave about KNX´s benefits, which is great, but even if you are used to spending a lot of time amongst such people, don't be fooled into thinking that it enjoys mainstream popularity. We must recognise this if we are to reach new horizons.
When I said that my friend Steffen had heard about Nest, I wanted to point out that there are companies in the home automation industry that pursue the business-to-client strategy. They look after their marketing very carefully, and they usually do not care much about standards – they just focus on proprietary, stand alone systems, perhaps with some apps to control their systems from Android/iOS. Yes, you and I will no doubt agree that this is not ideal for the world of systems integration, as we love KNX, but the point is that KNX is not a common reference among end users.
End users do not demand KNX, and actually do not care much which protocol is used. It may be hard to accept, but it is a fact. So do we need to change our perspective? The motto of many companies is to find a problem that affects one billion people, so that their solution will have one billion potential customers. I think that we have been focusing on the business-to-business end of KNX too much and have neglected the business-to-client side.

Competition from Below
We know that KNX works just as well in a 100m2 apartment as it does in an airport. This is a huge advantage from the scalability and flexibility point of view, but from a marketing point of view, it poses a big challenge. What should we focus on? How can we sell both applications at the same time if the customer bases are completely different? The competition recognises this and is focusing on mass production and simple home automation. The problem with this situation, which at first does not look like a threat to KNX, is that these semi-professional or DIY systems will become popular. End users will demand them. And when the demand is there, these companies will offer more complicated home automation solutions.
Not one month passes by without me finding news about Google and Apple relating to home automation or the 'smart home' as they call it – by which I mean basic lighting, audio/video, appliances with Internet connection, Internet of Things, etc. As these giants work their way from the bottom up, it seems that KNX is being pushed to the professional end. Indeed KNX feels more comfortable in professional environments and large projects, but should we be satisfied with this situation?
What about KNX Plug & Play?
I do not know how many of you are using the KNX E-Mode (Easy Mode) currently, but I guess that the number is extremely low. As opposed to S-Mode, which is for KNX-trained integrators to design sophisticated installations, E-Mode is less complex and is aimed at non-KNX qualified electrical contractors. It does, however, still require some skill, so why don't we develop some kind of KNX plug & play? Why not? When I worked for a KNX manufacturer, we received plenty of ideas every week – the challenge was to pick the ones that really made sense.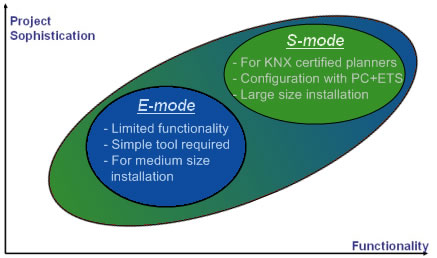 If we had KNX plug & play components, they could be configured by the end-user via a consumer-friendly web-page, and a KNX/IP router could be connected with ease so that a KNX Partner could do further configuration if requested by the client. This could fill the gap at the consumer level, yet still be accessible to professionals.
Conclusion
KNX has many years of experience, and it can be proud of the success that it has achieved so far, but global markets are changing, and these new challenges must be addressed. We have now reached a crossroad where we need to decide if we should keep KNX for very professional environments or we should create a much friendlier configuration. For the long-term benefit of the industry, I believe that engaging the end-user is essential. Whatever we decide to do, we should be aware of the consequences, and we should adjust our marketing accordingly.
Jesús Arias García is a freelance Engineering Consultant for KNXin, a consultant engineering firm specialising in KNX technology and green buildings. His co-authored book 'KNX for LEED' is available through MyKNX as well through Amazon.
Editor's note: There is a KNX E-Mode Webinar taking place at the end of this month.
You are welcome to comment on this article. See below.