By Sophie Thomas, Ivory Egg.
Whilst we all get excited about the fantastic products that we, as an industry, sell and install, the bottom line is that we have businesses to run. The decisions that installers make about which protocol to use for a project or which brands to push are, for the most part, based upon what brings in the money – with a small dose of what sparks their personal interest as an added bonus. Is there a solution that installers can provide, that gets their creative and geeky juices flowing whilst offering good profit margins and exceeding client expectations? Or is this the technological Holy Grail?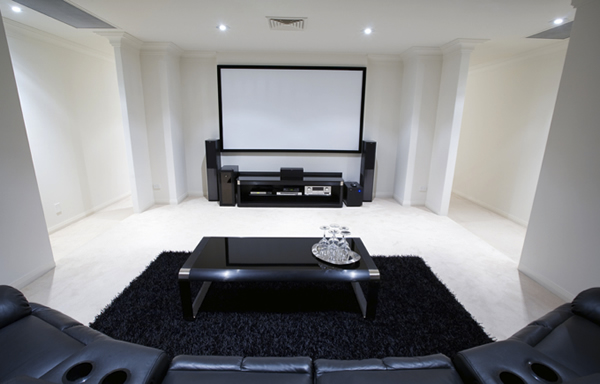 Better Margins
Talking about money may be taboo, but it is a big deciding factor for any company looking to take on a new product range or technology stream. With KNX, there is a great opportunity for system integrators to make a healthy margin, and the more of the project that is controlled with KNX, the better margin there is to be had.
Specialist independent wholesalers such as Ivory Egg work closely with manufacturers to be able to offer competitive trade discounts to ensure integrators can make a healthy living. Making life simple by using a simple system or protocol for a project, reducing the number of different buying channels to go through, and building strong business relationships through loyalty, all help the integrator to make bigger profits.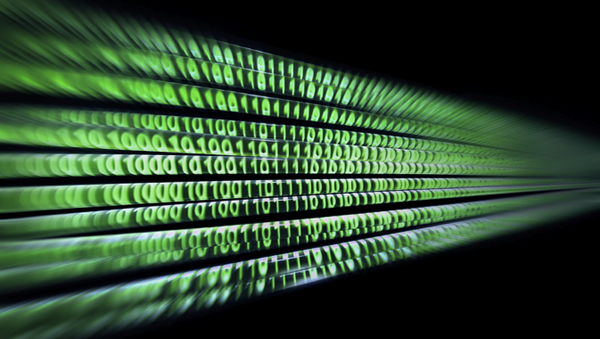 Open Protocol
I often have to explain to those new to KNX, that it is not a brand – unlike big names such as Crestron and Lutron who have proprietary products and control protocols. Using multiple systems has the potential for more single points of failure, increased costs and can be difficult and costly to upgrade.
As KNX is an open protocol and therefore not manufacturer-dependent, the price structure of KNX devices is not fixed. There are numerous KNX products, meaning more choice, more range of functionality and more designs to suit all tastes and budgets. Integrators can satisfy more customers by offering a suitable product set that is also more profitable and opens up their business to more of the home automation market.
A Growing Market
According to the BSRIA, KNX is Europe's most popular building control protocol, Indeed in the UK, KNX is more and more frequently included in design specifications, meaning more leads and more work for KNX Partners.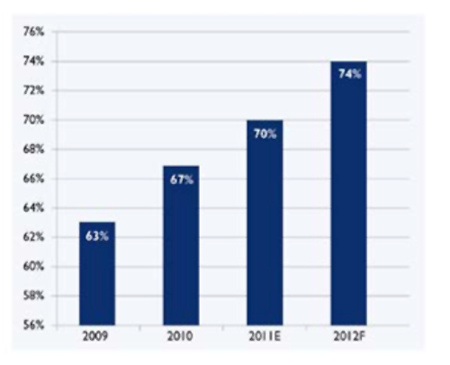 American brands have always led the way in home automation in the UK, and have had the biggest influence on the market as a whole. Recently, KNXtoday reported that the USA is starting to offer KNX training for the first time, which is a great breakthrough and will hopefully set a trend that will further boost KNX adoption internationally.
Service and Maintenance Income
Using KNX has huge benefits in terms of functionality. KNX allows the installer to offer up more information about the building's efficiency more easily than other protocols, with an added bonus of good-looking visualisations, which is a great selling point.
The ability to look at current draw and other diagnostic features and functions remotely, as well as gathering building data easily with the same single protocol leads to more profit through reduced hardware costs and happier customers.
Integrators can provide a value-added service with KNX by offering maintenance plans which enhance an end user's satisfaction and confidence. Maintenance contracts are also opportunities for supplementary income, working on the basis that at some point, programming changes will be required to be made outside of the original contract. It is simply not viable for a busy integrator to offer on-going support without seeking payment for the extra work, no matter how straightforward. Being able to diagnose faults remotely is incredibly cost- and time-effective for installers.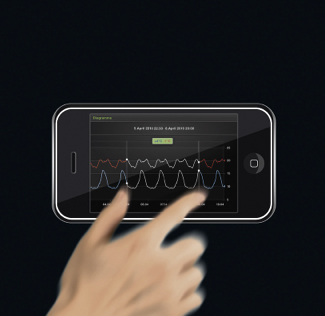 Future-Proofing
It is not unheard of in major residential developments for other protocols to be installed at the build phase, only for the end-user to move in and rip out a less-than-satisfactory automation system. This is not good for our industry.
The KNX protocol is solid, reliable and, as a worldwide standard, is duty-bound to remain so – offering end-users and installers a level of security. A KNX installation has longevity; should a project require updating, upgrading or indeed a complete change of use, this is all possible without the worry of having to change the cable infrastructure after only a short time, which is not only expensive, but a major disruption. For the installer, there is a guarantee that they will not have to suffer changes to programming methods or have to update their skills with continuous training. With KNX, the future is not a barrier to development and change.
Training
One of the major hurdles with anyone getting involved with a protocol or product range is the cost and the time it takes to get trained. The KNX Basic Course, known also as the KNX Certification Course, comprises a mandatory 40 hours of classroom time culminating in two exams. Typically, this course is run over five working days, and whilst this is a big time commitment for any business, the Basic KNX course is the only course necessary to be come a certified KNX Partner.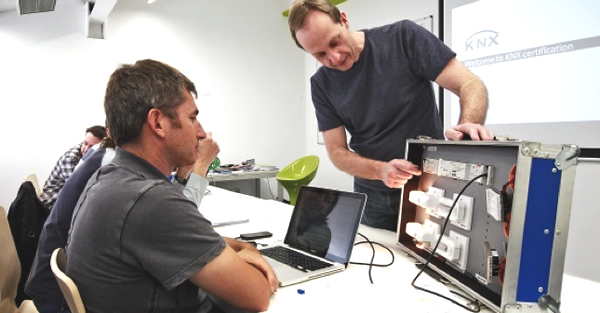 Once this course is completed, there are no further mandatory courses when new software releases are brought out. Since KNX is an open protocol and brand-agnostic, there is no concern over the need to train for each product set, as all are programmed with the same software tool (the ETS), and the device behaviour is controlled using the same parameters across the board.
Other protocols often require integrators to remain committed to installing a more limited range of products and attend courses that cost hundreds of pounds each time, which can add up over the years.
The cost of KNX training on the other hand, is by no means insignificant, being in the region of GB£1000 for the course. This can be daunting for many integrators who are looking to add KNX to their skills set, and can be a barrier for some – perhaps even delaying their uptake of KNX. Most who do make this initial outlay however, find that it more than pays for itself on their first KNX project, thanks to the margin they make.
Conclusion
KNX is here to stay and is no longer considered the poor relation. Major systems integrators in the UK are now adopting KNX, and this is surely a sign that now is the time to invest in training and take a share of the fast-growing KNX market.
Sophie Thomas is the Marketing and Events Manager at Ivory Egg (UK) Ltd, a supplier of leading KNX products and provider of KNX training courses.
You are welcome to comment on this article below.