Opening September 2014, My KNX Store is pleased to introduce the brand new MyKNXStore Training Academy.
My KNX Store offers a five day KNX certification course from £895 exclusing VAT, as well as manufacturer specific courses.
KNX is the world's only open standard for building control and automation for residential and commercial projects. When it comes to user experience, technology is moving very rapidly, as are users' expectations and demands. We think it's vital to ensure your skills and knowledge are the best before we send you out into the world of KNX installations. Our support team are qualified engineers with first hand site experience, meaning there knowledge is current and extensive.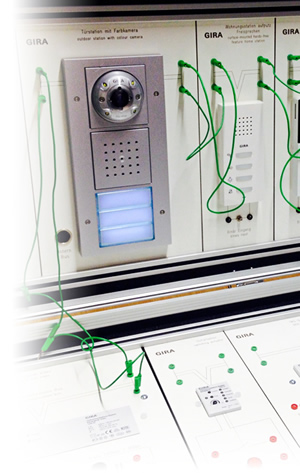 My KNX Store's unique training programmes are what makes us the best in what we do. We not only offer course packages tailored to meet our client's needs, but we also run a shadowing scheme, where practical and invaluable experience can be gained at a time to suit you. Our comprehensive courses enable you to gain all the information and practical experience you will need to provide the best service possible. The five day course will finish with two exams before you can become a certified partner.
The courses are taught and held at our KNX training centre in Gateshead. We also offer discounted stay at nearby hotels, lunches and networking opportunities along with much more. Our KNX Tutor, Tim Robbins is a KNX expert after many years experience in the industry. Having recently taken the KNX Tutor Qualification and passed with flying colours, Tim has the latest and most up-to-date information.
Please call 0191 4970777 for more information or visit our website to book:
1/2 Day KNX Introductory Seminar
5 Day KNX Certification Course
Gold Certification
The first KNX Certification course will take place the week commencing 15th September. There is limited availability and with our introductory offer price of £895 what are you waiting for!