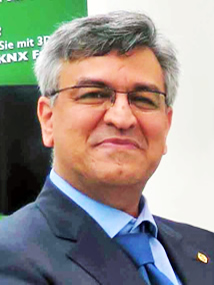 Parto Negar Parand Company is an IT and building automation company based in Tehran, Iran. Its Chairman and Founder, Mehdi Darabi, has worked in IT for more than twenty five years in the Middle East and in Asia, specifically in the research and development of geographic information systems, macro and mini computers, RISC machines, networking and management information systems.
In this exclusive interview with KNXtoday, Darabi explains how the building control market in Iran is developing, why he is a fan of KNX, and what his hopes are for the future.
Q: What are your main activities?
A: Parto Negar Parand Company (PNP) was established in 2008, and in addition to working in the fields of IT, HVAC and security cameras, it is also involved in building automation. In this field, our activities include research on available protocols and techniques for designing and implementing building automation systems, as well as conducting market studies and background research into the practise of competitors who are currently working in this field within the Iranian demographic. There is huge potential of this relatively new technology in Iran, so we are currently investing both time and money in building automation more than any of our other ventures.

Q: What are the trends in building control in Iran?
A: Building automation is growing fast in Iran, with the most interest coming from enthusiasts at the luxury end of the market. The price of energy in Iran is currently growing at an accelerating rate – electricity prices, for example, increased by 25% about two months ago, and gasoline increased by almost 43% several weeks ago, due to government policy of reducing subsidies. As a result, more and more people are looking to automation technology as a way of reducing their energy consumption.
Q: Why did you get involved with KNX?
A: I have been reading up on KNX since 2009, and through careful comparison of KNX with other protocols such as ZigBee, Z-Wave, C-Bus and Modbus, I concluded that KNX had the greatest potential of becoming an internationally-accepted protocol. As it turns out, I was right – KNX is growing very strongly in Europe currently, and was accepted recently as the national building automation standard in China. Also, from what I learned at the KNX TOP Event at the Light+Building fair 2014, South American countries such as Brazil and Venezuela have also started using KNX.
Q: Are there any examples of KNX projects in Iran?
A: We've completed several big projects in the past two years. Some of our more outstanding ones, such as the Alef project, are listed on our website. The Alef residential development was built on 4000m2 of land and is valued at more than US$40,000,000. Its entire lighting and security system was integrated into a KNX control system manufactured by Berker.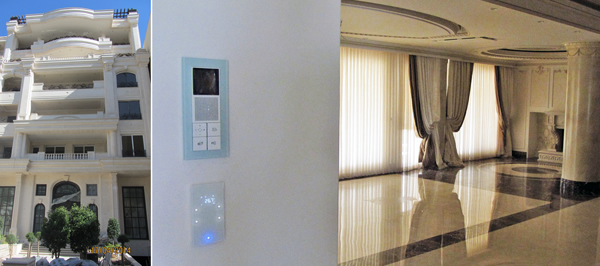 Q: How do you stay informed about KNX?
A: I keep informed on a regular basis regarding current trends via knx.org and knxtoday.com. I also follow a few well-known KNX forums. Two technical managers of PNP travelled to Dubai for the official KNX training and hold KNX Partner certificates.
Due to the embargo which is imposed on Iran currently, we can't establish a direct relationship with the KNX Association, which means that we cannot officially have a KNX training centre as part of our expansion plan. In spite of this obstacle, we've established an in-house training course for our staff and have a collection of various text books and training material regarding KNX. Indeed we are in the process of publishing a book on KNX in Farsi.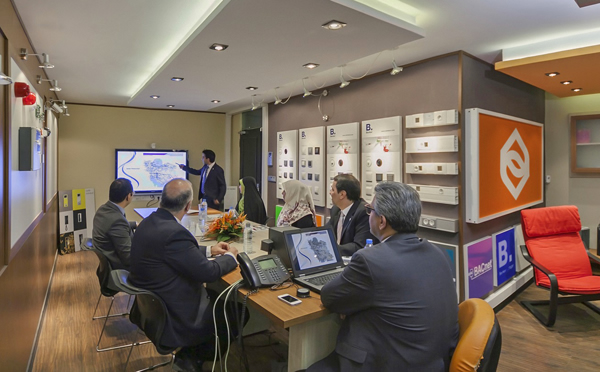 Q: What are your hopes and plans for the future?
A: In the short term, we would like to establish the KNX training centre as soon as possible, and to develop easy-to-use building automation for average homeowners.
In terms of long-term goals, we plan to add to our offering by manufacturing some products and developing new equipment such as smart irrigation systems for the home and garden. Indeed energy-saving, green buildings and sustainable cities are high priorities for us, so we are also in the process of establishing an NGO to promote the manufacture and use of energy-saving technology products in Iran.
We hope that with the easing of sanctions on Iran we can start our official relationship with KNX Association and open the first KNX training centre soon after.
Mehdi Darabi is the Chairman and Founder of Parto Negar Parand Company, a knowledge-based company, driven by a global vision to develop and promote energy-saving concepts.