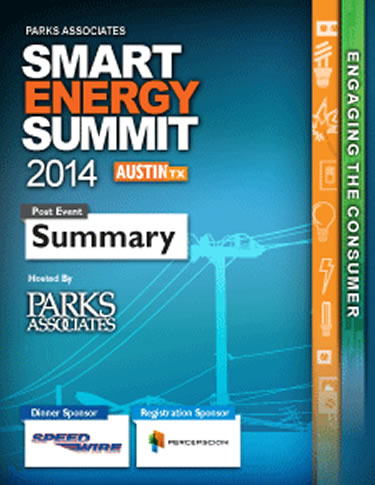 By Parks Associates
The 5th annual Smart Energy Summit: Engaging the Consumer was hosted by international research firm Parks Associates, Feb 17-19, 2014 in Austin, Texas.
This summary highlights the key issues addressed during the event, which hosted more than 250 executives from utilities, telecom, cable operators, security service providers, software, retail, government, and appliance manufacturers.
Charts included throughout this document represent real-time audience responses during the event.
The consumer is the core focus of the event. The lack of consumer engagement is often cited as a primary barrier to success in the home energy management space, generally attributed to a mix of apathy and lack of awareness.
Parks Associates research in the energy markets confirms the segment of highly engaged consumers is small—but that there is growing interest and awareness in energy services. In general, 40%-60% of U.S. broadband households are willing to participate in demand response programs, depending on the incentive offered. The most successful incentive is the most immediate and straightforward, with the households receiving $5 for each day the thermostat is adjusted.
Key factors including the role of connected devices and the impact of the smart home and the Internet of Things will continue to provide new revenue opportunities for multiple industries.