By Jesús Arias García, KNXin.
I was recently in South East Asia and Japan, and I was amazed at the size of the cities there. Singapore is somewhat hard to describe, with its massive buildings everywhere and impossible designs that challenge the force of gravity.
You can see something similar in Kuala Lumpur, where the Petronas Towers and the KL Tower dominate the skyline of the largest city in Malaysia.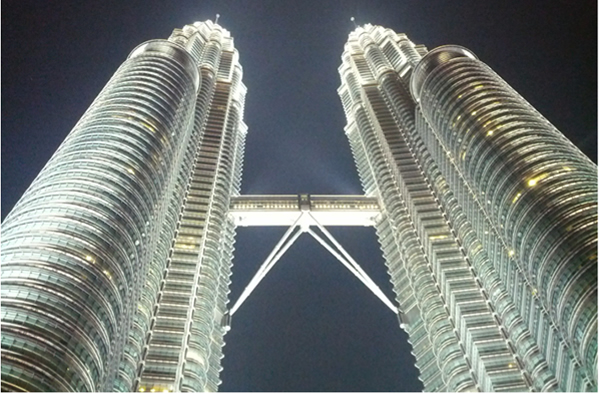 While it is impressive, in reality the only real difference between those cities and smaller ones is the size of the buildings and the complexity of their lifts. The old way of doing things still remains – there will be a large power plant somewhere in the country feeding the grid, and a city consuming that energy.
That is not to say that there hasn't been an effort to make cities smarter, it's just that they have lost sight of the real-life issues of human existence, and have became monsters with solutions that, unfortunately, bring more problems. It seems as if everything has been compartmentalised, from sleeping areas to leisure areas, office areas and industrial estates.
Trends and Challenges in City Design
While nothing has dramatically changed in city layouts for many years now, the most noticeable difference is in public transport, although the private car/motorbike is still ubiquitous, and traffic jams are accepted as part of the 'ambience' of most major cities. And of course, cities are influenced by the culture and history of where they have grown, so cities in Europe are quite different from the ones in Asia or Africa.
But something has to change if the quality of life in cities is to improve, and cities are to become more sustainable. According to UN projections, 70% of the world's population will live in cities by 2050, and my prediction is that home and building automation will play a very important role in this story. Furthermore, our current solutions are still at a very early stage.
For example, hydroponic plantations are springing up in cities, providing a way to improve the freshness of certain vegetables for consumers and reduce their carbon footprint – most vegetables and fruits travel greater distances in their short lives than most of human beings do in their whole life!

The New City Model
In the new city model, rather than being designed as a single- or double-purpose environment, a building will be imagined as a complete ecosystem in its own right. Instead of being designed as an energy-consuming office block or apartment block for example, buildings will host a mix of offices and apartments. They will produce energy in different ways with integrated solutions, and contain micro-farms.
This is a completely new ball game for our beloved industry, and although we at still at the very early stages, KNX manufacturers as well KNX system integrators should keep an eye on these new trends, so that we be involved from the outset.
The amount of technology in buildings is increasing exponentially, and where there is technology, there is an opportunity for KNX. Even something that could seem far from technology, such as agriculture, actually involves complete subsystems that require specific lighting and ventilation conditions as well accurate water metering.
At a glance, there are two branches to consider within this new paradigm:
• New solutions within existing systems.
The aforementioned hydroponic system may seem very alternative, but it is in fact a straightforward combination of lighting, ventilation and irrigation, albeit the lighting control only employs red and blue colours according to the latest techniques. This means that an existing KNX-based solution for lighting can easily be adapted to the new specifications.
• New solutions for new systems.
There are other solutions that will have to be implemented from scratch. One example might be electric car recharging in buildings, in which case we need to be aware of the requirements the car industry in order to interact with these kinds of subsystems and incorporate KNX in a useful and intelligent way.
The Smart City
Is there a model of the Smart City that could be applied to any country in the world? Well, while many people complain about globalisation killing the differences in cultures – those differences that somehow enrich our existence – I turn to the LEED certification and its 'Regional Priority Credits'. This is a clever approach to standardisation because it tries to set up common rules yet take into account the particularities of each area or region.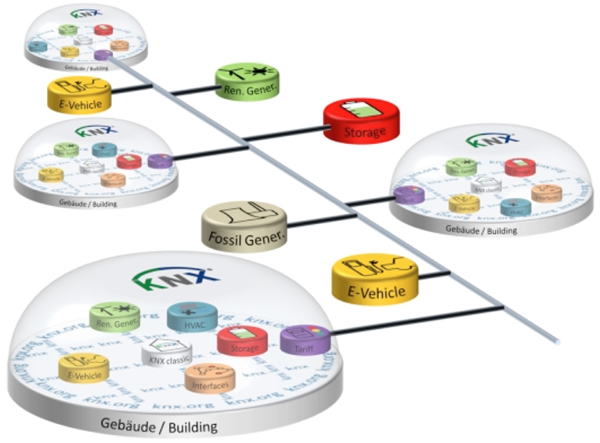 Conclusion
Cities are developing into something completely new, with clusters of smart buildings, electric vehicles, and micro-generation based on renewable energies – all mixed up and working together.
The concept that KNX Association is offering the world in the form of KNX City is precisely what I am arguing for in this article – decentralised, interoperable and multipurpose buildings. In my opinion, there is nothing better than an international standard such as KNX to be at the heart of this dream.
Jesús Arias García is a freelance Engineering Consultant for KNXin, a consultant engineering firm specialising in KNX technology and green buildings. His co-authored book 'KNX for LEED' is available through the KNX Online Shop.
You are welcome to comment on this article. See below.