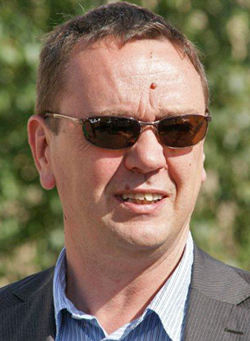 Wim Voet spent much of his professional career in the consumer electronics industry. He has been active in the custom install market since 2000 and in control products since 2006. Currently he is the international sales manager in the EMEA region for Remote Technologies Incorporated (RTI) and its Pro Control division. RTI is a US-based control systems manufacturer offering sophisticated, user-friendly devices for professionally-installed electronic systems.
RTI is a member of various trade organisations, including CEDIA (Custom Electronic Design & Installation Association), HDMI Alliance, ZigBee Alliance, CEA, HDBT Alliance and now KNX Association. In this exclusive interview with KNXtoday, Wim explains why RTI has become involved with the worldwide standard.
Q: Why did you join the KNX Association?
A: RTI has a big interest in Europe, and – together with our European distribution partners – we try to keep a finger on the pulse of the region's market. Central and Western Europe have traditionally been the home for KNX, but interest in the standard has been expanding in all directions – to Africa, the Middle East, and the Americas. We have a very keen interest in joining this open platform, and believe we can make a significant contribution in integrating KNX into the A/V world. Our solutions will also prove to be good fits in retrofit applications.
Q: What trends have you noticed?
A: KNX continues to expand into a global solution and there has been a focus on offering full home integration. This fits in well with our range of handheld and in-wall universal controllers, processors, audio distribution systems, matrix switchers, and accessories which are marketed exclusively through a worldwide network of professional integrators.
There is a growing demand for complete control and monitoring over electronic systems from virtually anywhere in the world, so we offer this through our RTiPanel app for Apple and Android devices, and through the RTI Virtual Panel program for any Windows PC. All RTI solutions are programmed through the company's Integration Designer software, which was recently inducted into the CEDIA Hall of Fame.
Q: What opportunities do you see?
A: Throughout my time spent in the industry, I have seen different phases in cross-synergies. For example, first there was an interest in lighting control, followed by heating and air conditioning. All of the different areas of expertise are gradually growing closer to each other, which could create interesting new opportunities. In addition, the industry these days is promoting long-term relationships between dealers and end users. Rather than being seen as shop owners who simply sell customers a product, integrators have become consultants with valuable expertise and increased responsibilities.
Q: What are the challenges facing KNX?
I am not familiar with the KNX environment from the inside, and have only a peripheral view of the technology. Most of professionals I know, including myself, are very keen to learn more.
Q: What do you recommend to help the market develop?
A: Training, training, and more training – not only in terms of technical know-how, but in sales as well. We are all responsible for offering end users the best possible experience.
Q: Where do you see the industry being in a year's time?
A: I haven't seen huge changes presenting themselves, but I do hope for a thriving 2014 with plenty of business for all of us.
Q: What is your advice to the industry?
A: Keep things in perspective and maintain an open attitude toward new things.
Wim Voet is the International Sales Manager EMEA for RTI, manufacturer of control systems.