By Dr KNX.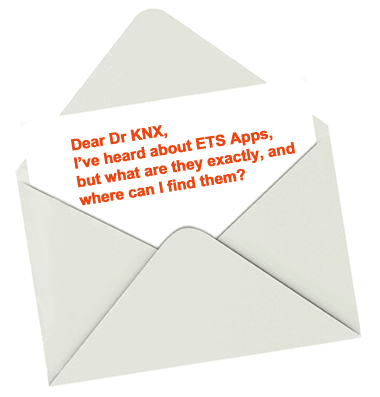 Dear KNXer,
Just like the apps that we already know from smartphones and tablets, KNX also offers apps in order to extend the functionality of ETS (Engineering Tool Software) – the KNX programming software package.
Sure, the 'standard' ETS has more than enough functionality in itself to bring KNX installations alive and maintain them, but there is always room for improvement, which is why KNX Association also offers apps. The ETS App concept demonstrates the true openness of ETS – indeed, KNX Association also allows its members (that is the only condition) to offer apps in order to extend the functionality of ETS.
Types of App
ETS Apps are designed for the KNX system integrator, not the end-user, so they are designed to run on the same device used to program ETS, not on the user's touch displays etc.
There are two types of app, depending on who developed them, namely:
• KNX Association ETS Apps.
• KNX Member ETS Apps.
With the ETS apps, KNX offers a way to adapt ETS4, the latest version of ETS, to growing worldwide demands. ETS4 can be customised to individual needs while maintaining compatibility. KNX experts in particular, will benefit from the transparency and faster configuration offered by these additional tools. Also, KNX Members can now tailor their own apps according to the different features of their products and become even more flexible.
Some apps are free of charge, whilst others have a cost. Two apps that I certainly recommend are:
1) Online KNX Product Catalog: allows you to add products to the ETS product catalogue online via the ETS user interface. Moreover, this app is free of charge!
2) Labels: allows you to print an individual address on a label and stick it on the device directly. This will allow you to work in a structured fashion, which is extremely important in bigger KNX installations (e.g. in distribution boards or cabinets).
Where to Find the Apps
For more information on these apps and other ETS Apps, see www.knx.org/knx-tools/ets-apps/features/
The ETS Apps – both KNX Association and KNX Members apps – are available exclusively via the KNX online shop at https://onlineshop.knx.org.
Developing an ETS App
The first step for a developer to join the ETS App world is to become a member of KNX Association International. Any company or individual involved in the development of software can become an ETS App developer, and anyone who wants to offer their software solution or ETS extensions to the KNX Community is welcome to do so.
Should you already have an innovative idea for an ETS App, then to start your ETS App development:
1. Create an account in the KNX Online shop and download the ETS Software Development Kit (ETS SDK) and the Tutorial for using the ETS App Validation Tool.
2. Become a KNX Member. When you become a KNX Member you get all the necessary technical support to start developing your ETS App. KNX Association will assist you in any issue that you might have.
3. Apply for ETS App Developer Profile: when you are ready to test your ETS App, apply to become an ETS App Developer via your KNX Online Shop account in order to change your status and gain access to the ETS App Validation Tool.
4. Upload and validate your ETS App: once your ETS App has been finalised, upload it and ask for validation, so that your App can become available in the KNX Online Shop. Only validated ETS Apps can be installed and used in ETS. This prevents unauthorised use of your ETS Apps. However, when your ETS App is validated, you can either select to keep it 'private' i.e. only for your own use, or make it 'public', so that everybody will be able to download and use it.
5. Start selling your ETS App: make a start by offering your ETS App via the KNX Online shop.
For further information, contact KNX ETS App Department via telephone on +32 2 7758590 or email etsapps@knx.org.
I hope that helps, but if you have any questions about this, or any other technical issue, please send me an email at info@knxtoday.com, and I will do my best to answer you.
Yours truly
Dr KNX