Somfy UK:
218/219 Unit – Business Design Centre
52 Upper Street
Islington
London N1 0QH
UK
Telephone +44 (0)207 288 6038
E-mail info@somfyarchitecture.co.uk
www.somfyarchitecture.co.uk
www.somfysmarthome.co.uk
www.somfy.co.uk
---
Somfy Head Office:
Somfy SAS
50 Avenue du Nouveau Monde
74307 Cluses cedex
France
Telephone +33 (0)4 50 96 70 00
www.somfy.com/group
---
Somfy Group is world leader in motors and automatic controls for openings and closures of homes and commercial buildings. Created in 1969, the Group, concerned by environmental issues, has launched a strategy aiming to foresee users' needs in terms of comfort, security and energy-savings.
Somfy operates worldwide via a network of 53 subsidiaries, 19 offices and 23 agencies across all 5 continents. With 8 production sites, Somfy has an efficient and responsive industrial assembly tool. Our high quality standards allow us to cater to 220 million users' and 30,000 commercial clients' needs worldwide.
---
Documentation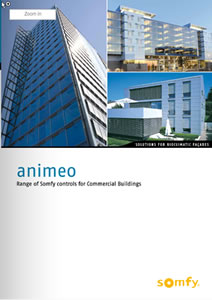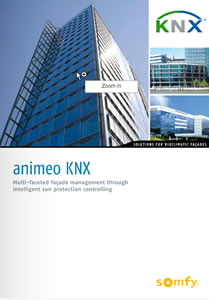 Somfy is constantly innovating to deliver solutions for comfort and security while contributing to energy savings. Somfy offers a wide range of KNX solutions targeting applications such as natural light management, natural ventilation, intelligent solar shading systems, interior and exterior blinds and curtains integration, and motors for all types of applications.
As a proud member of the KNX UK organisation, Somfy Limited offers a comprehensive range of solutions for the centralised management of solar shading in commercial and residential buildings, including motors and motor controllers (mocos) for roller blinds, awnings, projectors, gates, garage doors, electric curtain tracks and more.
Animeo KNX
Animeo KNX is a flexible, open system designed to provide more complex control and integration of shades and blinds with other building control systems using the KNX bus. The Animeo KNX range has been developed to effectively manage solar shading by regulating light, temperature fluctuations and improving air quality in the building. Shades and windows are controlled in accordance with temperature and prevailing daylight levels contributing towards more energy saving and comfort for occupants.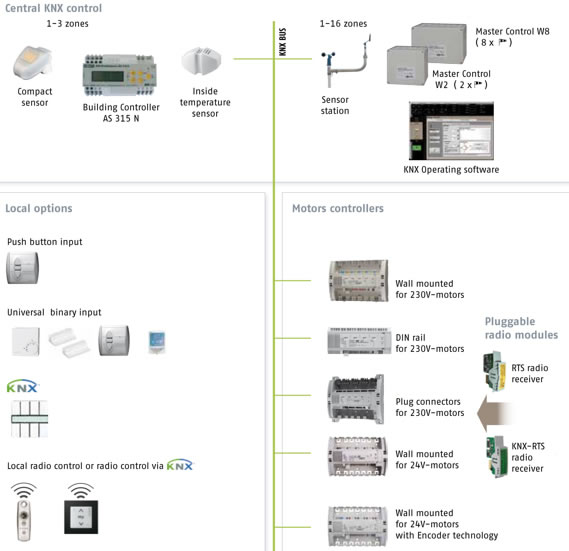 Animeo KNX control systems offer flexible and scalable solutions for both new and retrofit installations. Examples from the range include:
• Animeo KNX Master Control: hands the environmental factors measured by a weather station (Outside Sensor box) on to the KNX bus to control from 1 to 16 zones (each zone consisting of a complete façade elevation, floor, room or a combination).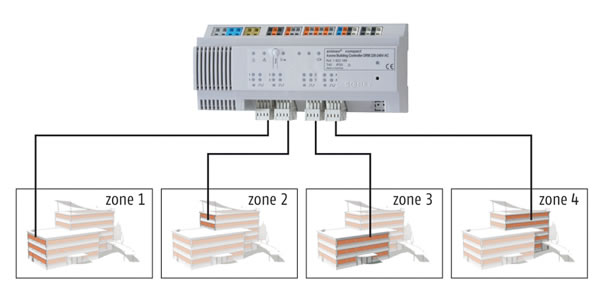 • Outside Sensor Box: interface between the Animeo KNX Master Control and the weather station.
• Animeo KNX 4AC Motor Controller: for roller shutters, screens, exterior venetian blinds and windows. Controls up to 4 motors. It can be upgraded by a KNX radio receiver for economic radio operation of the motors.
• Smoove Range: one channel on-wall radio transmitter for controlling the KNX radio receiver.
Examples of Somfy KNX Projects
Somfy is sensitive to environmental issues and operates a strategy of anticipating comfort and energy cost reductions for all types of buildings. Dynamic Insulation, daylight management and natural ventilation are Somfy's three unique areas of expertise dedicated to the development of bioclimatic façades: solar protections react to weather variations offering all the stakeholders of the building comfort and energy savings.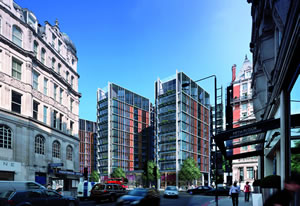 One Hyde Park
This prestigious development of residential buildings required automated blinds in order to pass local regulations with a view to reducing the build-up of solar radiation within the building. The blinds work in conjunction with the BMS to reduce the load on the cooling system. There is a strategic format for blind logic depending on the time of year and meteorological conditions. The solution provided by Somfy was an Animeo KNX system which runs over IP. The system included sun tracking and shadow control, as well as solar radiation sensors which control the activation of sun tracking and shadow management. The system has a great deal of control logic, including a 30-minute blind override option if certain external thresholds are met.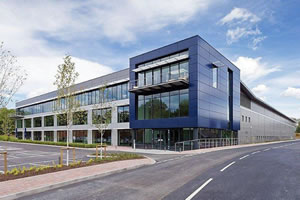 AJW Head Offices
A J Walter Aviation's new campus has seen the development of a significant global HQ and Logistics centre close to Gatwick Airport, UK. The project involved the optimisation of natural light management, visual comfort and precision alignment. The Somfy Sonesse 30 RS485 motor was specified due to its bidirectional control, precise alignment and speed regulation. A set of n.137 Sonesse 30 RS485 running on a KNX network was supplied. Somfy also delivered the installation, integration and commissioning services for the control package.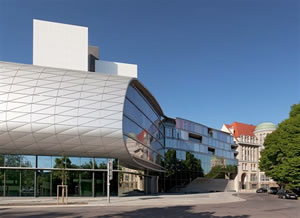 Leipzig National Library
The new extension of the National Library in Leipzig, Germany, reflects a cultural environment around books and music. The sun protection technology at the library is a component of a complete Animeo KNX control system which combines elements of the building (heating, cooling, natural and artificial light, ventilation and shading) with a KNX bus. Thanks to this combination, the requirements of maximum energy savings and occupant comfort are assured.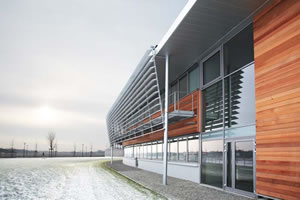 Burnhaupt College
This new generation of environmentally-friendly college in France is a prime example of a modern, respectful of sustainable development that is open to new technologies. The requirement was for an automated solar protection coupled with lighting management. The Somfy solution was based on Animeo KNX with moco 4AC which manages the venetian blinds. The KNX mocos are connected to a weather station that manages the sunlight, and protects the blinds from wind and frost, with automated management of shading and lighting an on-site supervision via PC. The solution supports a comfort summer/winter mode to benefit from solar gain in winter and to protect the summer thermal comfort and energy savings. Presence detectors and intrusion alarms/fire binary inputs are connected to KNX mocos. The lights automatically adapt to the position of the blinds and to the presence or absence of occupants in the room.