By Dr KNX.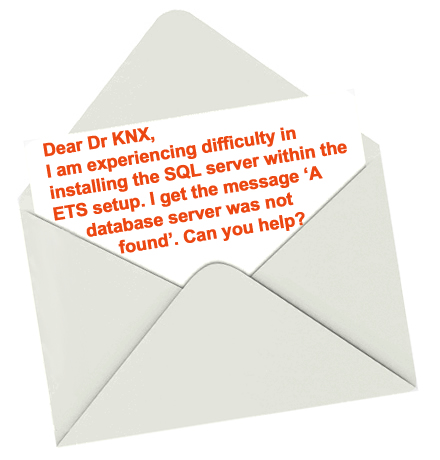 Dear KNXer,
A lot of problems are due to the Microsoft SQL Server installation, so please be aware that these are not necessarily ETS issues as ETS only uses this Microsoft product.
Let's start by making sure you have the following:
1) A stable Windows platform.
2) The latest version of ETS installed. This can be checked via the diagnostic wizard.
3) The latest master data installed (this can be checked under 'Settings').
ETS requires Microsoft SQL Server 2008 R2.
The usual troublemaker is the EXPRESS edition, which in some cases really is a burden to remove. This can be checked via the Control Panel under Add/Remove programs.
Make sure that the pre-installed SQL Server version (or versions) is (are) uninstalled. Once this is done, re-install the latest ETS version.
You may also find that the SQL server is installed but will not start, giving you the same error of 'A database server was not found'.
In this case, manually restart the ETS database engine by clicking:
– Start.
– All Programs.
– Microsoft SQL Server 2008 R2.
– Configuration Tools.
– SQL Server Configuration Manager.
– SQL Server Services.
Note: you might also need to set the Start Mode to 'Manual'.
I hope that helps!
Yours truly
Dr KNX
If you have a question that you would like to be considered, please send an email to me, Dr KNX, via info@knxtoday.com. Simple or tricky, try me!