KNX will once again be exhibiting as the Presenting Show Partner for the 4th year in a row at ISE 2023 from 31st January to 3rd February. Located just a stone's throw away from the main entrance of hall 2, the 240m² 4-side-open booth is the perfect place to learn more about KNX and its capabilities.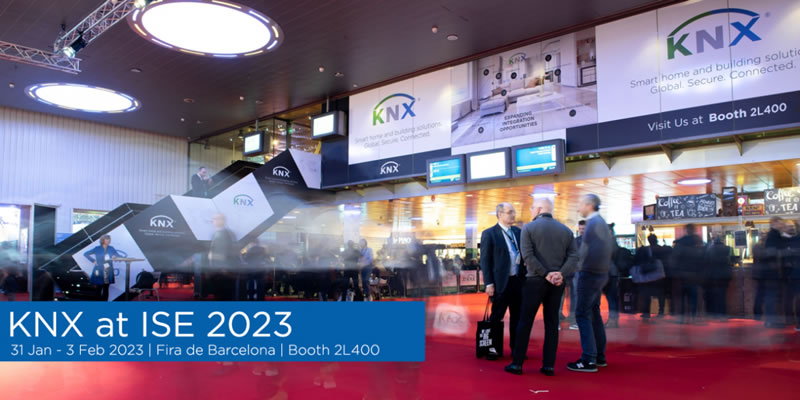 Activities at the KNX booth
Meet the KNX experts: At ISE 2023, our team of KNX experts will be on hand to answer any questions you may have about the technology. Whether you are new to KNX or a seasoned professional, we are here to help you learn more about its capabilities and opportunities. For those with experience in KNX, ISE 2023 is the perfect opportunity to discuss your projects and find solutions to any challenges you may be facing. Our experts are ready to help you take your projects to the next level.
Discover the open source KNX IoT: Are you interested in learning about the exciting developments in KNX IoT and how it fits into the larger KNX ecosystem? Our team of representatives will be available to provide a holistic view of the technology and its potential. Whether you are a KNX professional looking to stay up-to-date on the latest developments, an IT expert interested in exploring the possibilities with KNX, or a manufacturer considering making KNX IoT devices, this is the perfect opportunity to learn more and connect with others in the industry.
Visit the co-exhibiting KNX Members: In addition, we will be joined by 13 co-exhibiting KNX member companies from 9 different countries, showcasing a wide range of products and solutions.
This is a great opportunity to see the latest and greatest in the world of KNX and explore the possibilities it offers.
You can register for ISE 2023 free of charge and save €175 by using the KNX invitation code FPQGY8EO at:
registration.firabarcelona.com/#/tickets/selection-list
For more information about KNX Association activities at ISE 2023 visit:
Meet KNX at IoT Solutions World Congress 2023
Visitors to ISE 2023 can also meet KNX at the co-located IoT Solutions World Congress 2023, from 31 January to 2 February.
Here KNX will present the KNX IoT Technology, which makes it possible for the integration of any IoT solution to any automation project in homes and buildings.
Talk to our team of representatives at the KNX booth located in Hall 4, Level 0, Street E, Stand 557. And don't miss the opportunity to join the KNX sessions: