The numerous applications we received for the KNX Awards 2022 again proved the high quality of KNX Smart Home and Smart Building projects all over the world.
The Jury has finally finished deliberations and we are pleased to announce the nominees.
Visit awards.knx.org for video overviews and links to the project details.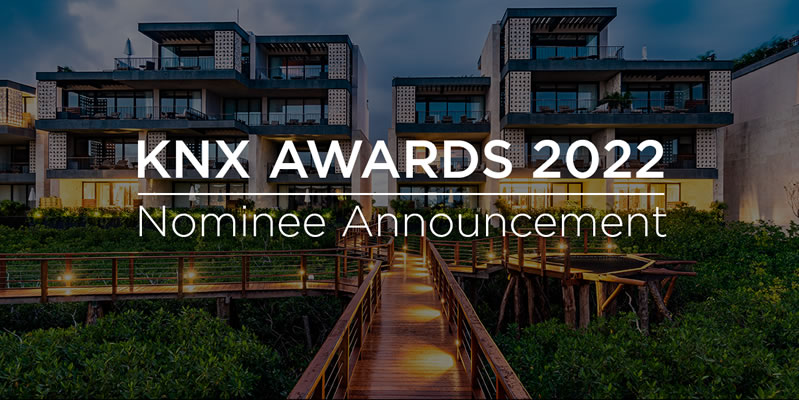 Below is the list of nominees:
Smart Home – Africa, America, Australia:
Smart Apartment in Nasr City by Circuit One (Egypt)
Rafik Sarkis by Gila Al-Tawakol-Electric (Egypt)
JMS Villa in Iguassu Falls with KNX Technology by Arqtech Automação (Brazil)
AD Residence by JMM Proyectos y Tecnologia (Mexico)
Specialist disability accommodation (SDA) Park House by Syncwise (Australia)
Smart Home – Asia:
Future city of China Resources Land by Hangzhou EaseMore Technology Co., Ltd (China)
Villa with Infinity Pool by Matt & Massimo G.K. (Japan)
Msheireb Down Town by Qatari Computer Systems WLL (Qsoft) (Qatar)
Baku White House by Okal Electric (Azerbaijan)
Mahestan Ultra-Modern Villa by Tanootas International (TICO) (Iran)
Smart Home – Europe:
Downtown apartment by cognitive (Greece)
Smart Living am Nockherberg by cojacon GmbH (Germany)
La Folie Boulart by Lionel Armand (France)
Villa 101 – Adeje, Tenerife by Leonardo García Rufinoa (Canary Islands)
KNX Controlled Smart Home by Proel AS (Norway)
Smart Building Award – Africa, America, Australia:
Hotel Seybousse Annaba by DTEK (Algeria)
Torre Sigma by Cinergia Infraestructura Eficiente SAS (Colombia)
El Nasr Housing & Development (NHD) Headquarters by Entech (Egypt)
Etéreo by Auberge, Riviera Maya's success Building Automation Project by Estévez | Grupo MAI | Migdal Arquitectos | Mayer Davis (Mexico)
The New Maitland Hospital by mySmart (Australia)
Smart Building Award – Asia:
Iraqi home foundation for creativity by El-Nukhba Engineering Company (Iraq)
IKEA Navi Mumbai by Entelechy Systems (India)
Al Messila, a Luxury Collection Resort & Spa, Doha by PAC International, Doha (Qatar)
F1 Control Command Centre, Singapore – KNX Lighting Control System by Illuminating Asia SG Pte Ltd (Singapore)
Expo 2020 Dubai Pavilions by Controlium Building Technology (United Arab Emirates)
Smart Building – Europe:
XLNC Leipheim by Bematec Gebäudetechnik e.K. (Germany)
Botaniq Tura Castle by Elektro-Kamleithner Kft. (Hungary)
Old Post Station & Farm Store by FDE Electric (Belgium)
Conference Hotel in Leverkusen by Klaus Geyer Elektrotechnik Inh. Sarah Geyer (Germany)
Automatisation Complète de la Maison Administrative de la Province de Namur by Prelude (Belgium)
Energy Efficiency:
Mosaic Englefield Road by Mosaic (United Kingdom)
Smart Residence in Leon by PROINGENIUM (Mexico)
Positive Energy Family House by swithc Maciej Kapica (Poland)
Smart Home in Patras by TESCON (Greece)
Sports Centre Kerenzerberg by Soltris GmbH (Switzerland)
Innovation:
Fishermen's Club by BMS Group (Ukraine)
Mauro Suites Self-Managed by KNXCONSULTORES (Spain)
Greenspace Darling Park by In Control Automation Pty Ltd (Australia)
Martinhal Residences by Projedomus (Portugal)
Efficient Energy Management in Residential Buildings by Expert Petric (Austria)
Publicity
 SmartHome/KNX-Showroom in Deutschland eröffnet by Alexander Bürkle Gmbh (Germany)
KNX showroom where sanity and perception meet by Chongqing Saville Technology Co. (China)
Elektro Hieber Showroom by Elektro Hieber (Germany)
Princess Andriana Resort & Spa by PGS IKE (Greece)
Mercure Hotel Timisoara by IntelligentBuildings (FELT SRL) (Romania)
Special:
House of the Rising Sun by DMC Technology (United States)
Al Wakrah Stadium by Gazzaoui & Partners – Qatar (Qatar)
The KNX Indoor farm by Earth Goodness ltd (Israel)
The smartest home ever in Japan by SUMAMO by SUMAMO co., ltd. (Japan)
A Medieval Castle at the Sea by GDS Digital Systems ltd. (Greece)
Education:
KNX Training Videos during COVID-19 for Ministry of Education by Artman Smart Energy Solutions (Iran)
KNX-Trainingcenter.com Corona Solution by KNX-Trainingcenter.com (Germany)
Mega Full KNX Training by Porto Smart (Egypt)
KNX Basic + HVAC + Advance Book in Persian (Farsi) Language by stcenter.ir (Iran)
IKNX Prime Video by IKNX School (Spain)
For all further KNX Awards 2022 updates, visit