Yasmin Hashmi looks at the findings of a recent independent survey by smart home magazine, HiddenWires, which shows that KNX comes out top in terms of awareness and adoption.
The pandemic, whilst having a negative impact on many popular industries such as travel and live entertainment, has seen a growth in the residential market as people have spent more time at home. The question is, is this temporary or a sign of a sea change? Leading smart home magazine, HiddenWires, was keen to find out, so it recently conducted an international survey on the state of the smart home industry. And no surprise to those in know, KNX came top in terms of awareness and adoption.
Scope of the survey
The survey set out to explore where the smart home industry currently is, and how people feel about its future. It was conducted in September 2021 and received over 8000 responses from professionals in the smart home market. Over two thirds of these were integrators or installers. The rest were made up of designers, manufacturers, distributors, specifiers, architects, interior designers, and those who described themselves as 'other'.
The vast majority work mostly throughout Europe. The second most popular region (3%) was the Middle East, followed by the APAC region, Australia, Africa, Russia, South America and North America. Only 17% of respondents said they are installing more in existing homes, compared to 82% who said they are working mostly in new builds.
KNX leads the way
HiddenWires covers smart home technology across the board, which includes numerous proprietary control protocols, as well as open ones such as KNX, plus different types of communication media such as wired and wireless. Despite so much choice, it became clear that there is a strong market leader, both in terms of recognition and adoption, and that market leader is KNX.
The main findings were:
KNX is ranked top in terms of the communication protocol/ecosystem known by industry professionals in the smart home market.
Three out of four (75%) industry professionals are aware of the KNX technology, which is 21% ahead of the nearest other technology.
KNX is the leading control system in residential integration projects, being specified by almost two thirds (62%) of smart home professionals, which is three times more popular than the nearest competitor.
Applications
It's also interesting to see what receives most attention when it comes to making homes smart. The survey showed that the most automated area of projects is lighting, followed closely by temperature control and blind control. Energy management is becoming more popular, as is smart security, whereas home entertainment was lower on the list than perhaps expected. Other areas with less priority included smart solutions for smoke and CO detectors and smart appliances.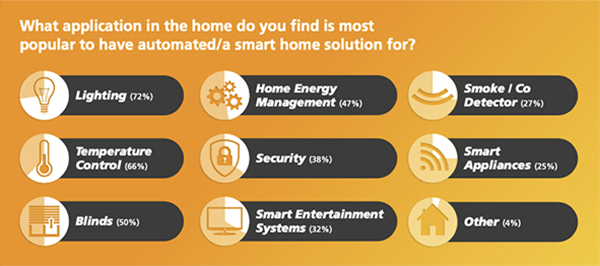 Market growth
A majority (59%) of respondents also said that interest in smart homes has increased in their region over the last five years, and 28% said that interest had increased significantly, i.e. more than doubled. 10% said that interest in their region had stayed the same, whilst only 1% said it had decreased, with 0.39% saying it had decreased significantly, i.e. more than halved.
As for the reasons for this growth, most said that people having more awareness of smart home technology is the biggest contributing factor. Energy management is also a key concern, as well as customers wanting whole-home solutions. Interestingly, around a fifth of respondents said that the effects from the pandemic and spending more time at home was the biggest contributing factor to the smart home growth.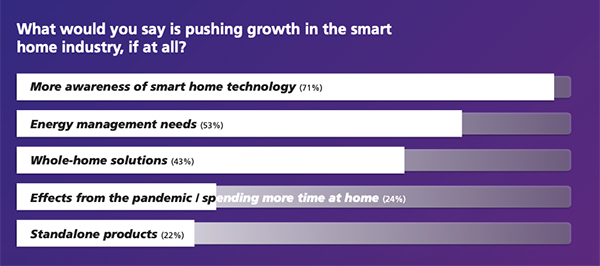 Conclusion
And why did KNX come out on top? This question was not specifically asked by the survey, but we can safely conclude that it has something to do with KNX's reputation for offering an impressive choice of more than 8000 certified KNX products, its reliability, robustness, flexibility, longevity and security, as well as the enthusiasm, support and marketing efforts of KNX Association and its worldwide community including over 500 manufacturer Members, 100,000 certified installer Partners, numerous national groups, user groups, training centres, distributors and suppliers, and… because it really is the best.
Yasmin Hashmi is the Editor of KNXtoday magazine. More details of the HiddenWires survey can be found below:
hiddenwires.co.uk/case-studies/article/state-of-the-smart-home