Compact powerhouses
Gira has launched a new range of three KNX flush-mounted actuators: 1-gang switching actuator, 2-gang/1-gang switching/blind actuator and 1-gang dimming actuator. The dimming actuator supports LED loads of up to 200 W, while the switching actuator and the switching/blind actuator can be loaded with up to 16 A, depending on the type of load used. Areas of application for the Gira KNX flush-mounted actuators include supplementing existing KNX installations, closing planning gaps in new buildings, and retrofitting during major renovations. Benefits include the reduction of cabling required, the reduction of fire load due to the installation being situated at the point of use, and a straightforward protective separation between SELV and mains voltage thanks to a breakout cable.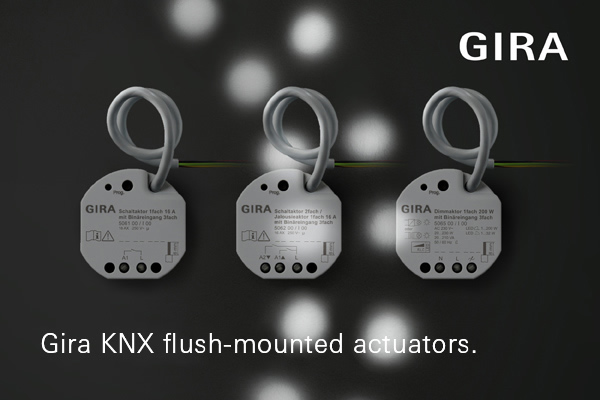 Key performance features common to all three actuators: The consumers are connected via screw terminals (for example, on the load side). The three Gira KNX flush-mounted actuators also support the KNX Data Secure security standard. This means they can be continuously updated and upgraded. Another plus is the high degree of functional standardisation with the new KNX DRA actuators. This means that many current Komfort variant functions of the DRA dimming and switching/blind actuators are employed in the new flush-mounted actuators from Gira. As a result, the functions of these products are expanded and – as far as start-up is concerned – standardised from the installation engineer's point of view.
In addition, all actuators each have three binary inputs, which offer a wide range of possibilities. For example, conventional buttons and switches can be used as operating points in the smart home. It is also possible to evaluate different sensors, such as window contacts, and to use their measured values in the KNX smart home. This also includes the new leakage sensor and the new condensation sensor. These sensors offer significant added value, such as the early detection of water ingress or the detection of condensation on coolant pipes. Furthermore, a temperature sensor can be connected to monitor the floor temperature.
Learn more at: