CABA has completed the Landmark Research Project, "Intelligent Buildings and COVID-19." CABA commissioned Frost & Sullivan, a CABA member, to evaluate the key issues and challenges presented by COVID-19 for the intelligent buildings industry. This research examined the pandemic's immediate and longer-term impact; the implications for technology evolution to meet post-lockdown requirements; and the measures that will help build future resiliency for this industry.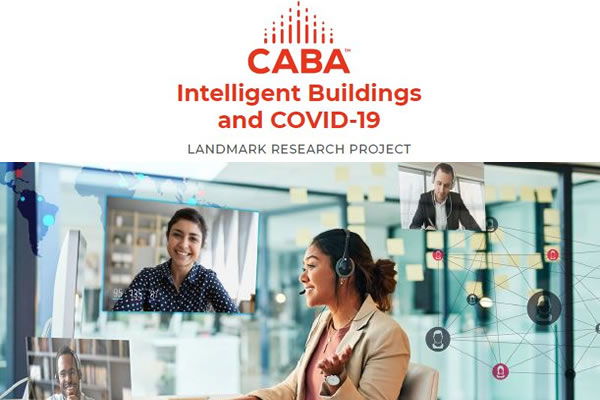 The Report highlighted the ways in which AI-based building solutions, HVAC optimization, cloud-based remote services and other key post-COVID-19 applications have gained profile. When combined with resilient business models, these technologies will help industry players gain a competitive edge in the post-COVID-19 environment.
As control measures against COVID-19, touchless elevator controls, sensors, UV lighting, thermal imaging, IAQ-based ventilation, and pathogen scanners are also attracting significant interest. Stakeholders are also turning increasingly to cloud-based remote services, HVAC optimization and building-health performance benchmarking to ensure safe operation of systems that were shut-down during the lockdown.
Companies that offer cloud-based services, predictive maintenance, HVAC optimization, workplace analytics, and washroom solutions will play a major role in defining the workplaces of the future, the research underlines. Market participants can expect to see accelerated deployments in many of these areas over the next three years.
In addition to innovative technology solutions, industry players are relying significantly on business model transformation to prepare themselves for a post-COVID world. "As-a-service" offerings to achieve objectives related to digital-transformation, pandemic response capability, improved air quality control, and healthy-buildings benchmarking will resonate with customers in the post pandemic environment, as well as assist companies to devise competitive go-to-market strategies.
"A great example of this trend is Air-Quality-as-a-Service, or AQaaS. While a few customers were exploring this option before the pandemic, interest in this model has gained momentum in the past six months, largely driven by commercial real estate and higher education institutions looking for ways to reassure their constituents that they can return safely, while doing so as economically as possible," explained Konkana Khaund, of Frost & Sullivan.
Finally, the research identified and evaluated essential new design and planning considerations for intelligent buildings. This analysis was supported by a review of how existing buildings were repurposed to support alternate infrastructure requirements during the pandemic. Among the key lessons from this part of the Report:
Strong use cases for future intelligent buildings involving IAQ-based ventilation, health and well-being and emergency response applications, technology-based social distancing and contact tracing applications are being developed by start-ups and leading companies in this space.
Intelligent buildings-based proptech innovations in spatial intelligence, health and well-being, and remote services involving core technologies such as IoT sensor networks, artificial intelligence and cloud services are anticipated to play a crucial role in shaping the intelligent building of the future.
The Report provides assessments about the likely rollout and evolution of various solutions. For example, with regards to spatial intelligence innovations, the Report predicts that occupancy detection-based social distancing, indoor positioning-based contact tracing, and AI-based lighting control will be at an "implementation" phase from 2023 onwards, while workplace analytics will have reached an "established" phase from mid-2024. Altogether, nearly US$35 billion has been invested in intelligent buildings-based proptech innovations including the third quarter of 2020.
A 40-page Report that includes both the Executive Summary and Module 1 is now freely available from: