Big award ceremony on the 10th of March, 2020 in front of over 2,000 trade visitors at Light + Building in Frankfurt am Main
The search for the world's best Smart Home and Smart Building projects has begun: the KNX Association has officially launched the bidding phase of the prestigious KNX Awards 2020. Only the most innovative and ground-breaking KNX projects receive the most important award for home and building system technology. And taking part in the competition is worthwhile: after all, the "best of the best" is guaranteed wide-ranging attention and high demand. Selected by a top-class jury of experts, the winners of the KNX Awards will be honoured in the coming year in front of an international trade audience at a major ceremony at the most important trade fair: Light + Building (l+b). Applications must be submitted by the 30th of November, 2019 at projects.knx.org.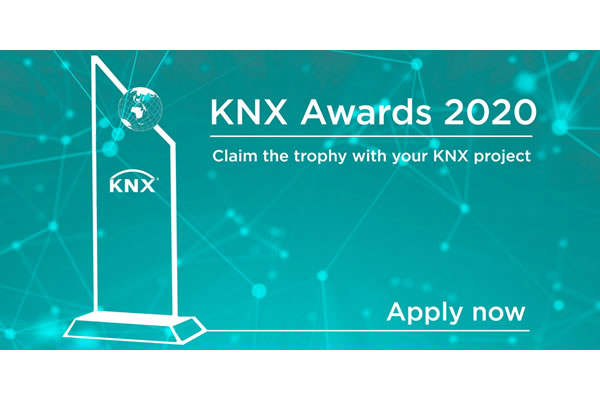 Promoting innovative spirit, ingenuity and know-how
Known as the Smart Home and Smart Building World Championship, the KNX Awards, which are awarded every two years, have firmly established themselves as an institution in the industry. "With the competition, we want to particularly honour the spirit of innovation, ingenuity and know-how in the implementation of ambitious KNX projects. We are therefore proud to continue the tradition and the extremely successful history of the competition and look forward to the many exciting projects that will compete for the coveted KNX Awards this time," explains KNX President Franz Kammerl.
Grand Prize Ceremony at l+b
The competition for the KNX Awards is characterised above all by its diversity. The world's best KNX projects will be identified in five categories – International, Energy Efficiency, Special, Public and Youth – each with prize money of 1,000 euros and a trophy. At the same time, the award winners will have the opportunity to use the competition as a platform for a comprehensive presentation. In addition to the People's Choice Award, which is organised by the entire KNX community, the winners of the individual categories will be selected by an experienced jury of experts. Awards will be presented on the 10th of March, 2020 at a large-scale central event at the most important trade fair, Light + Building, in Frankfurt am Main in front of over 2,000 guests.
Announcement of nominations
in January 2020 The KNX projects submitted for the competition are evaluated regardless of their size. A mandatory requirement is that they are based on the world's leading standard for intelligent building networking. The evaluation criteria include ease of use and acceptance, flexibility and extensibility, as well as the use of products from various KNX manufacturers in one application. The nominees will be announced in January 2020. The vote for the People's Choice Award will take place in February 2020.
For further information on the KNX Awards 2020 visit: