My KNX Store is now stocking the full Schneider KNX range.
Schneider offers an impressive array of both back-end and front-end KNX units to maximise the flexibility, comfort, safety and efficiency of an automation system. From single-family houses to office complexes, the comprehensive portfolio of KNX solutions from Schneider Electric enables you to achieve tailored automation solutions which are easy to plan, install and operate.
The KNX range from Schneider Electric includes:
– System components
– Interfaces/gateways
– Push-buttons
– Binary inputs
– Movement detectors
– Environmental sensors
– Switch actuators
– Blind/switch actuators
– Dimming actuators/control units
– Control and display devices
– Room temperature control units
– Accessories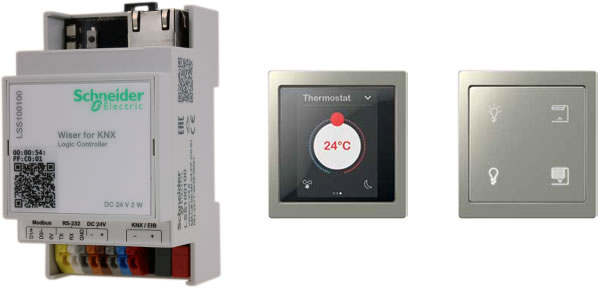 My KNX Store Product Hot List
Wiser for KNX
Wiser for KNX is the perfect choice for houses, collective homes and flats. With 150 BACnet points it is perfectly suitable for an integration in a large building management system of the complete residential building.
Wiser for KNX connects KNX systems and Modbus meters, which conveniently allows control of building functions like lights, shutters and heating and enables energy monitoring with record data on a daily, monthly and yearly basis. Wiser for KNX enables to create advanced logic function in order to optimize energy efficiency and comfort at home.
Multi-touch Pro
The new KNX Multi-touch Pro stands out thanks to its exceptional design and its function control is similar to that of a smartphone or tablet. Swiping is used to achieve simple and intuitive switching between eight possible main functions.
The unit offers a choice of two interface designs, vertical or rotary, which can also be used in combination. Special product features include a proximity sensor with display illumination activation automatically upon approach, gesture function and a customizable screen saver.
Push-button Pro
High-quality design and intuitive operability – the new KNX Push-button Pro concentrates on what is essential. The individual touch-sensitive zones of the sensor cover are shown using illuminated function icons that shine through the translucent surface and emphasize the high-quality look of the new push-button.
The sensor cover is available in all the System Design colours. Up to four light, shutter and scenario functions can be controlled using the KNX Push-button Pro. This means that, in combination with the KNX Multi-touch Pro, it offers the perfect solution for intuitive and flexible room control at home or in commercial spaces. The foil set included with the KNX Push-button Pro interface allows you to clearly and professionally label basic functions. A blank carrier foil can also be used to add individual symbols as required.
Product Training
At My KNX Store we build strong relationships with all our suppliers so we can offer our clients the very latest products at the best prices. To tie in with welcoming Schneider KNX to our supplier list we will be offering two Schneider product-based training courses working alongside skilled Schneider technicians focusing on their current product range and upcoming releases.
Both courses are free to attend and is a great opportunity to learn more about the complete Schneider KNX range and how you can integrate their products in your next project.
Course dates
Thursday 4th October
Schneider Potters Bar Office,
Hertfordshire, EN6 5AJ
Tuesday 16th October
My KNX Store Head Office,
Team Valley, Tyne & Wear, NE11 0QD
For more information
Email knx@myknxstore.co.uk
Telephone +44(0)191 497 0777