By Danny Lawless, ARK M&E Ltd.
KNX is gaining in prominence in the UK's large high-end residential sector. This is primarily due to its capabilities, which are compelling and are now being noticed by large M&E (Mechanical & Electrical) consultants. As a result, KNX is being specified as the standalone system for new high-end residential developments, but as encouraging as this is, it is only a small step in the delivery of a wholly-complete and fully-functional building control system.
How often have we worked on a project where the integrators of many different control systems have been external to the M&E contractor, the main contractor and even the client, working from a specification only? On large projects, this can result in gaps in knowledge throughout all areas of the project's management and delivery structures, resulting in scope gaps, uninformed clients and installers, and culminating in a problematic project. This is where we come in.
Expanding the role of M&E
ARK M&E is a subsidiary of the JRL Group, a UK-based building firm that constructs large residential towers. The aim of JRL Group is, as far as possible, to undertake all of the works required, thus maintaining full control of every aspect of the project and providing the client with the confidence that the project will be delivered to their requirements and to a high standard.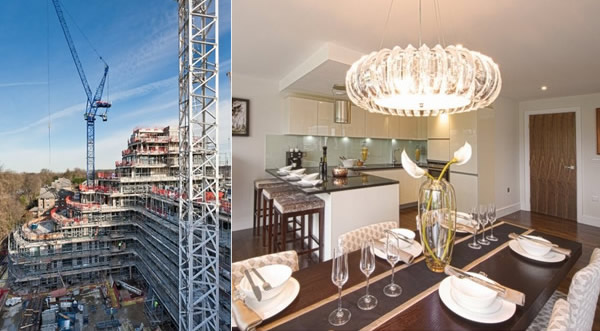 Unsurprisingly, it takes time to develop a large construction business with all the necessary arms to fully complete all works in-house. JRL Group currently comprises ten specialist companies, of which ARK M&E is the most recent addition. Having reached its fifth year of trading, ARK has now been expanded to undertake home automation, namely KNX. This was born from necessity.
As with most large companies that require home automation to be installed in fast-paced high-rise blocks of 50 to 400 apartments, it can be a struggle to find integration companies with the manpower and cash-flow to manage such projects. There can also be problems with integration companies of different systems, resulting in scope gaps, misunderstandings, and information between the integrator and on-site installers not being fully-conveyed.
Our solution was to bring the home automation side of the business in-house. Of course this came with challenges. We had to set up new procedures and procurement channels, and create new drawings and specifications, all whilst in the middle of negotiating and designing a large project. However, this burden was small compared to the risks associated with using external integrators.
Bringing KNX in-house
ARK was not the only one to have had issues with the home automation process. The developer of the Chelsea Island residential block in London, had a similar sour taste. Having engaged us as M&E consultants, Hadley Property Group also employed its own specialist KNX consultant, namely Brooke Gregory of Synapses Ltd, whose role was to review our proposals technically and commercially. The client's use of a dedicated consultant was an interesting approach – one I have never had to deal with on previous KNX projects, albeit not dissimilar to an M&E consultant commonly used for general aspects in large projects. This approach proved to be effective.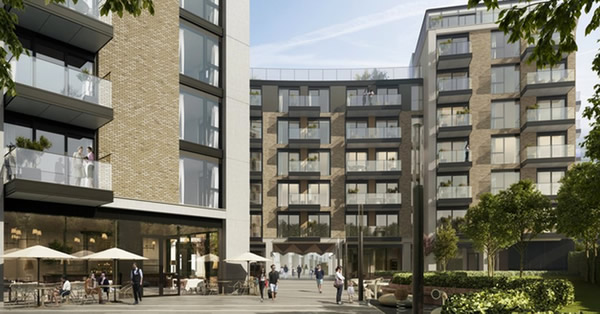 KNX offers choice
One of the greatest attributes of KNX is its openness, providing great choice in terms of manufacturers and materials. Nonetheless, as diligent and experienced an integrator may be, they cannot possibly know about every single product or finish, so they often opt for the comfort of items they have use before – which is what I tend to do. However, with the advantage of three heads, namely me, Brooke Gregory and another ARK integrator, Thomas Alt, we were able to discuss our experiences of products and materials from different manufacturers, and collectively put forward the best-suited modules for the project that delivered the necessary functionally, but at a client-friendly commercially-viable cost. This is the true genius of KNX, which separates it from all other control systems.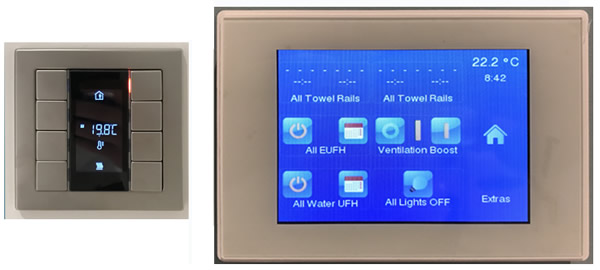 With the current rise in KNX being specified for large projects, this use of a KNX-based consultant is one I want to see from now on, only I expect the process to fall under the M&E consultant umbrella rather than being a separate entity on the client side.
The brief
With the scope agreed and costs signed off, there now were 89 high-end apartments, all of which consisted of DALI and phase-dimming lighting control, wet and electric underfloor heating control, and chilled-water FCU (fan coil unit) cooling control and ventilation. All had to be delivered at a fast pace, but with an added stumbling block: M&E procurement had already taken place, meaning the mechanical and electrical designs had been issued and signed off, distribution equipment procured and panels prepopulated.
The solution
The KNX part was a late addition, so the design had to work with what had already been purchased in order to minimise changes to drawings for 89 apartments and eliminate the need to alter prepopulated equipment.
This all had to be done in a modular fashion, to allow a factory line of KNX panels to be built efficiently and quickly, but most importantly, with the standardisation needed to allow termination to be simplified for the installers on site.
Standardising layouts
The first step was to standardise a layout for the panels, based on the worst-case apartment for one-, two-, three- and four-bed constructions, allowing only few variants in the panel's population. The next step was to standardise the panel termination. To ensure an efficient installation, it is important to convey information clearly to the installers by providing clear drawings, schedules and schematics and minimising variations where possible.

Only one termination configuration was used, with the largest apartments being the worst-case layout – any unused terminals that were not required in the smaller apartments, would be considered redundant. This process simplified things for the installers, as all connections remained the same throughout, again allowing factory-line-type production for the on-site-based works.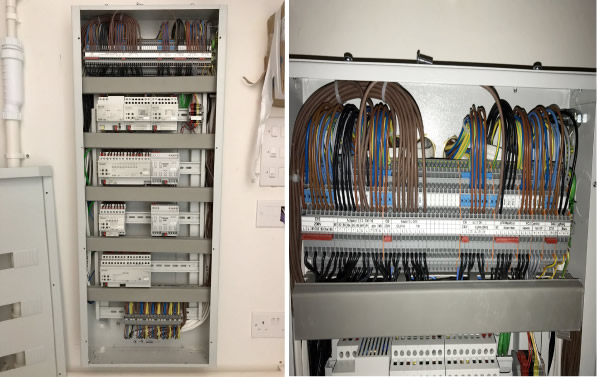 With this level of simplified and standardised information and a modular approach, the project's installation has been efficient, simple and quick, and only a minimal amount of support and handover training for the installation was required. The level of information provided, along with the simplicity of the design and connections, has built confidence in the installers, especially as each apartment has gone on line successfully. The project is due for completion in February 2018.
Conclusion
Large projects require large companies to deliver them, and the decision of ARK to take KNX in-house was right. With large multi-dwelling apartments such as Chelsea Island, modularity and standardisation are essential, not only for the designers, the drawing production, and the procurement, but, most importantly, for the installers who deliver the project on site, and for the clients who need to market the uniformity of the homes they have built.
The market for KNX in high-end residential developments in the UK may be in its early stages, but from my point of view as a consultant, KNX is a dream. Thanks to its versatility, modularity, completeness and collaborative nature, it comes as no surprise that it is gaining ground.
Equipment list
• Jung F50 room controllers.
• Jung F50 4-gang switches.
• Jung DALI gateways.
• Jung Switch/Blind Actuators.
• Jung Phase Dimming Modules.
• Zennio 0-10V fan coil unit controllers.
• Zennio Z41 Pro touchscreen.
Danny Lawless is an Electrical Engineer and KNX Integrator for ARK M&E Ltd, part of the JRL Group.

www.arkme.co.uk