Lighting controls specialist B.E.G. has launched the world's smallest KNX occupancy detector.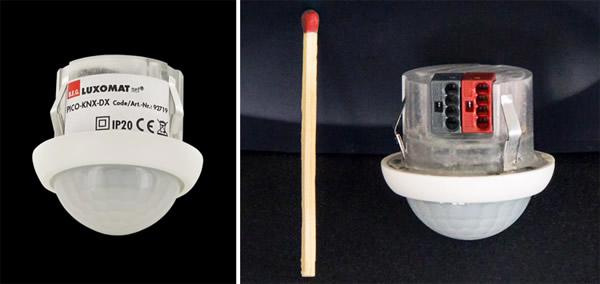 The PICO-KNX, with dimensions of only 33m x 34mm(h), can be installed in almost any mounting and can easily be integrated into luminaires.
Despite its small size, the detector has an impressive detection area of 10m in diameter at a mounting height of 2.5m and of approximately 12m at a mounting height of 3m.
The PICO-KNX offers almost all of the functionally of the new range of advanced B.E.G. KNX Generation 6 Deluxe presence detectors which, for the first time, include built-in logic as well as sound and temperature monitoring – an industry-first for the KNX market.
The logic module is independent of the detector operation and has proved to be most useful to KNX integrators. The integrated sound sensor can be used in areas where there are restrictions to the normal presence detection such as toilet cubicles. If configured, the sound sensor will activate, but only after motion is detected. Run-on times are configurable.
The built-in temperature sensor will send temperature readings to the KNX bus to be used by HVAC actuators. This means separate temperature sensors do not have to be fitted to the wall, saving installation time and expense.
The PICO-KNX offers condensed presence with shortened follow-up time after brief occupancy of the room, and an offset function which allows end-users to create up to three lighting zones for a uniform lighting level throughout the room.
Thanks to the bidirectional remote-control capability, the programmed parameters can be accessed at any time and activated comfortably using the remote control.