By Mahir Mensuri Karataş, Turkish Petroleum.
The Problem
In a KNX lighting automation system, a common problem is when lights turn on automatically due to undesirable environmental factors that adversely affect the presence detectors.
One of the most important tasks of presence detectors is to switch lights on after perceiving active objects in the detection zone. For instance, if a presence detector perceives a moving object in a room that has insufficient daylight level, it will turn the lights on automatically. On the other hand, if the daylight level is sufficient, the lights will be kept off.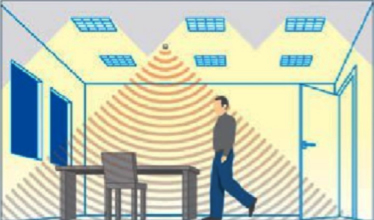 In some cases however, the lights will switch on automatically during daylight and night hours even though there is no moving object in the room. This situation is a common challenge faced by KNX systems integrators, maintenance technicians and clients, and means that extra energy is needlessly consumed.
An example of this was when technical staff working in a smart building in Turkey told us that they had some challenges with their lighting automation system. The problem was that the lights in the offices, corridors and toilets were turning on automatically during the night. After investigating the situation, we identified a couple of methods to help solve this issue.
Monitoring
1) KNX Bus Monitoring
KNX bus monitoring should be carried out during the hours of darkness because nobody will be in the room during this period. The bus monitoring is done by connecting the KNX bus line via the KNX interface. The following table shows night-time KNX bus monitoring using ETS 3 software.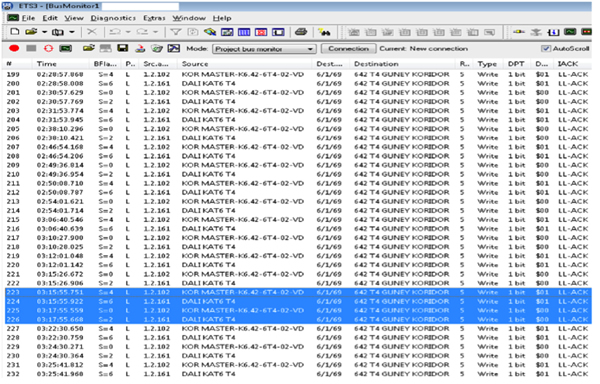 Monitoring the bus showed that the affected presence detectors, which had 1.2.102 and 1.2.161 physical addresses, had sent a 'write 1 object' instruction from time to time. Therefore, the lights had turned on automatically and extra energy was being consumed during the night.
We determined that this problem was caused by several environmental factors such as air flow entering through the windows, ceiling and heating vents which were close to the presence detectors; rapid temperature changes; and fast light changes from vehicle headlights.

2) NETx BMS Server Telegram Monitoring
Using the NETxAutomation BMS Server software for telegram monitoring, we picked one of the offices at random, with an open door and window and nobody inside. NETx BMS Server telegram monitoring showed that the presence detector with a 1.1.9 physical address was sent a 'write 1 object' instruction at the beginning of motion detection to turn the lights on, and was sent 'write 0 object' at the end of staircase time to turn the lights off. This meant that the lights were being turned on and off automatically, from time to time.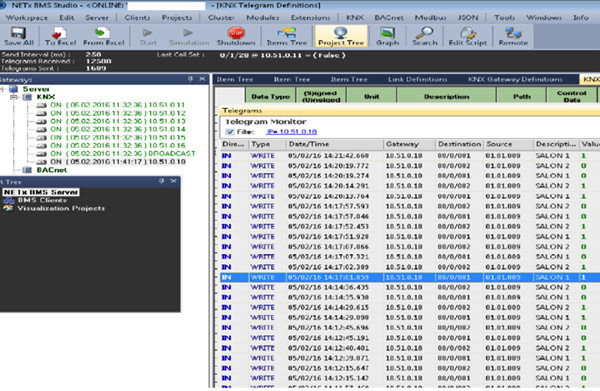 Quick Fix
It is a well-known fact that presence detectors can be deactivated using the 'lock object' function, so we could, for example, use this between 22:01 and 07:01 for the whole building, thus ensuring that no lights are switched on during the night. The table below shows that all of the presence detectors have been locked, using NETx Voyager visualisation software, during the night from 22:01 to 07:01. This is obviously, however, only a temporary fix.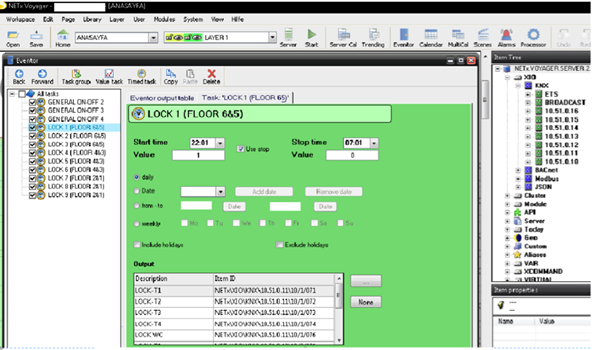 Permanent Solution
It is clear that a permanent solution to this problem is to identify which part of the presence detector is affected by adverse environmental factors. A presence detector typically consists of four sectors, and these can be controlled through ETS.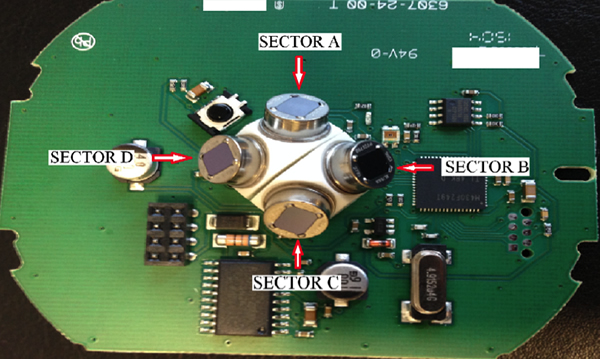 Sector-orientated settings must be enabled in order to pick which sectors of the presence detector should be active or passive in ETS software. Then, the sector of the presence detector that is affected by environmental factors must be disabled or its sensitivity must be reduced (as shown for sector B in the table below). This prevents the presence detector from being affected by adverse environmental factors, and so the lights do not switch on in error.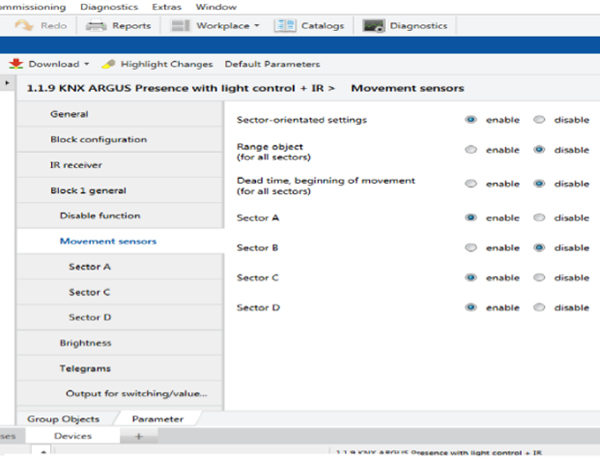 Conclusion
Ideally, presence detectors should be mounted in a location that will not be affected by air flow entering through the window and heating vents; or by rapid temperature changes or fast light changes that come from vehicle headlights.
In addition, it is best to avoid highly-reflective surfaces, movable objects (e.g. curtains and plants), and heat sources (e.g. heating vents, radiators and air conditioners) because these may cause erroneous detections when moved by air flow from fans, wind, heating vents or air conditioning.
If you come across with this kind of problem, change the sector-orientated settings of the presence detector so that environmental factors do not affect the lights adversely, thus saving energy and money.
Mahir Mensuri Karataş an electrical-electronics engineer working for Turkish Petroleum in the department of Building Management Systems.