The UK's only dedicated event to integrated building technology, Smart Buildings 2016, is back for another year and is set to be bigger and more electrifying than ever. Taking place on 18 – 20 October at the Birmingham NEC, the show will once again form part of the unique and all encompassing line up at UK Construction Week.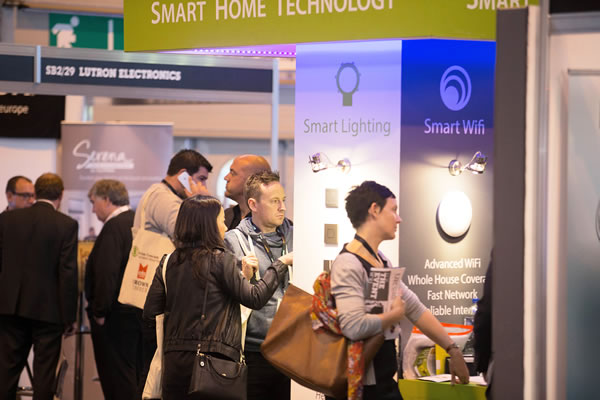 Supported by the industry's leading bodies including KNX Association, the Chartered Institute of Architectural Technologists (CIAT), the Electrical Contractors Association (ECA) and the British Institute of Facilities Management (BIFM) to name but a few, Smart Buildings 2016 will be a hive of world leading content, CPD sessions and cutting-edge industry brands.
Some of the exhibitors already signed up to the event include leading provider of pro-audio and commercial sound equipment Audiologic, motion detection and energy efficiency experts Theben AG, global manufacturers of building automation and control technology HDL Technology Ltd, smart security specialists Armco Key Security Ltd and leading added-value distributor Home of Technologies Ltd.
Commenting on her experience of last year's event, which received nearly 6,000 visitors, Di Stickland, President of KNX UK, said: "Smart Buildings provided KNX UK with a great opportunity to meet with architects, developers and specifiers from around the country. It was a privilege to be involved in the seminar programme alongside so many knowledgeable speakers."
Showcasing the latest innovations in smart building technology, the event will cater for professionals across the full spectrum of the sector from home automation to climate control, lighting, access and security, workplace technology, entertainment systems and the Internet of Things. Central to the 1,000 square metres plus of floor space will be the Smart Buildings Hub. Playing host to pioneering seminars, CPDs, debates and workshops the Hub will also be an exemplar building structure exhibiting the latest smart products and technologies.
Richard Morey, Group Events Director at Media 10 – the organisers of Smart Buildings 2016 and UK Construction Week, commented: "Smart technology is transforming every industry like never before and the construction sector is no different. With the power to save time, money, energy and resources, smart products and services are one of the most important growth areas in the industry today, as such it was of the upmost importance to us to continue to support its development.
New for 2016, Smart Buildings will stage a dedicated Workplace Zone. The space will showcase leading companies catering specifically for the smart technology market in commercial applications ranging from connected furniture, security, AV systems, conference technology and virtual workplaces. A specialist advisory panel gathering industry leaders to discuss the latest innovations and challenges in the industry is also scheduled to happen in the run up to the show – a board meeting to finalise this key event is scheduled for 10 May 2016.
Representing a more connected future for the construction industry, Smart Buildings 2016 offers the unique benefit to both exhibitors and visitors of networking with professionals from across the entire construction industry – being co-located alongside eight other shows as part of UK Construction Week.